Russian Protests Against Vladimir Putin's Government Surged in 2018, Tripling Between July and September
The number of Russian protests against President Vladimir Putin's government has surged this year, with over 1,000 more demonstrations compared to all of 2017, new research has shown.
As the end of the year draws near, the Russia-based Center for Economic and Political Reforms (CEPR) has already documented more than 2,500 protests that have taken place across the country in 2018, compared to less than 1,500 in 2017, The Moscow Times reported Thursday. Around half of the protests were against Moscow's plan to increase the national retirement age, according to the report. Rising gas prices and an increase in the value-added tax also led to a large number of demonstrations.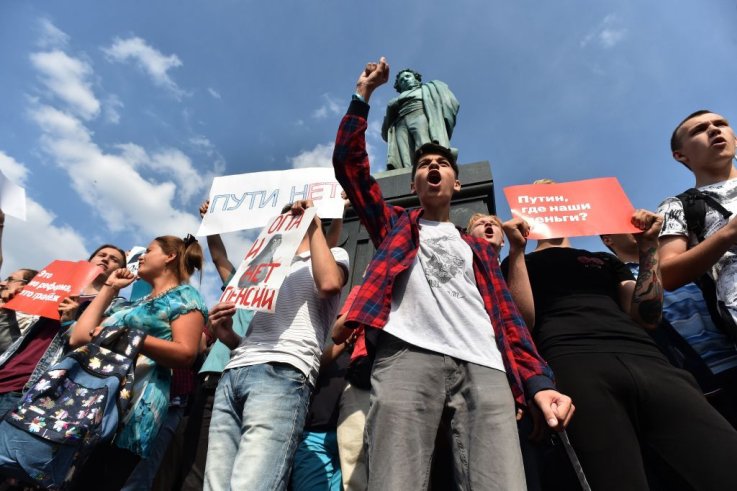 Nikolai Mironov, the head of CEPR, pointed out that 2018 has also seen a surge of protests uniting demonstrators around common issues. "[Protests in 2017] split up into a multitude of unrelated issues, and only occasionally did a relatively large topic unite the different regions," he said, according to the local English-language newspaper. The number of demonstrations also tripled between July and September compared to the first part of the year.
In September, a poll by the independent pollster Levada Center showed that a majority of Russians were ready to demonstrate against the government's widely unpopular pension reform plan. When asked if they would join a protest against the new pension-age policy in their hometowns, 53 percent of Russians said they would. That figure was up from 42 percent in July, when most Russians said they would not resort to street protests.
Approval of Putin and his government has also dropped significantly in recent months, largely due to his government's pension reform plan, which would increase the retirement age to 65 from 60 for men, and to 60 from 55 for women. The issue has highlighted the gap between Putin's rhetoric of a mighty Russia and a life expectancy of just 65.3 for men, according to 2017 data from the CIA World Factbook, meaning the average Russian man will now barely have a few months to enjoy retirement before death.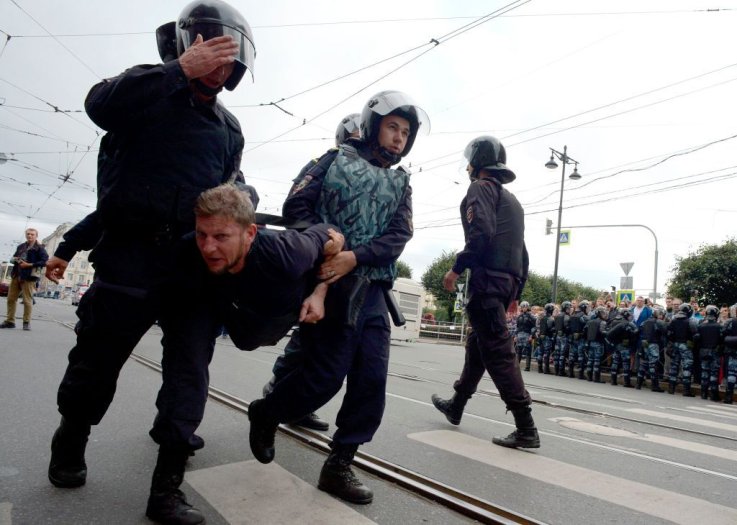 Thousands have protested against Putin and the government as a result, with some using slogans such as "Away with the czar" and "Putin is a thief." In early September, authorities reportedly detained more than 1,000 anti-government demonstrators as large-scale protests took place in major cities across the country.
"The protests exposed a fissure in what might be called Mr. Putin's contract with the Russian people: You stay out of politics and I'll give you stability," Leon Aron, a resident scholar and the director of Russian studies at the American Enterprise Institute, wrote in The Wall Street Journal last month.
"The contract held up in past tough times, most notably in 2008-09, when the Russian economy contracted almost 8 percent after oil prices fell," Aron explained. "Then, difficulties could be blamed on external factors. No such excuses exist today. Incomes have declined for four consecutive years, and the pain is self-inflicted—Russians feel that Mr. Putin's regime has stabbed them in the back," he wrote.
Russian Protests Against Vladimir Putin's Government Surged in 2018, Tripling Between July and September | World