Russian Reporter Left Speechless Amid Kherson Retreat: 'Disaster'
After Ukrainian advances in the southern Kherson region reportedly pushed Russian forces into a retreat in recent days, a Russian war reporter appeared to be left speechless by the setbacks.
"Friends, I know that you expect me to comment on the situation. However, I really don't know what to tell you," Roman Saponkov wrote in a Telegram post on Tuesday for his more than 61,000 followers, according to a translation. "The retreat from the north of the right bank of the Kherson region is a disaster."
Saponkov listed several areas in the region that he said had been "abundantly watered with the blood of our soldiers."
"I just want to say support to our guys. We believe in you and are proud of you," he added.
The Russian retreats in Kherson mean that Ukraine has now made gains on at least three fronts in recent weeks, as it continues to fight a monthslong invasion that some believed would result in a quick Russian victory. Ukraine launched its Kherson counteroffensive in late August, and then began a surprise counteroffensive in the eastern Kharkiv region in early September. Over the weekend, Ukraine advanced in the Donetsk region by retaking the city of Lyman, which the U.K. Ministry of Defence described as a "significant political setback" for Russia.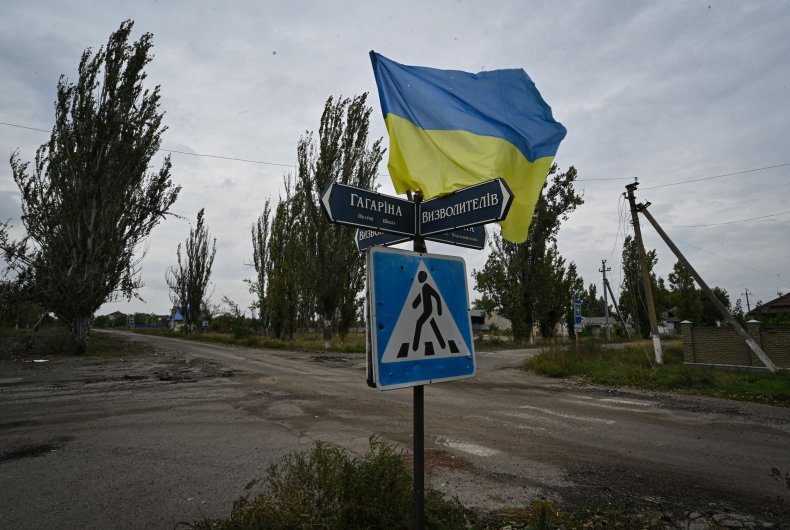 The Donetsk oblast, notably, is one of four Ukrainian regions that Russian President Vladimir Putin annexed last week in what Ukrainian and Western leaders have decried as an illegitimate and illegal move. Prior to Ukraine retaking Lyman, Ben Hodges, former commanding general of the United States Army Europe, told Newsweek that Russia losing the city while it touted its "sham" annexation would be "psychologically humiliating for the Kremlin."
But the lightning Kharkiv counteroffensive may have resulted in some of the largest of Russia's recent defeats. Last week, Ukrainian military officials said that their troops only had 6 percent of the region to liberate from Russian control.
As for the Kherson counteroffensive, Ukraine had already reported "successes," as well as Russian personnel and equipment losses, prior to this week. The Institute for the Study of War (ISW), a U.S. think tank, wrote in its newest campaign assessment that Ukrainian and Russian sources reported that Ukraine's forces had made "substantial gains" around Lyman and in northern Kherson over the previous 24 hours.
"The Russian units defeated on these fronts were previously considered to be among Russia's premier conventional fighting forces," the think tank wrote.
The ISW also said that "Ukrainian forces made advances on the Oskil River-Kreminna line towards the Luhansk oblast border."
Luhansk, along with Donetsk, Zaporizhzhia and Kherson, is one of the regions Russia proclaimed as annexed.
Newsweek reached out to Russia's defense ministry for comment.