A Russian soldier facing what would be the first war crimes trial in Ukraine for a Russian service member could be sentenced to life in prison if found guilty.
Ukraine's prosecutor general alleged in a statement that Vadim Shishimarin, a 21-year-old soldier who is in Ukrainian custody, fatally shot an unarmed 62-year-old civilian in Ukraine's Sumy region on February 28, according to The Washington Post.
Ukrainian officials have cited evidence that they said showed his "involvement in violation of the laws and customs of war combined with premeditated murder" and said that he could potentially face life in prison, or a lesser penalty of 10 to 15 years.
In the more than two months since the start of the war in late February, accusations of war crimes against Russian soldiers and officials have piled up. The trial for the Russian soldier could be a meaningful first step in prosecuting alleged offenders, even though the calls for accountability have gone as far up as Russian President Vladimir Putin himself.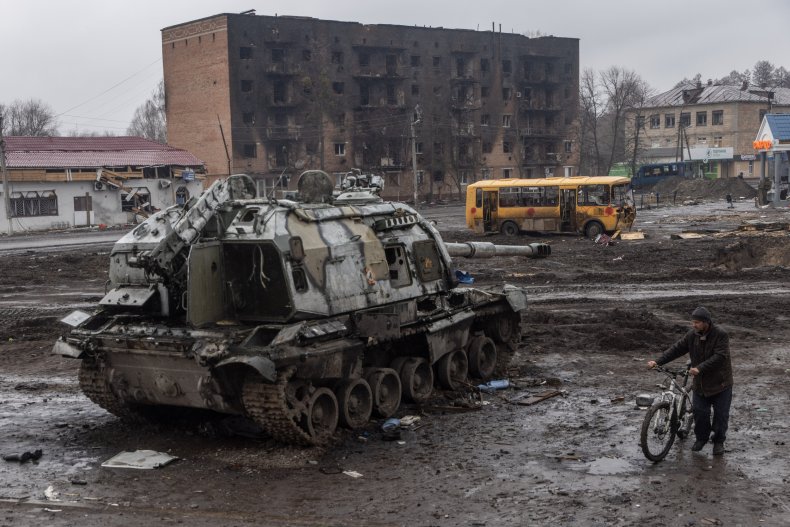 The Ukrainian prosecutor's office said in the statement, which was issued Wednesday, that Shishimarin allegedly drove into the village of Chupakhivka in the Sumy region in a stolen car with several other soldiers, when they saw an unarmed resident with a bicycle talking on a phone.
A Russian military member allegedly ordered Shishimarin to kill the civilian so that he would not report them, the statement said. Shishimarin was accused of then firing several shots from a Kalashnikov rifle through an open window of the car, striking the civilian in the head.
The civilian "died on the spot just a few dozen meters from his own home," the statement said, according to an English translation.
Ukrainian President Volodymyr Zelensky, U.S. Secretary of State Antony Blinken and Amnesty International are among the leaders and groups that have accused Russia of war crimes during the conflict. President Joe Biden has also condemned Putin as a "war criminal," a remark that the Kremlin later said was "unforgivable."
Russia has denied targeting civilians, but thousands of civilian casualties have been reported nevertheless.
The United Nations' Office of the High Commissioner for Human Rights, which provides frequent updates on estimated civilian casualty counts, said that as of Tuesday, 3,496 civilians had been killed and another 3,760 had been injured since the fighting began on February 24. The office noted that the actual civilian toll is likely much higher.
Newsweek reached out to Russia's Foreign Ministry and Ukraine's prosecutor general for comment.
Update 5/11/22, 12:45 p.m. ET: This story was updated with additional information and background.