Russian Soldiers Are Being Instructed to Destroy Their Own Equipment
Russian soldiers are being taught by Ukrainian fighters how to sabotage their own equipment, to profit from the war without endangering their lives.
Around 4,000 Russian recruits have enrolled on an "educational platform," set up in September 2022, according to a post on the organization's Telegram page.
Known as the "Atesh School," promotional material for the organization said its students "have mastered the art of breaking equipment and sabotaging orders."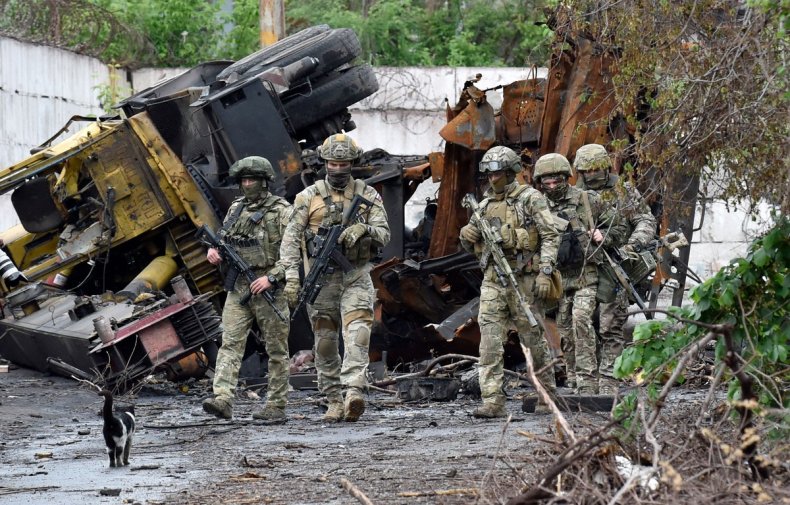 Adverts for the "school" on Telegram specifically call for Russian military personnel and Wagner Group mercenaries fighting on Moscow's behalf to sign up.
"Students of the Atesh School know that there is no need to go to war if you can get good money in the rear, repairing your equipment and not risking your life," one Telegram post read.
The "school" describes itself on its website as a "military partisan movement" operating in the areas of Ukraine controlled by Russian forces. It also claims to exist within Russia, with Russian citizens and Crimean Tatars, an indigenous group from the annexed peninsula, involved in its creation.
"Every day we receive new information, new reports of successful sabotage within the Russian army," the organization said in a previous Telegram post on Tuesday.
The website shows videos offering instructions on how to "neutralize" and damage the gearbox in a Russian T-72 tank, among other heavy weaponry.
Newsweek has contacted the Russian defense ministry for comment.
Subversives aligned with Ukraine have been working in Russian-occupied territory, as well as in Russia, since the start of the invasion. This is according to Taras Fedirko, a lecturer in organized crime and corruption at Glasgow University, Scotland. However, work like this has previously gone unclaimed, he told Newsweek.
This new "school" appears to "break with this pattern," Fedirko said. But he added that it was difficult to verify the organization's claims of responsibility for acts of sabotage.
"It is to be expected that any resistance movement would take up this form of sabotage," Fedirko said, but its effectiveness is not yet clear.
"I assess that its main role is exploiting the weak morale of Russian troops and contributing to Ukraine's 'psychological warfare,'" Fedirko added. It may also lead to further acts of sabotage and resistance.
Problems plaguing the Russian army have long been documented by Western analysts. Back in March 2022, just over a month after the outbreak of the full-scale war, the U.K's spy chief said demoralized Russian soldiers were already sabotaging their own equipment.
Sir Jeremy Fleming, who heads up the UK's intelligence, security and cyber agency GCHQ, said Russian troops had refused to comply with orders from their commanders.
"We've seen Russian soldiers, short of weapons and morale, refusing to carry out orders, sabotaging their own equipment and even accidentally shooting down their own aircraft," Fleming said.
In December, the British defense ministry said that morale problems had not lessened throughout the months of war.
"Fragile morale almost certainly continues to be a significant vulnerability across much of the Russian force," the ministry wrote on Twitter.
On February 11, 2023, Ukraine's General Staff of the Armed Forces wrote in an operational update that Russian forces were repairing military equipment in the city of Mariupol, Donetsk region.
The equipment "was deliberately derailed by Russian soldiers, so as not to participate in combat," the General Staff said. The update added that the "main reason" the military equipment needed repair was because of the "deliberate removal of engines."
Many of the videos advertised on the "Atesh School" website focus on the sabotage of engines, but Newsweek could not independently verify a link.