Russian Tanks Accidentally Run Over Their Own Troops in Shocking Video
A Telegram channel linked to the Wagner Group, a Russian paramilitary outfit involved in current offensives in Ukraine's eastern region, has released footage that purportedly shows Russian tanks running over troops in the city of Vuhledar.
Vuhledar, in Ukraine's Donbas region, has seen intense clashes in recent weeks, as Russian troops attempt to seize the city which a Kremlin-appointed official has claimed may turn the war in Moscow's favor.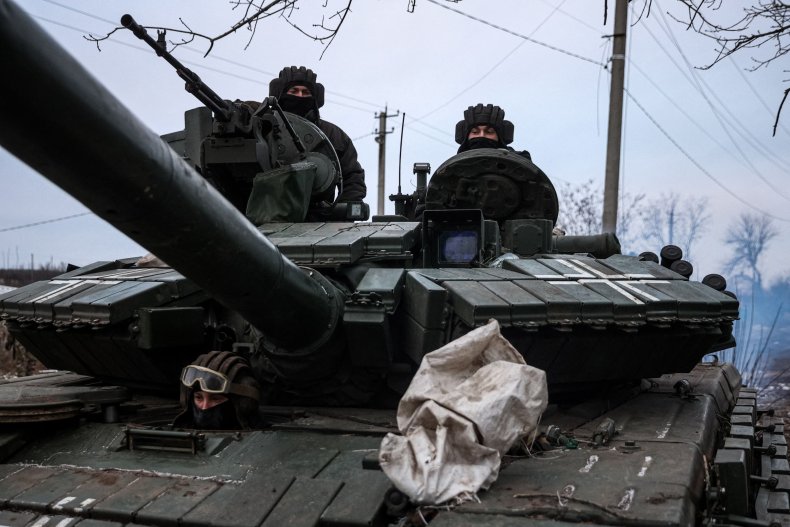 Ukraine's military said on Thursday that Russian forces had lost dozens of armored vehicles in a failed attempt to take the eastern Ukrainian city.
Grey Zone, a pro-Kremlin Telegram channel, posted footage purportedly from the recent clashes in Vuhledar.
"In Vuhledar, a complete f****** is happening, and it is happening over and over again, often in commanding of the same units that were trumpeting about problems previously, but the problems are not ending," the channel said in a post accompanying the videos.
"Yes, of course, we also inflict damage on the enemy, but the enemy's footage demonstrates another crisis in command and control of troops at the headquarters level."
The post noted that a Russian unit—some of whose members were reported to have complained to their regional governor last year about "incompetent" leadership after a disastrous attack on nearby Pavlivka, singling out Generals Rustam Muradov and Zurab Akhmedov—was once again in action.
"The infamous but heroic 155th heroic Marine Brigade of the Pacific Fleet during the battles for Pavlivka already turned to the Governor of Primorksy Krai, Oleg Kozhemyaka, mentioning the names of Muradov and Akhmedov (Muradov is still in command). Now they are fighting for Vuhledar, along with the Marines of the 40th brigade and special forces of the 14th separate brigade," the post read.
The footage "speaks for itself," the Grey Zone channel said.
"At least 30 pieces of lost vehicles, burning tankmen running around, and footage that looks like it's from the movie Purgatory about the war in Chechnya with BMPs [armored personnel carriers] crushing own soldiers."
The footage shared by the Telegram channel shows two soldiers being dragged under a tank, and a soldier covered in flames running from a tank shortly before it explodes.
Denis Pushilin, Russia's leader in the self-proclaimed Donetsk People's Republic, has said that the capture of the Vuhledar region will be a game-changer for Russia's war efforts.
He told state-run news agency RIA Novosti last month that Russia is "waiting for good news from Vuhledar," adding that the encirclement and "subsequent liberation" of the city "solves many problems."
"Taking control of this settlement will provide our troops with access to the Krasnoarmiysk (Pokrovsk) and Kurakhovskoye directions," he said.
Newsweek has contacted Russia's Defense Ministry for comment.
Do you have a tip on a world news story that Newsweek should be covering? Do you have a question about the Russia-Ukraine war? Let us know via worldnews@newsweek.com.