Ukraine Releases List of Russian Officers Who May Be Sabotaging Putin's War
The commanders of a Russian regiment in Ukraine's Donetsk region have allegedly tried to sabotage their own equipment in order to avoid fighting in the war, and Ukraine's defense intelligence service released a list of the officers who may be behind the effort.
The Main Intelligence Directorate of Ukraine's Defense Ministry issued a report Tuesday detailing an instance in which commanders of one of the batteries of Russia's 933rd Anti-Aircraft Missile Regiment allegedly removed and attempted to sell control units from Tor-M2U combat vehicles. Though the report did not include any information that could personally identify the commanders, the directorate did include an extensive list of captains, lieutenant colonels, majors and other officers who were part of the 933rd Anti-Aircraft Missile Regiment of the 150th Motorized Rifle Division operating in the Donetsk region.
More than three months into the Russia-Ukraine War, there have been several indications from both Ukrainian and U.S. authorities that Russian President Vladimir Putin has faced issues of rebellion and low morale among his troops. Some Russian soldiers in Ukraine have allegedly even considered or followed through with harming themselves in order to be sent home from the conflict, according to calls and messages Ukraine said it has intercepted.
Newsweek was not able to independently confirm Ukraine's report on the equipment sabotage and failed attempt to sell off parts. Russia's Defense Ministry and Ukraine's defense intelligence service were contacted for comment.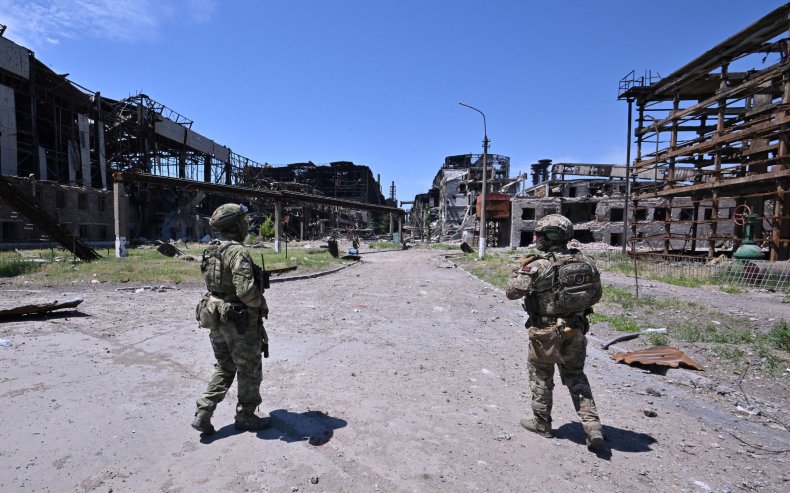 After removing the control units from the Tor-M2U vehicles, the Russians allegedly tried to sell them at a collection point, according to the report, but the effort was compromised by the "greed" of the Russian troops.
Those working at the collection point said that the Russians' asking price for the parts was too high and a receptionist reported them to Donetsk authorities, the report said.
The regiment's command ultimately attributed the missing control units to the fighting in Ukraine rather than to their own alleged sabotage. The Russians ended up resuming their service in infantry units on the front line, the report added.
In a separate Facebook post from Ukraine's intelligence directorate that previewed the same report, the service warned that all Russian "war criminals" and those who have committed crimes against Ukrainian civilians would be "brought to justice."
This is not the first time that Russian soldiers or captains have allegedly attempted to steal from Putin's army. The independent Russian media outlet Mediazona conducted an investigation on Russian looting in Ukraine and viewed recorded footage of a suspected Russian officer bringing a box containing what appeared to be an Orlan drone to a shipping checkpoint in a Russian town a few miles from the Russia-Ukraine border.
Russia has been using Orlan-10 drones in the war in Ukraine, Mediazona reported, indicating that the Russian officer may have stolen the device from his own army.