Russian soldiers have been looting not only Ukrainians but reportedly even their own army in at least one instance, according to an investigation by independent Russian media outlet Mediazona.
A report on the outlet's probe cited a specific case, on April 29, in which a suspected Russian officer was seen in recorded footage bringing a box containing what appeared to be an Orlan drone to a shipping checkpoint in the Russian town of Valuyki, a few miles from the Russia-Ukraine border. Russia has been using Orlan-10 drones in its war in Ukraine, Mediazona reported, indicating that the officer may have stolen the device from his own army.
Mediazona said that it viewed footage at the shipping checkpoint showing the drone being weighed and measured. Then the captain and other military personnel carried the box deep into the office. The news outlet said it was not able to trace the arrival of the apparent drone at its destination.
Since the Russia-Ukraine war began in late February, Ukraine has accused Russia's forces of stealing and even trying to sell personal property obtained during the invasion. The accusations come amid more serious allegations involving war crimes and other atrocities committed in Ukraine by Russia's military. Russian President Vladimir Putin and the Russian government have denied targeting civilians.
Mediazona's report did not indicate whether there may be a larger pattern of Russian soldiers looting their army. But it did highlight what it described as an "anomalous increase" in shipments by the Russian military, using shipping company SDEK, that coincided with the start of the war.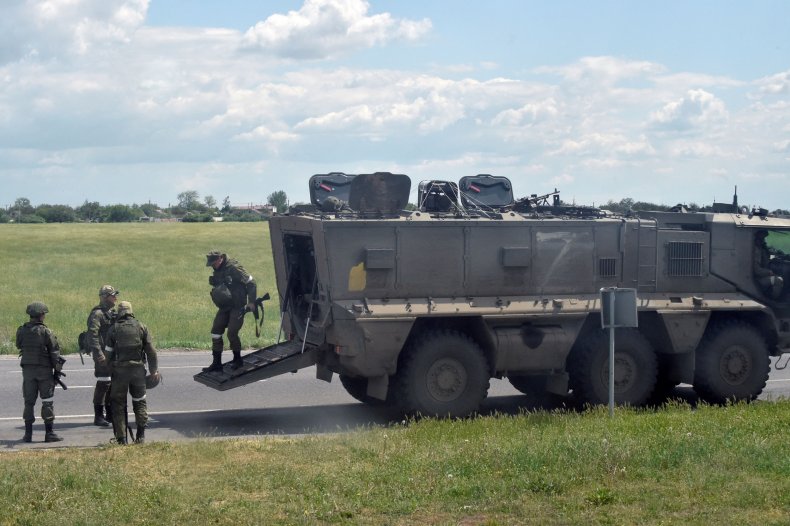 Mediazona identified "suspicious packages" shipped by SDEK by looking at their respective weights, when and where they were sent, and patterns of shipments in relation to war developments. The outlet said it was able to view the weights of packages using page code on the SDEK website.
Looted Russian equipment such as an Orlan-10 could carry a hefty price tag. The Pentagon has estimated that the drone and ground equipment could cost between $87,000 and $120,000, Mediazona said. Newsweek was not able to locate when and where the Pentagon made this assessment.
At the Valuyki shipping checkpoint where the apparent Orlan drone was observed, Mediazona said it also saw people in military uniforms sending items such as sneakers, tires, a television, food, a guitar and a tent. Mediazona said that it has been recording activity at the site since April 20 and that people in uniform went there every day with "military backpacks wrapped in film and left them at the checkout."
In most instances, Mediazona was not able to verify the contents of the shipments, it said.
Valuyki is one of SDEK's several shipping points that Mediazona said it has been monitoring around the clock.
Newsweek reached out to Russia's Defense Ministry for confirmation and comment on the alleged looting of the Orlan drone and any other instances of Russians looting army supplies.
Newsweek also reached out to Ukraine's Defense Ministry for comment.