Russian Soldiers Looted Underwear, Appliances From Bucha Civilians: Ukraine
Russian soldiers in Ukraine have been accused of looting personal items unrelated to military objectives from civilians in the Kyiv suburb of Bucha—a violation of law and the customs of war.
On Thursday, the Prosecutor General's Office of Ukraine announced that 10 Russian military members reportedly robbed the property of civilians during the occupation of the town earlier this year.
"According to the investigation, from February 24 to March 31, 2022, servicemen of the military unit of the National Guard of the Russian Federation during the occupation of Bucha looted the valuables of the local population," the office wrote on Telegram. "For the sole purpose of personal gain, the Russian military confiscated private property of citizens that could not be used for military purposes: from underwear and clothing to large household appliances."
Russian forces occupied Bucha for over a month at the beginning of the war in Ukraine and were accused of committing massacres during the takeover. Photo and video evidence detailed the killing and abuse of civilians emerged the day Russian soldiers withdrew from the town. Local authorities estimated that 1,000 bodies were recovered after the occupation.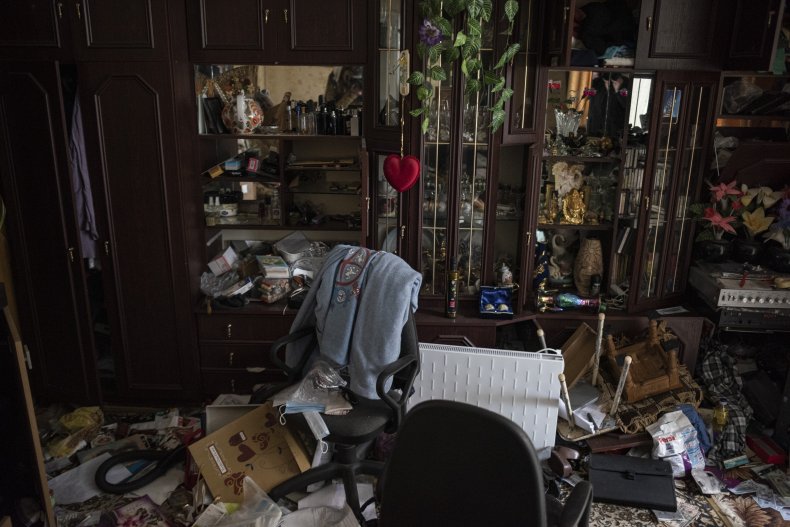 "After the liberation of the territories of Kyiv region, the occupiers, retreating to Belarus, from Mozyr sent the looted property in Ukraine by mail to their relatives," the prosecutor general's office said.
A criminal investigation into the robberies is being conducted by the National Police of Ukraine.
"The issue of declaring suspects on the international wanted list is currently being resolved," the prosecutor's office said.
Newsweek reached out to Russia's Defense Ministry for comment.
Ukraine has also asked the International Criminal Court to investigate what happened during the 35 days Bucha was occupied, as part of a probe to determine if Russia has committed war crimes since the invasion began in late February.
Russian President Vladimir Putin and the Kremlin have denied targeting civilians in the war, despite allegations by Ukraine and human rights groups like Amnesty International. In addition, Russian state media have made false claims alleging that the images from Bucha were "staged."
Last week, a 21-year-old tank commander became the first Russian soldier to be convicted of a war crime by a Ukrainian court since the war started. Sergeant Vadim Shishimarin pleaded guilty to killing an unarmed man, saying he had been ordered to shoot him.
The Kremlin said it is unable to help Shishimarin in any way, although the soldier may eventually be included in a prisoner swap.