Russian State Media Urges Putin Didn't 'Want to' Take Kyiv in Three Days
Russian state TV pundit Yulia Vityazeva recently said that Russian President Vladimir Putin did not actually want to take Kyiv, Ukraine's capital, in three days at the start of the Russia-Ukraine war, and if he "wanted to do it, we could have done it."
"They [the United States] were saying that Ukraine's main achievement is that Kyiv still hasn't been taken in three days, as we promised, as was predicted by the American General Mark Milley," Vityazeva said. "But in Ukraine, everyone preferred to forget the fact that these were the words of an American general. So, they're all saying that we all planned to take Kyiv in three days. Let me repeat myself, if we had wanted to do it, we would have done it."
Vityazeva continued: "What's more, we have all the capacity and resources to have done it just like the Americans took Fallujah. Why not? But our supreme commander-in-chief doesn't want to. He doesn't need that Pyrrhic victory. And we don't either because we'll be living there later."
The pundit's comments were shared in a video posted to Twitter on Saturday by BBC journalist Francis Scarr. As of Saturday afternoon, the video has over 19,000 views.
At the beginning of Russia's invasion of Ukraine last February, it was believed by many that Ukraine's capital would fall to Russian troops "within days." While speaking under anonymity nearly a year ago, three U.S. officials said that Moscow's focus would be to encircle Ukrainian forces and force them to surrender or be destroyed.
According to the officials, the Russians then expected Kyiv to be taken within 96 hours, and then the leadership of Ukraine to follow in about a week's time. Ukrainian President Volodymyr Zelensky has remained steadfast in his desire to defend his country, even leaning on Western countries for military aid.
As Russian troops poured over the border into Ukraine, Zelensky was offered an evacuation route from a soon to be war-torn country. He refused to leave Ukrainian soil, memorably saying: "The fight is here; I need ammunition, not a ride."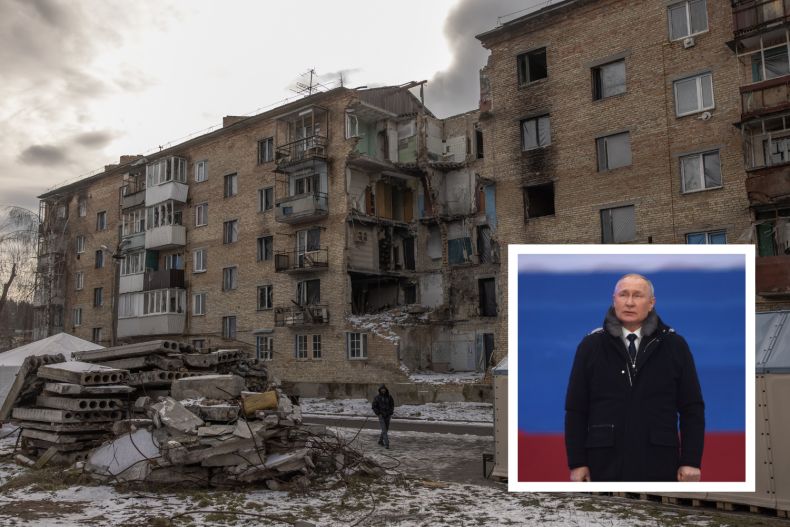 Today, the landscape of a Russian victory over Ukraine looks different. While Putin's troops have made advancements near the city of Bakhmut, they have been unable to claim complete victory. Moscow is also facing an artillery shortage, and according to former U.S. Army General Mark Hertling, Putin is likely to build up relations with Iran and China amid his army's dwindling supplies for help.
"The truth of the matter is [that] Russia is attempting to gain partners with different countries, who have different types of ammunition that they can help supply this war," Hertling said while speaking to CNN in December. "And I think Mr. Putin is realizing that he's quickly running out of the kinds of munitions he needs to continue this fight."
Newsweek has reached out to multiple experts for comment on Putin and Ukraine's war against Russia.