Five Moments That Defined Putin's Disastrous Year At War
Russian troops who advanced on Kyiv at the start of Vladimir Putin's full-scale invasion of Ukraine had reportedly brought parade uniforms with them in expectation of a victory within days.
One year on, no such uniforms have been donned, thanks to Ukrainian resilience, Western assistance and Russian battlefield failures.
Russia may have stabilized positions in the east and south of Ukraine and made small gains ahead of an offensive, but with Ukraine keeping Russia at bay, Newsweek looks at five of the key setbacks so far for Putin's invasion over the last 12 months.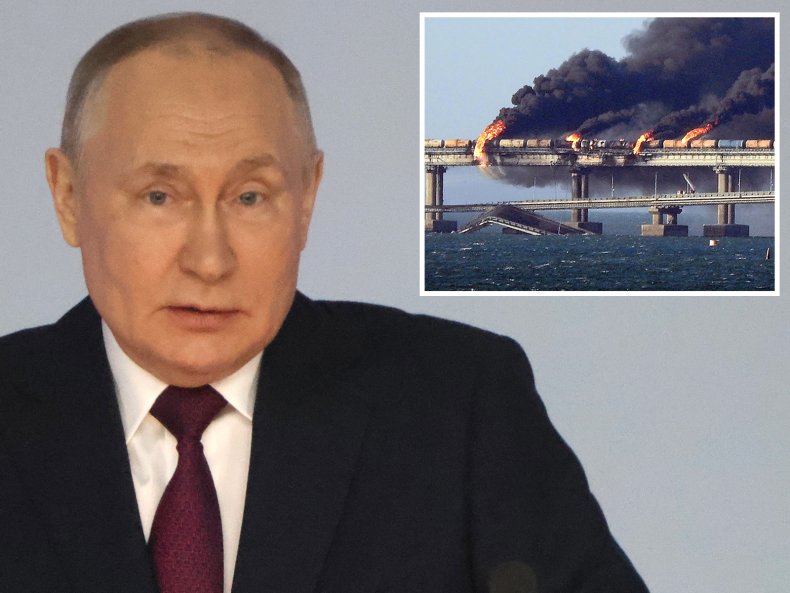 Failure to take Kyiv
Russian troops progressed quickly when they launched their invasion on February 24, 2022, including in the south around Kherson and northeast near Kharkiv, Ukraine's second city.
Fears grew that the capital could could soon be seized and Ukrainian President Volodymr Zelensky captured or killed, which could lead to Ukraine's swift surrender.
"I think if you look back, in the first 30 days, if the Russians could have tactically taken Kyiv and killed or captured Zelensky, we might be in a very, very different position," Dale Buckner, CEO of international security firm Global Guardian, told Newsweek.
"I think people wildly underestimate his importance. I think they wildly underestimated his symbolic power, themes and messages and the importance of being the liaison to the West, NATO and the U.S."
As Russian troops formed a 40-mile convoy along highways to the north of Kyiv, troops from the Ukrainian National Guard took up defensive positions on bridges entering the city, anti-tank barricades were set up and residents braced themselves, armed with Molotov cocktails.
Russian troops reached the towns of Irpin and Bucha, just to the northwest of the capital, where investigators have gathered extensive evidence of what they say are atrocities carried out against civilians, which Moscow denies. There was also fighting around Brovary, east of Kyiv.
But the convoy stalled and the capital never fell as Ukrainian forces disrupted Russian supply lines, stopped aircraft carrying troops from landing and destroyed Russian armored vehicles. It was the prelude to a fierce resistance against Putin's aggression that continues to this day.
Sinking of the Moskva
The price tag of the flagship of Russia's Black Sea Fleet was around $750 million, but its sinking on April 14 arguably delivered an even costlier blow to the reputation of Russia's naval might.
The Moskva had already featured in a confrontation that has gone down in lore with the widely shared anecdote of how it had called on the garrison of Snake Island to surrender only to be told by 13 Ukrainian border guards stationed on the rocky outcrop "to go f*** yourself."
Six weeks later the pride of Russia's Black Sea fleet was underwater, Ukraine saying it had struck the vessel with Neptune missiles. Moscow denied this, saying that ammunition onboard exploded in an unexplained fire and the ship sank while being towed back to port.
Russia said one sailor was killed and 27 missing, but unverified reports point to hundreds of casualties and relatives wanting answers about what happened. What was clear was footage of a once great vessel listing with black smoke billowing into the air and the resulting humiliation for Putin.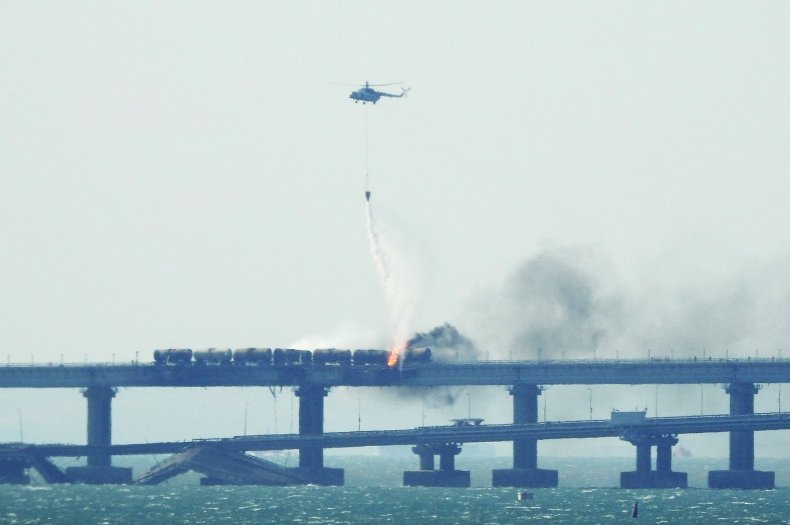 Explosion on Kerch Bridge
The blast on the bridge over the Kerch Strait that symbolizes Russia's occupation of the Crimean peninsula, seized in 2014, was astonishing for its apparent brazenness.
It followed a summer of strikes on Russian sites in Crimea, including the Saki military base on August 9.
On October 8, a day after Putin's 70th birthday and days after he had claimed the annexation of four Ukrainian regions, part of the bridge was in flames with dramatic images of smoke billowing from a train and collapsed road sections.
No one claimed responsibility and Zelensky said that Kyiv "did not order" the blast. Russia's FSB security services said eight people, including five Russians, were arrested in connection with the blast.
But the apparent sabotage of the only bridge linking the occupied peninsula with Russia, an important supply route for its troops, made a mockery of Putin's attempts to bend Ukraine to his will.
The strikes on the Kerch Bridge and the Moskva have been significant even if they did not deliver an immediate strategic advantage.
"They are symbolic to show that you entered Ukraine airspace and Ukrainian terrain territory. We can do the same," Buckner said. "They aim to show that Ukrainians do have capability" even if it is "not tactically a game changer yet."
Huge troop losses
Kyiv's estimates of Russian losses suggests Putin has been losing more troops this month than at any point in his invasion. Already three times this month, Kyiv has claimed more than 1,000 Russian deaths in a day.
This comes amid reports from both sides of a "meat grinder" in the eastern Donetsk Oblast, particularly around the town of Bakhmut.
While unverified, higher than Western estimates and considerably more than the official Moscow figure of 5,937, Ukraine's tally of Russian losses as of Wednesday of 144,440 indicates that the rate of deaths among Putin's troops is at its highest since the invasion began.
Putin has also lost many high-ranking commanders with Japanese intelligence estimating that 20 Russian generals have been killed in the war—twice as many as previously had been reported.
The Russian president has changed his war's leadership four times so far, in January appointing Chief of the General Staff Valery Gerasimov to replace Sergey Surovikin, who had only been in command since October.
Retired U.S. Navy Vice Admiral Robert Murrett, who is deputy director of the Syracuse University Institute for Security Policy and Law, said that at the strategic level, the biggest setback for Putin is "the huge casualties that the Russians have taken."
He told Newsweek that Russia's forces have been impacted by "the weakness that they have shown in their command structure and the lack of training and effectiveness of their ground forces in particular, but also to some degree, their air and naval forces."
The faltering Russian performance in the war also throws into relief how Kyiv's forces are operating.
"The leadership within the Ukrainian military and also at civilian level with their defense minister and their president, is so much more effective," he said.
"Russia has had their revolving door of commanders in the area," Murrett said, which points to a "lack of operational and tactical leadership they've had on the ground and in the other domains relative to Ukraine."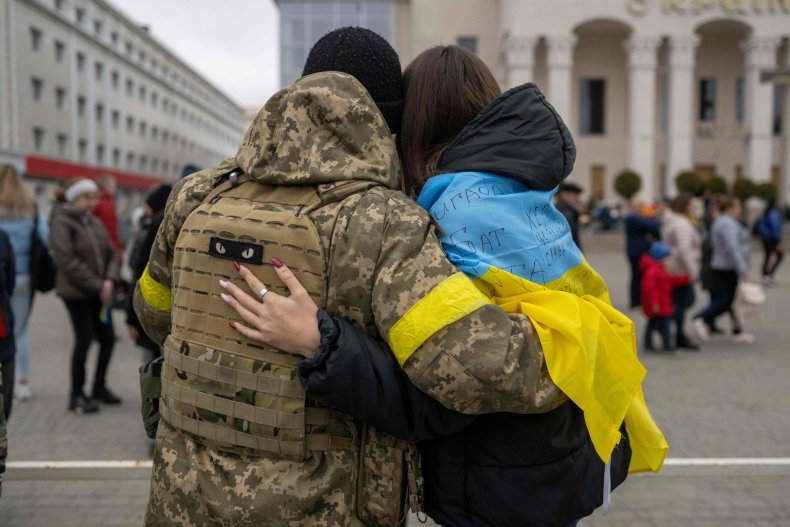 Withdrawal from Kherson
As Russian forces faced a Ukrainian counteroffensive which had gained momentum, Putin's forces pulled out of the only regional capital they had captured since the start of the invasion.
Russia's then-commander in Ukraine, General Sergei Surovikin, said in November it was no longer possible to keep supplying the city and the retreat meant that his troops withdrew from the western bank of the Dnieper River. It showed the difficulties that Putin's forces had in keeping the territory that they had gained earlier in the war.
"If they would have been able to resupply themselves with food, water, ammunition, fuel, and most importantly, they bring wounded and dead back to their side and replace them with fresh troops in an efficient manner, they could have held that terrain," said Buckner.
"Because they could not, that's when they lost all their major gains taken in the first three months."
With the war entering the winter months, Putin's hope of an easy victory had long evaporated in the face of shortcomings in his forces, Ukrainian resilience and his own hubris.
Konstantin Sonin, a Russian-born political economist at the University of Chicago's Harris School of Public Policy, said that Putin had launched the war based on a "major miscalculation" and that the setbacks over the last 12 months show that he is not adapting to the reality on the ground.
Putin had acted following "a huge underestimation of the resilience of the Ukrainian military, of the Ukrainian political system, the Ukrainian nation and the Western response," Sonin told Newsweek.
"These miscalculations have become clear since April. It was clear that this is not going to happen as planned, and still Putin stays," Sonin said. "He's insulated from any kind of new information that despite the obvious evidence that it should be stopped, he continues."