Five Moments That Defined Zelensky's Year at War
Ukraine's President Volodymyr Zelensky has reflected on "the path we have gone from February to February" ahead of the anniversary of the start of Russia's full-scale invasion on Friday.
Writing on Telegram, Zelensky said the Ukrainian people "have not broken down," adding: "We have overcome many ordeals and we will prevail."
"We will hold to account all those who brought this evil, this war to our land," he continued.
Looking back over the last 12 months, Newsweek has put together a look at Ukraine's wartime leader's most defining moments.
Refusing to Leave Kyiv
As Russian troops poured over the border into Ukraine, Zelensky was offered an evacuation route from what would soon become a war-torn country.
But the Ukrainian leader refused to leave Ukrainian soil, memorably commenting: "The fight is here; I need ammunition, not a ride."
The following day, Zelensky stepped out on the streets of the capital to dispel rumors he had fled. "I am here," he told Ukraine's citizens in a self-filmed video.
Publishing the video was well-received at the time, but from the vantage point of 12 months into the war, the moment remains the "most decisive of all," according to Michael Clarke, a professor in the War Studies Department at King's College, London, U.K.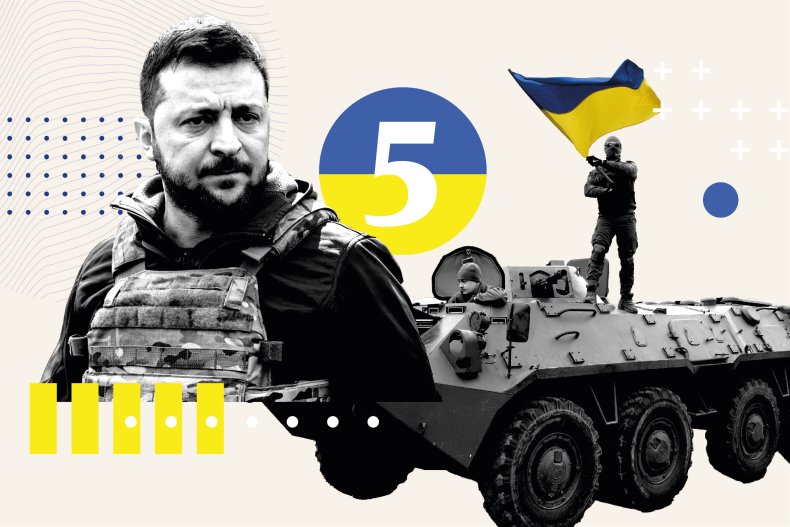 "That brief moment gave the Ukrainian people a sense that this situation was not hopeless," he told Newsweek.
But it had a secondary purpose for Kyiv's Western backers, Clarke added. Zelensky's defiance gave the U.S. and Kyiv's allies "something to base their subsequent policy around."
"If Zelensky had run with his family to safety, a very practical option available to him at that moment, Moscow would now be in control of Ukraine," Clarke said.
Zelensky's refusal to leave showed him to be "a brave person, and that was a very courageous ... decision," according to Anton Gerashchenko, an adviser with Ukraine's internal affairs ministry.
"President Zelensky refused to be evacuated, stayed in Kyiv and asked for ammunition," Gerashchenko told Newsweek. "Ukrainians began arming themselves, there were lines to drafting points," he added. "The whole world saw that Ukraine is brave and determined to fight and win."
"He stayed with his people," he said.
Natalya Yemchenko, director of public relations at Ukraine's SCM Group, deemed the move "extremely important, telling Newsweek that Zelensky was "doing incredible things for Ukraine's victory every day."
She recalled a meeting she said Zelensky held with representatives of Ukraine's business sector, mere hours before the invasion got underway.
"I was at that meeting," she said, recounting how Zelensky asked the gathered figures "if they ready to stay in Ukraine and with Ukraine under any circumstances, because we have to be united to survive."
Zelensky staying put was "fundamental," according to retired Colonel Hamish de Bretton-Gordon, who has previously commanded U.K. and NATO chemical, biological, radiological and nuclear defense (CBRN) forces. "Had he gone, I expect things might be different," he told Newsweek.
Zelensky's firmness in staying in Kyiv dampened any internal criticism the Ukrainian president could have faced, uniting the country's politicians under war-time conditions, Ukraine's former infrastructure minister, Volodymyr Omelyan, added to Newsweek.
"Not many wars genuinely revolve around such brief, dramatic and heroic moments," Clarke argued. "But this one did."
Visit to Washington, D.C.
On December 21, Zelensky stood before Congress during his first overseas trip since the full-scale invasion.
He opened his address to lawmakers with a nod to "all those who value freedom and justice," adding: "Ukraine is alive and kicking."
Zelensky then made the trip to Britain and various European Union member nations earlier this month, before President Joe Biden made a surprise appearance in Kyiv on Monday.
In a statement issued alongside his visit, Biden said he intended to "reaffirm our unwavering and unflagging commitment to Ukraine's democracy, sovereignty and territorial integrity."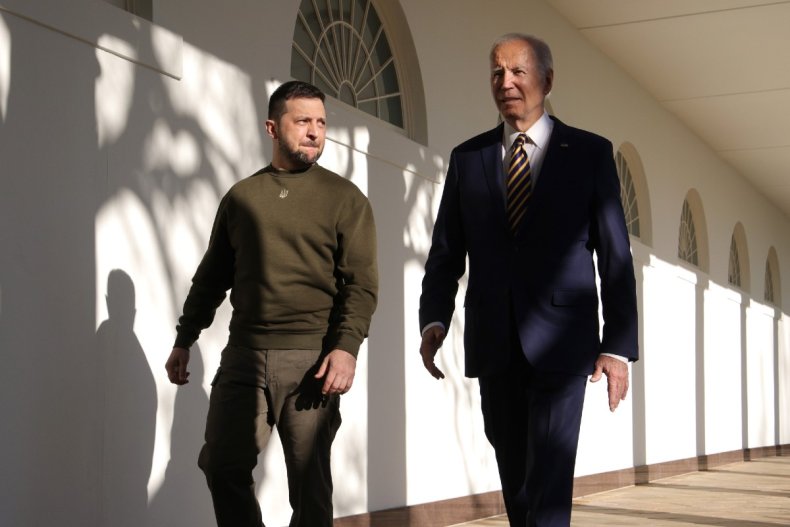 Both Zelensky's stay in the U.S. and Biden's journey to Ukraine "were incredibly important and symbolic," Gerashchenko said.
"The U.S. demonstrated their full support for Ukraine," he continued. "We are beyond grateful for this."
Although military aid can be promised from a distance, he said, Biden's physical trip was informal and "symbolic, full of meaning."
The visits were part of what makes Zelensky one of the very few leaders who stand out in world history, de Bretton-Gordon said. The trip to Washington was "key," as was how Zelensky timed his arrival in London, Paris and Brussels.
But beyond the purely political backing, visits such as the Washington D.C. trip help taxpayers funding aid supplies understand where their funds are going and "what this war is about for them," Omelyan argued.
"It's very important to to explain to each of them that, 'Look, guys, if we lose this war, war will come to your house,'" he added.
Committal of Western-made Main Battle Tanks
Another watershed moment came earlier this year, as NATO members agreed to send Western-made main battle tanks to Ukraine's front lines after weeks of hesitation.
On January 25, German Chancellor Olaf Scholz pledged 14 Leopard 2A6 main battle tanks to Kyiv, which had been widely considered by experts to be the most apt choice of Western main battle tank for Ukraine.
Berlin said Germany was "acting in close international coordination" to send the Leopard 2s, and Canada announced its first Leopard 2 tank was on its way to Ukraine earlier this month. Tens of Leopard 1 tanks will also head for Ukraine, it was revealed on February 7.
Shortly after Scholz's announcement, President Biden promised 31 M1 Abrams tanks, enough to equip an entire Ukrainian tank battalion.
In a press conference on January 25, Biden said Ukraine's armed forces "need to "counter Russia's evolving tactics and strategy on the battlefield in the very near term."
He hailed the M1 Abrams as the "most capable tanks in the world," adding the Abrams to the Leopard 2 and Challenger 2 main battle tanks committed by European countries and the United Kingdom.
Giving Western main battle tanks was so critical because it will afford Ukraine the conventional military advantage, de Bretton-Gordon said. Through combined arms operations with Western main battle tanks, including precision artillery and air defense, Ukraine can now "get on the front foot and attack."
The reliable, well-protected tanks can operate effectively at night, and may be enough for Ukraine to "punch through the Russian positions, get behind them, and encircle them," the retired colonel argued.
"That could be the difference," he said, adding the "absolutely key" tanks "could tip the balance."
Omelyan suggested he considered HIMARS [High Mobility Artillery Rocket System] to be one of the most important parts of military packages that has already arrived in Ukraine. They "really changed the battlefield landscape," he told Newsweek.
Although Ukraine eagerly awaits the rolling out of Western main battle tanks in Ukraine, they need to come in conjunction with the likes of air power and long-range missiles, he added. If all these parts come together, he predicted, "definitely the war will be over by the end of 2023."
Kerch Bridge Explosion
On October 8, a huge explosion rocked the Kerch Bridge, which connects Russia to the annexed peninsula of Crimea. Moscow illegally annexed Crimea back in 2014, and Ukraine has reiterated throughout the last year that it plans to reclaim the territory where Russia houses its Black Sea fleet.
Footage of a section of the Kerch Bridge engulfed in flames quickly circulated on social media and via news outlets, and was interpreted as a serious blow to Russia. The Kerch Bridge was a key strategic route for Russia to move supplies to its forces engaged in southern Ukraine. In the weeks following the blast, Russian forces faced "more acute" logistical issues, the British defense ministry said.
Putin opened the road part of the bridge four years after annexation, and at the time of the explosion, Gerashchenko told Newsweek that the "possibility of escalation from Putin's side is high."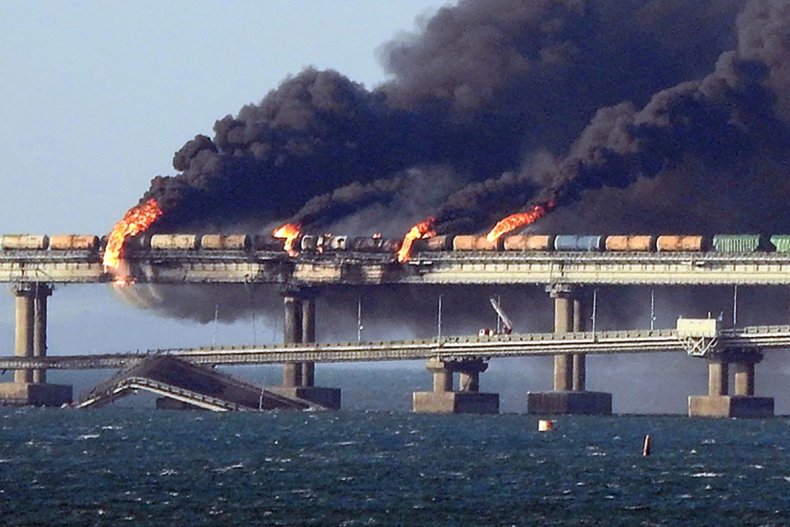 The blast also came the day after Putin's birthday, and little over a week after the Russian leader announced the annexation of the Donetsk, Luhansk, Kherson and Zaporizhzhia regions.
"When Russian territory, so-called Russian territory is under attack [from] Ukrainian armed forces, and Putin cannot protect it, that means that the Kremlin is weak," Omelyan said.
Ukraine did not take responsibility for the blast, and Russia's FSB security service said eight people, including five Russian citizens, had been arrested over the explosion.
The Kerch Bridge explosion showed Ukraine to have the capabilities of elite special forces, going deep behind enemy lines, de Bretton-Gordon argued.
On the eve of the first anniversary of the outbreak of the war, Russia's deputy prime minister said the bridge had fully reopened to road traffic.
Writing on Telegram on Thursday—which marks the Defender of the Fatherland Day in which Russia celebrates its armed forces—Marat Khusnullin called the announcement a "big gift" to Russia.
Retaking of Kherson
The southern Black Sea port city of Kherson was the first major hub to fall to Russian control within the first week of Moscow's invasion. The regional city was under the "full control" of Kremlin forces, a Russian Defense Ministry spokesperson said on March 2, 2022.
But the city became the target of a Ukrainian counter-offensive sweeping through the south of the country during the fall. By November 10, Moscow's troops began their withdrawal from the port city, with Russia's Defense Ministry saying units were "maneuvering to a prepared position on the left bank of the Dnipro River in strict accordance with the approved plan."
Although not a turning point in the war, it was "when people started to realize that perhaps Ukraine wasn't going to be overrun by the Russians," de Bretton-Gordon said. An "incredibly well-executed" show of Ukrainian strength, "I can't see that they could have done it much better," he added.
The retaking of Kherson, as well as other regions across Ukraine over the past year, plus the Kerch Bridge explosion "all signify the capability of Ukrainian Army not just defend but liberate Ukrainian territories," Gerashchenko told Newsweek.
"We proved we can win," he added. "Since the beginning of the war we've been saying—give us weapons and we'll do this job."
Key military stand-offs, such as in the Donetsk city of Mariupol in the spring of 2022, also showed Western allies what Ukraine was capable of and encouraged military aid, according to Yemchenko.
In the initial months of the war, Ukrainian soldiers fought to fend off Russian soldiers in the Azovstal steel plant when the city became described as "apocalyptic," although the city did eventually fall to Russian forces last May.
"This (not only this, but also this) changed the course of the war to a great extent and gave hope to the whole of Ukraine for victory," Yemchenko said.