How Do German Leopard and Cheetah Tanks Compare?
Germany has added a number of Gepard, otherwise known as "Cheetah," anti-aircraft tanks to the military aid destined for Kyiv, after sanctioning the delivery of both Leopard 1 and Leopard 2 tanks to Ukraine.
In late January, German Chancellor Olaf Scholz said he was "acting in close international coordination" to send Kyiv a company of Leopard 2A6 tanks. The decision to send 14 Leopard 2 tanks came after weeks of pressure on Berlin to allow third party countries to commit their own Leopard 2 tanks.
On February 7, the defense ministers of Germany, the Netherlands and Denmark announced they would send at least 100 Leopard 1A5 main battle tanks to Ukraine in "the coming months."
The refurbished Leopard 1A5s would come from "industrial stocks," they confirmed in a joint statement, and would "complement the efforts already underway to support Ukraine with Leopard 2 main battle tanks."
Between 20 and 25 Leopard 1 tanks would arrive in Ukraine by the summer months, with 80 planned for delivery before the end of the year, Ukraine's defense minister Oleksy Reznikov said on February 7.
A "minimum of three battalions" will be equipped by the initiative, Reznikov added in a statement posted to Facebook. Germany had previously given the go-ahead for private armsmaker, Rheinmetall, to sell its old Leopard 1s to Ukraine after refurbishment.
On February 8, the head of Ukrainian President Volodymyr Zelensky's office, Andriy Yermak, said Germany had agreed to send an additional two Gepard anti-aircraft tanks to Ukraine.
As of Sunday, the German government's website lists 32 Gepards as delivered to Ukraine, with an additional five in a "planning" stage.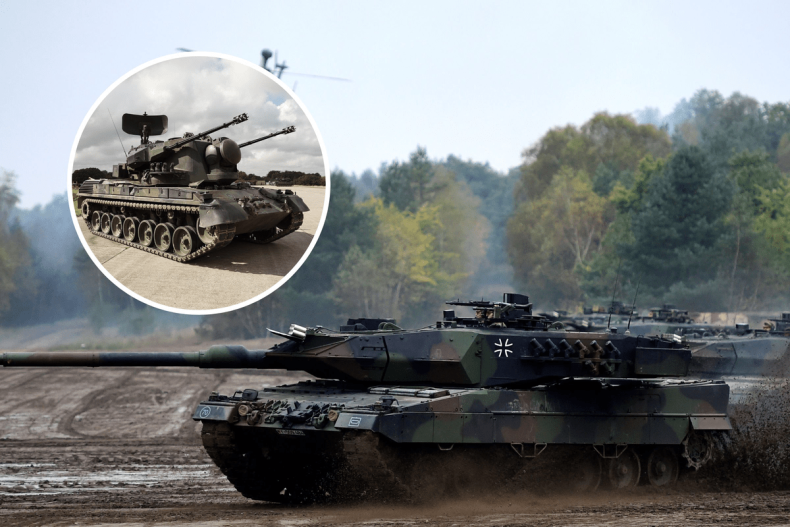 The Gepard is an "armored, all-weather anti-aircraft gun tank," described by manufacturers Krauss-Maffei Wegmann as being "continuously modernized" since its introduction in the 1960s.
The tracked vehicle is capable of carrying three crew members, with a maximum speed of 40 miles per hour. Able to cover a range of 340 miles, it is fitted with two 35mm autocannons.
Its "high off-road mobility and rapid swivelling of the turret enable the extremely short reaction times needed to engage aerial threats," according to KMW. It is primarily designed for air defense, such as against Iranian-made drones operated by Russia in Ukraine, but can be used against ground targets.
The Gepard, although not a main battle tank, shares a chassis design with the Leopard 1. Also made by KMW, the Leopard 1 is praised by its manufacturers as an "unparalleled success story."
Despite a similar top speed and range to the Gepard, the Leopard 1A5 is a main battle tank rather than an anti-aircraft tank. The Leopard 1 is still in use across five continents, according to KMW, and "due to continuous increases in combat value, the system is still state-of-the-art."
But the Leopard 2 variants, introduced in 1979, are the Leopard 1's successors. Used by the militaries of 18 countries, according to its manufacturer, the Leopard 2 variants have become a common sight in many European armies.
With a maximum range of 280 miles and a top speed of just under 45mph, the Leopard 2 can be kitted out with a 120mm smoothbore gun or a 7.62mm machine gun. Using the "most sophisticated technology," the Leopard 2A6 "protects the crew and equipment from even the most modern types of ammunition and threats," according to KMW.
Prior to Berlin's pledge of Leopard 2A6 tanks, Western experts widely agreed that the German-made main battle tanks were the best choice for Ukraine's armed forces.
The U.K. has also offered 14 of its Challenger 2 main battle tanks, and the U.S. has promised 31 M1 Abrams tanks.