A military analyst speaking on Russian state television has called for a system of "military socialism," arguing that Russia's current system is unequipped to support its efforts during its invasion of Ukraine.
"Our current economical market system is unfit to meet the needs of our Armed Forces and of the entire country under these conditions. We need to move on to another system, I will tentatively call it 'military socialism' but any other title could also be used," the analyst, Konstantin Sivkov, stated in a video of a broadcast that was widely viewed Saturday, adding that "all strategic resources, without exceptions, like land, factories and everything else have to be placed under government control and develop according to a centralized plan."
Sivkov also noted the Russian artillery's use of munitions during the war, and the shells and missiles that "have to be produced."
"We need to urgently, urgently adopt our industries into a wartime economy," he stated.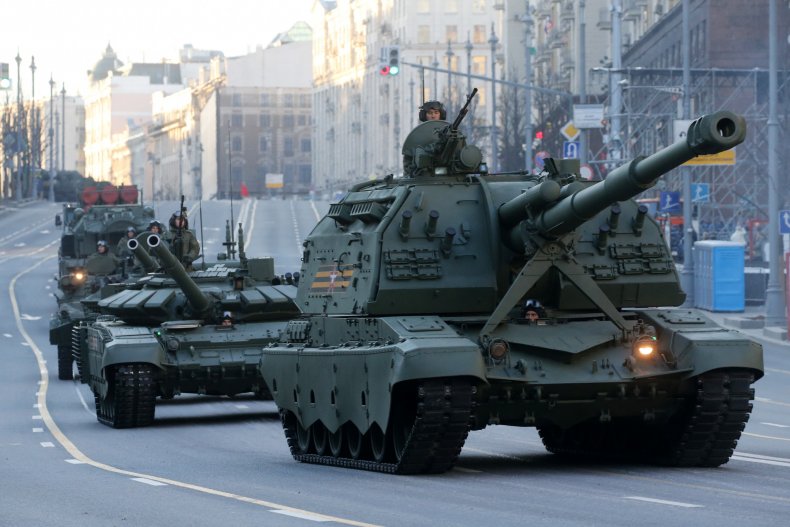 A video of Sivkov's remarks was posted on Twitter by Julia Davis, a Russian media analyst and a columnist for The Daily Beast. As of Saturday evening, the video has been viewed nearly 250,000 times.
"Meanwhile on Russian state TV, military experts are concerned that Russia's current economy is unfit to meet the needs of its Armed Forces. One expert advocated the urgent need to move on to 'military socialism' and a 'wartime economy,' with government in charge of everything," she tweeted Saturday afternoon.
Russia's Expensive War in Ukraine
The military analyst's comments come as Russia is spending hundreds of millions of dollars to fund its war in Ukraine. According to one analysis provided to Newsweek, the cost of sustaining Russia's military offensive is about $900 million per day.
Sean Spoonts, editor-in-chief of SOFREP, a media outlet focused on military news, said this includes the cost of weapons, repairing damaged equipment and paying soldiers.
The analyst's call for "military socialism" also comes ahead of Victory Day on May 9—an annual Russian commemoration of the end of World War II. There has been speculation that Russian President Vladimir Putin may announce a mass mobilization on that day, a move that could mean the recruitment of thousands of troops to fight in Ukraine. While Russia has denied that it will officially declare war on its Eastern European neighbor, Newsweek reported this week that the Russian government is recruiting staff for "wartime mobilization specialists."
One researcher told Radio Free Europe Friday that he believes if Putin announces a large mobilization it could mean losing support for the war among his own people.
"The popularity of the war would fall sharply," Sergei Zhavoronkov, a researcher with Moscow's Economic Policy Institute, told the news organization. "It is one thing to watch it like an amusing computer game, but it is another when it directly affects many Russians and their families."
Newsweek has reached out to the Russian Foreign Ministry for comment.