Russian State TV Guest Says Ukraine Invasion an 'Episode' in War With U.S.
A Russian propagandist on state-controlled TV claimed the country's invasion of Ukraine is an "episode" in a long-standing war with the U.S.
In a clip shared on Twitter by Russian Media Monitor Julia Davis on Saturday, February 11, propagandist Dmitry Kulikov claimed Russia had been in continuous war with the U.S. since 1945, the end of World War II.
Speaking to Russia-1 host Vladimir Solovyov, Kulikov said: "This war with the United States has been going on since 1945, for nearly 80 years. Ukraine is an episode in this 80-year history.
"It means that it will continue beyond Ukraine, or bigger than Ukraine, logically speaking. Then we have to answer the question: the goal of our victory is not to eliminate Ukraine, but forcing the Western world, headed by the U.S., out of this big, historical geopolitical war and coercing it to peace."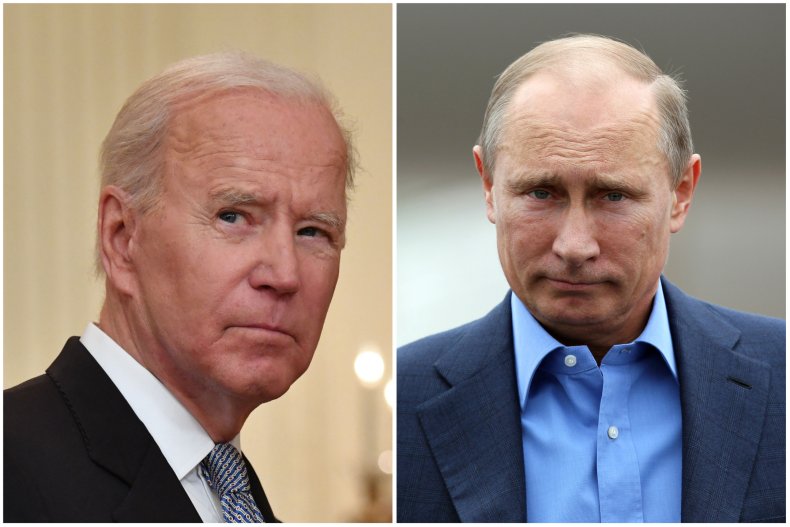 Kulikov's claim that the U.S. has been in a continuous war with Russia doesn't reflect the reality of recent history.
While the U.S. and Soviet Union were hostile to one another during the Cold War, relations between Washington and the then newly formed Russia reached an all-time high under President George W. Bush's tenure in the 2000s.
Relations then deteriorated significantly under the administration of Barack Obama following aggressive Russian military intervention in Georgia and the annexation of Crimea. President Joe Biden has shown continuous support to Ukraine at the expense of Russia.
Following an exchange with Solovyov where the pair appeared to comment about the possibility of nuclear weapons being used against the West, Kulikov added: "I understand that it's problematic, but they're stuck in this place. 'The Russians won't do anything,' versus it's scared, 'we don't know what the Russians will do.' They have no solution for this dilemma."
Propaganist and President of the Institute of the Middle East Yevgeny Satanovsky then commented that "denazification" and "demilitarization" of the U.S. should be a goal of Moscow.
He added: "De-Americanization of global politics is an important goal. If a highway robber tells you, 'this whole world is my sphere of interest' and he is certainly saying it. 'We have to be everywhere forever,' then your goal is to eliminate him."
Satanovsky commented that Russia is not truly at war with NATO, but in reality with the U.S. and believed Moscow should be dismantling communications satellites as part of its war strategy.
The propagandists further asserted that Russia should return to its imperial borders where it occupied much of Poland and owned Alaska before its sale to the U.S.
Since being shared, the clip has been viewed some 194.4 million times on the social media platform.
It has been nearly a year since Russian President Vladimir Putin launched his invasion of Ukraine over a stated aim of denazifying the country, a claim strongly rejected by Kyiv, Washington and its allies.
While Russia had hoped to end the war quickly, Ukraine has managed to hold onto core territory and it has even launched counteroffensives into eastern regions of the country occupied by Moscow forces.
Newsweek has contacted the Kremlin for comment.