Russian TV Pundits Lament 'Hero' Biden's Kyiv Visit
Guests on Russian state television have bemoaned the "excellent PR operation" by "hero" President Joe Biden on his trip to Ukraine this week.
Biden made an unexpected visit to Kyiv on Monday, a few days before the country will mark one year since Russia's invasion.
The president signalled in a statement that his visit was intended to "reaffirm our unwavering and unflagging commitment to Ukraine's democracy, sovereignty and territorial integrity."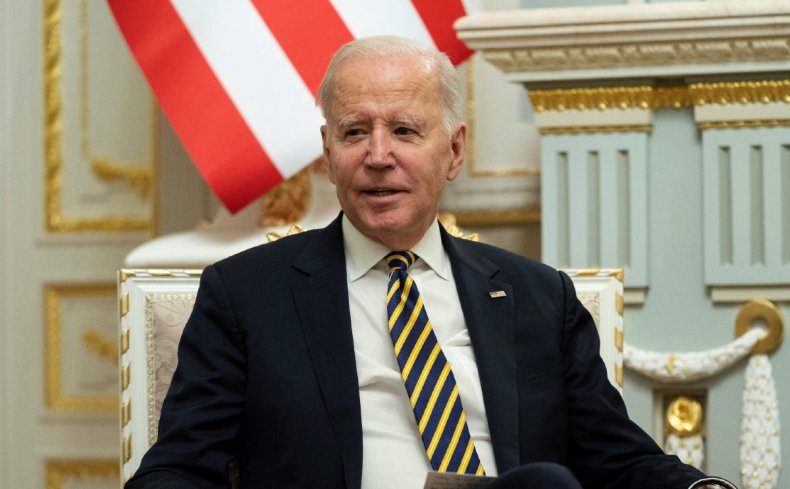 To coincide with the trip, the White House announced another $500 million of military aid, including artillery ammunition, air surveillance radars and anti-armor systems.
Appearing on Russian state television channel Rossiya-1, Andrey Sidorov, an associate professor in the world politics department of Moscow State University, described the U.S. president as "the organizer of an anti-Russian coalition … riding all over primordial Russian lands" and as the representative of "the most hostile nation."
In the footage from a panel discussion, which was posted to Twitter by journalist Julia Davis on Tuesday, Sidorov added: "Right now, Biden looks like a hero, at least in the media.
"He wasn't afraid to come to a zone of military conflict, where there aren't any American soldiers."
Dmitry Drobnitsky, who is cited as a specialist in American studies, spoke next, telling the panel: "In reality, when Biden came to Kyiv, I will agree this is not a good thing."
"I don't know whether someone permitted it or not," he added, but "Biden carried out an excellent PR operation, which is very important during a hybrid war. It's very important."
The visit helped Biden assuage domestic worries about his support for Kyiv leading to a third world war, Drobnitsky argued.
Davies' clip then shows Drobnitsky engaging in a heated exchange with host Vladimir Solovyov, about the advance warning the Biden administration said they gave Moscow ahead of the president's departure.
Jake Sullivan, the national security adviser, said after Biden's arrival in Ukraine: "We did notify the Russians that President Biden will be traveling to Kyiv.
"We did so some hours before his departure for de-confliction purposes."
The president left Washington in the early hours of Sunday and arrived in Kyiv the following morning after an eight-hour train journey from Poland.
"The bottom line is that the emerging rift in the West was mended back together by Biden during his eight-hour train ride," Drobnitsky said.
Sullivan said that he would not divulge further details of those communications because of their "sensitive nature," but confirmed "that we provided that notice."
On Monday the former Russian president and prime minister, Dmitry Medvedev, said Biden had received security assurances ahead of the trip. He wrote on Telegram that Biden "previously received security guarantees" and "finally went to Kyiv."
However, the head of Russia's security service, Alexander Bortnikov, was quoted in state media saying Moscow had been notified but denying that it gave out any security guarantees.