Russian State TV Mocks Other Countries Suffering Monkeypox Outbreak
Russian state TV hosts on Wednesday mocked countries that have reported cases of the monkeypox virus as the outbreak continues to advance across Europe and North America rapidly.
Outbreaks of the viral disease have been reported in nearly 20 countries where the virus is not endemic. The infectious disease, which was first discovered in monkeys, is spread by close contact and is usually mild. In recent weeks, more than 100 confirmed infections have been reported mainly in Europe, with additional suspected cases.
In a video clip shared by Daily Beast columnist Julia Davis on Twitter, Russian state television hosts Evgeny Popov and Olga Skabeeva, and Russian politician and member of the State Duma Alexei Zhuravlyov derided the nations which have reported monkeypox outbreaks. Skabeeva claimed that the affected countries are sending weapons to Ukraine. The clip has so far amassed more than 30,000 views.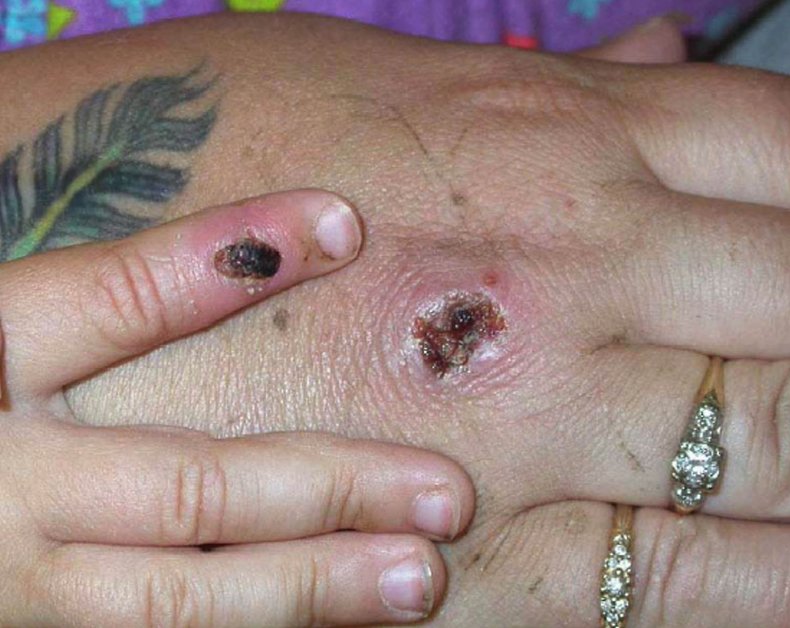 "Monkeypox. Almost all who got sick with it are men of non-traditional sexual orientation," Popov began.
Skabeeva added: "You won't believe it, such a coincidence, or maybe it's not a coincidence, most countries, whose homosexuals got monkeypox, are supplying weapons to the Kyiv regime. Stuff happens, right?"
Monkeypox 'Not a Gay Disease': WHO
Andy Seale, an advisor with the HIV, hepatitis and sexually transmitted infections program at the World Health Organization (WHO), stressed on Monday that "anybody can contract monkeypox through close contact."
"While, for example, we're seeing some cases amongst men who have sex with men, this is not a gay disease as some people on social media have attempted to label it. That's just not the case," he said during a Q&A session.
Ukraine Aid
Russian President Vladimir Putin's invasion of Ukraine in February prompted members of the military alliance, the North Atlantic Treaty Organization (NATO), to supply Ukraine with weapons and military aid in support.
The alliance's 30 member states include 28 European states, the U.S., and Canada. The U.S. Congress on May 19 approved more than $40 billion in additional aid to Ukraine, bringing the total support from the Biden administration amid the ongoing war to approximately $54 billion.
As of April 28, a total of 31 nations, including many members of the European Union, had sent military aid to Ukraine amid the ongoing conflict, which began more than three months ago.
Cases of the monkeypox virus have so far been reported in Austria, Belgium, the Czech Republic, Denmark, Finland, France, Germany, Italy, the Netherlands, Portugal, Slovenia, Spain, Sweden, Switzerland, the United Kingdom, Israel, the United Arab Emirates, Argentina, Canada and the United States.
Not all nations which have reported cases of the virus have supplied Ukraine with weapons.
Zhuravlyov added on Russian state television that the country has "no cases of monkeypox, not even one," before laughing with his fellow hosts.
Russia's sanitary watchdog said on May 23 that Russia has herd immunity against monkeypox due to "the mass vaccination against smallpox conducted in Russia before," referring to the mandatory vaccination against smallpox that was conducted in the country until 1980.
"Earlier vaccination against smallpox reduces the risks of severe monkeypox cases since all poxviruses give good cross protection," the watchdog said. "We have herd immunity to curb the spread of monkeypox."
What Is Monkeypox?
Monkeypox was first identified in a child in the Democratic Republic of the Congo in 1970.
According to WHO, the monkeypox virus is transmitted by close contact with lesions, body fluids, respiratory droplets and contaminated materials such as bedding. The incubation period of monkeypox is usually from 6 to 13 days but can range from 5 to 21 days.
Symptoms include skin lesions, headaches, muscle and body aches, fever, swollen lymph nodes, and asthenia, which is profound weakness, WHO notes.
The risk to the general public is said to be low.