Russian Troops Suffer Frostbite, Forced to Cut Off 'Blackened Meat'—Report
Some Russian soldiers who returned to Russia after refusing to fight in Vladimir Putin's war in Ukraine reportedly suffered from frostbite and were forced to amputate some of their limbs, a local human rights activist was quoted as saying.
A human rights activist and a military lawyer, who were both unnamed in the report, told The Moscow Times that in March, just weeks into Putin's invasion of Ukraine, 300 soldiers from a single unit went against orders, abandoned their positions in Ukraine's Donetsk region, and returned to their base in Buynaksk—a town in Russia's Republic of Dagestan.
According to the report, the soldiers, who were contractors, reportedly began the process of terminating their contracts when they returned to their base, and were subsequently treated as deserters.
A military lawyer who said he was approached by the contractors for representation told the independent Russian-language news outlet that the men could now face felony charges for absence without official leave for refusing to fight in Ukraine.
"The servicemen claimed they had problems with uniforms and weapons," the unnamed lawyer from Moscow said. "If a serviceman is absent from his place of service for more than 10 days, then criminal liability may be applied to him, and now the case is being investigated by the military prosecutor's office."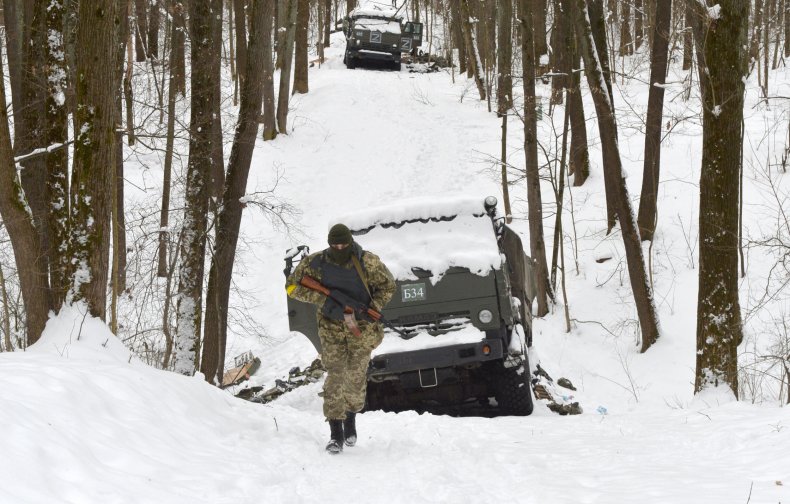 A human rights activist said some of the soldiers returned with frostbitten limbs, and that several people were left disabled because of this, as they had to "cut off the blackened meat."
The servicemen reportedly had problems with uniforms, supplies, and the weapons issued to them were "faulty," the human rights activist said. Some reportedly returned to Ukraine after pressure from relatives and local authorities.
The Moscow Times noted that it was unable to speak directly with the soldiers because of the private nature of their return and the sense of shame surrounding leaving the service.
Newsweek has been unable to independently verify these claims and has reached out to Russia's foreign ministry for comment.
This latest development follows reports from an anti-war group earlier this month that 100 Russian servicemen from Buryatia returned home after refusing to fight in Ukraine.
The Free Buryatia Foundation, an anti-war initiative formed by ethnic Buryats, said a plane with 150 servicemen who terminated their contracts with Russia's defense ministry landed in the Russian republic near the Russia-Mongolia border on July 9.
Founder Alexandra Garmazhapova said on Ukrainian television that their wives made a video appeal last month to the head of Buryatia with a request for their husbands, who were serving with the Russian armed forces, to return home after they attempted to terminate their contracts.
Before their return, they were detained in a camp for several days in Ukraine's eastern Luhansk region and were threatened with lawsuits, the group said.
Pavel Luzin, a Russian military expert, told The Guardian in March that it is becoming clear that many of the soldiers who are dying in the war are from the poorer "ethnic minority" republics such as Buryatia, Kalmykia and Dagestan.
Men from these regions can largely be found in the lower ranks of Russia's army, Luzin said.
Both Dagestan and Buryatia have the highest number of officially reported casualties in Russia's war against Ukraine, according to data collated by Russian investigative news outlet Important Stories.