Russian Troops Now Occupy at Least 50 Percent of Bakhmut: ISW
Russia now occupies at least half of the city of Bakhmut, Ukraine, although Moscow is likely incapable of capitalizing on the potential victory, the Institute for the Study of War (ISW) assessed.
Bakhmut, with a population of around 70,000, has suffered some of the most intense fighting since the start of the Russia-Ukraine war. Russian officials have claimed that capturing the industrial city would give Moscow a clearer shot to advance toward other Ukrainian cities, while experts speculate that the victory would serve a more symbolic role for Russian President Vladimir Putin.
According to the ISW's latest report, Wagner Group financier Yevgeny Prigozhin claimed on Wednesday that his mercenaries had seized all of eastern Bakhmut, a claim consistent with an assessment by the ISW on Tuesday that found Ukrainian forces had completed withdrawn from the same area.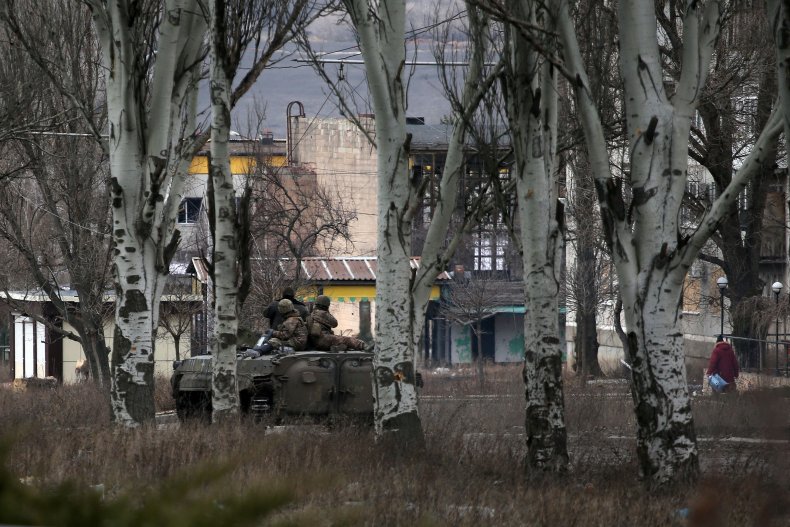 Now, the U.S.-based think tank estimates that Russia has taken control of at least 50 percent of the city, and predicts that Moscow's troops "will likely intensify attacks in northwestern and southwestern Bakhmut ... to circumnavigate the Bakhmutka River."
Despite the supposed success, the ISW still reports that there is no indication of Russia being able to "rapidly exploit a breakthrough beyond Bakhmut" even if its forces take full control of the city.
"ISW has not observed any indicators that the Russian military has a well-equipped and prepared reserve force to advance beyond Bakhmut," read Wednesday's assessment. "Most observed Russian units in Donbas are already engaged in offensive operations, including Russian airborne elements that joined the Russian offensive in Bakhmut in January 2023."
U.S. Director of National Intelligence Avril Haines also stated Wednesday that Putin is not expected to recover from a string of battle setbacks to "make major territorial gains."
NATO Secretary General Jens Stoltenberg warned earlier in the day Wednesday that Bakhmut "may eventually fall in the coming days" to Russian troops, although he said the capture "does not necessarily reflect any turning point of the war."
In pursuit of Bakhmut, Putin's forces have suffered extreme losses along the front lines in its invasion of Ukraine. According to an unknown NATO official who spoke with CNN earlier this week, Russia is losing five soldiers for every one Ukrainian defending the city. And on Tuesday, Kyiv claimed that Russia had lost more than 1,000 soldiers in just one day of war.
Similarly to Putin's goals, experts have assessed that Bakhmut holds a similar symbolic value to Ukraine, as Ukrainian President Volodymyr Zelensky announced Monday that Kyiv would reinforce its troops to protect the city.
Newsweek has reached out to the Ukrainian Ministry of Defense for comment.