Russian TV Chief Threatens Nuclear Strike—'What Choice Are You Leaving Us?'
Russian journalist and editor-in-chief of Russian state-controlled RT Margarita Simonyan said that British support of Ukrainian strikes on Russian soil is leaving Moscow short of options besides the "complete destruction" of Ukraine and "a nuclear strike."
Writing on her Telegram channel, Simonyan talked about the explosions in the border region of Belgorod on Wednesday, when a fire reportedly broke out at an ammunition depot in the village of Staraya Nelidovka.
"Explosions and aerial defense sirens in Belgorod," she said.
"The Anglo-Saxons are publicly calling on Ukraine to take the combat activity into Russian territory. And giving them the ammo to carry out that plan," she said.
"What choice are you leaving us, idiots? Complete destruction of what remains of Ukraine? A nuclear strike?"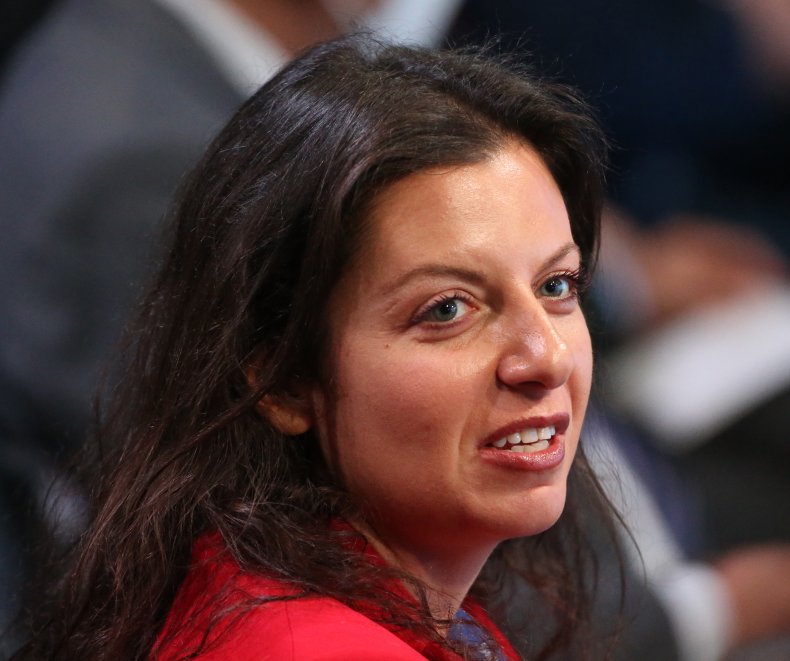 There is no evidence that the Kremlin shares the same views as Simonyan on a nuclear attack, although it's sure that Moscow is equally as annoyed with Britain for its recent statements in support of Ukraine.
Talking to BBC Radio 4's Today program on Tuesday—a day after a fire reportedly broke out at a Bryansk oil depot—British armed forces minister James Heappey said that the U.K. believed it was "completely legitimate for Ukraine to be targeting in Russia's depth in order to disrupt the logistics that if they weren't disrupted would directly contribute to death and carnage on Ukrainian soil."
The Kremlin immediately reacted, warning Britain that if it continued with its provocations of Kyiv there would be an immediate "proportional response" from Moscow.
"We would like to underline that London's direct provocation of the Kyiv regime into such actions, if such actions are carried out, will immediately lead to our proportional response," Russia's Defense Ministry said in response to Heappey's statement, as reported by Reuters.
"As we have warned, the Russian Armed Forces are in round-the-clock readiness to launch retaliatory strikes with high-precision long-range weapons at decision-making centers in Kyiv."
Britain, for all measures, did not back down.
Talking to BBC TV on Thursday, British Defense Secretary Ben Wallace said it would be legitimate under international law for Ukraine to target Russian logistics infrastructure and supply chains, although he said that it's unlikely they'll be able to do so using British weapons.
"We don't really have many long range weapons that are delivered in the way their army does," Wallace said.
No one has claimed responsibility for the recent series of strikes on Russian soil reported in Bryansk, Belgorod, Voronezh and Kursk. Despite Russia accusing Ukraine of leading the attacks, Ukrainian authorities have not confirmed being behind the attacks.