Russian TV Hacked With Anti-War Message Ahead of Military Parade Coverage
Russians tuning in to view the country's Victory Day parade were shown an anti-war message after the country's television listings system was hacked.
The descriptions of programs on several major networks including Channel One, Rossiya-1 and NTV-Plus were changed, the BBC reported.
The name of every program was replaced with a message stating: "On your hands is the blood of thousands of Ukrainians and their hundreds of murdered children. TV and the authorities are lying. No to war."
The message was reportedly featured on Russian networks from Sunday night. Pro-Kremlin news site Gazeta.ru also reported the hack on Twitter.
"Tonight, TV viewers saw provocative anti-war messages instead of the program guide and channel descriptions on their TVs," a tweet from Gazeta.ru said. "MTS, Rostelecom and NTV-Plus, as well as the Yandex TV program, were attacked by hackers."
Newsweek reached out to Russian authorities for comment.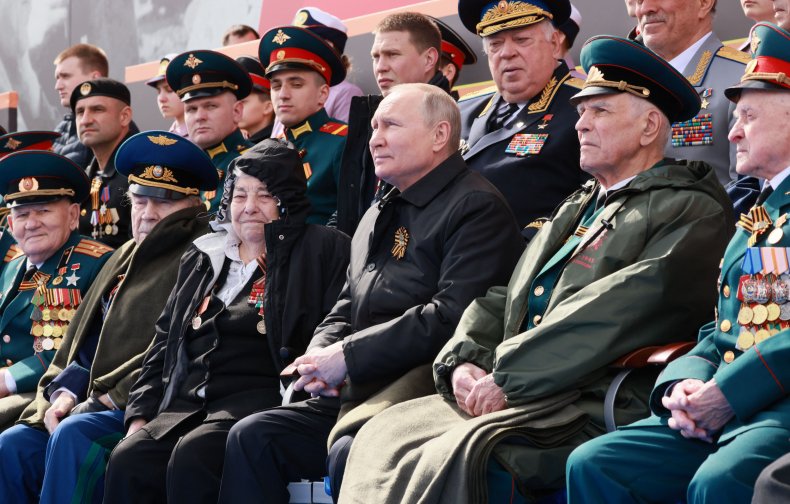 The source of the hack was not immediately clear, but it appeared to have disrupted coverage of Monday's Victory Day military parade in Russia.
The May 9 holiday, celebrating the 77th anniversary of the end of World War II and the Soviet Union's triumph over Nazi Germany in 1945, comes as Russia has ramped up its assault on neighboring Ukraine, now in its 11th week.
Speaking at the parade in Moscow's Red Square, Russian President Vladimir Putin defended the war but did not mention Ukraine by name. He accused the west of preparing for an "invasion of our land" and said claimed the invasion was defensive.
"NATO countries did not want to listen to us. They had different plans, and we saw it," he said. "They were planning an invasion into our historic lands, including Crimea. It was a threat we couldn't accept, it was a threat directly to our border."
He added: "There was a threat that was growing day by day. We had to do something, we had to do something and we did it—it was the only right solution we could take."
Meanwhile, Ukrainian President Volodymyr Zelensky blasted Putin in a message to commemorate Victory Day.
In a video released on Sunday, Zelensky said that on Victory Day each year, "we honor everyone who defended the planet from Nazism in World War II. Millions of lost lives, crippled destinies, tortured souls and millions of reasons to say to evil: never again."
He continued: "decades after World War II, darkness has returned to Ukraine. And it became black and white again. Evil has returned...in a different uniform, under different slogans, but for the same purpose."