Zelensky Warns 'the Evil Has Returned' in Victory Day Speech Blasting Putin
Ukrainian President Volodymyr Zelensky released a video Sunday in which he compared Russia's actions in Ukraine to those of Nazi Germany during World War II, declaring that evil has been "reborn."
In the video, Zelensky states that each year, on Victory Day on May 8, "we honor everyone who defended the planet from Nazism in World War Two. Millions of lost lives, crippled destinies, tortured souls and millions of reasons to say to evil: never again." In his speech, he added that "decades after World War Two, darkness has returned to Ukraine. And it became black and white again. Evil has returned...in a different uniform, under different slogans, but for the same purpose."
The Ukrainian president also said that "this is understood by all countries and nations who support Ukraine today. And despite the new mask of the beast, they recognized him because unlike some, they remember what our ancestors fought for and against."
The black and white video shows Zelensky in front of damaged buildings in the Ukrainian city of Borodyanka.
The British Ministry of Defense said Friday that Russia had ramped up its offensive in the Ukrainian city of Mariupol as part of efforts to take the port city ahead of Victory Day. Meanwhile, intelligence reports from U.K. defense officials have suggested that Russian President Vladimir Putin could use Victory Day, its annual commemoration of the end of World War II, to formally declare war on Ukraine.
However, in recent days, Russia has reportedly scaled back its Victory Day parade, with fewer people and less military equipment expected to be at the event.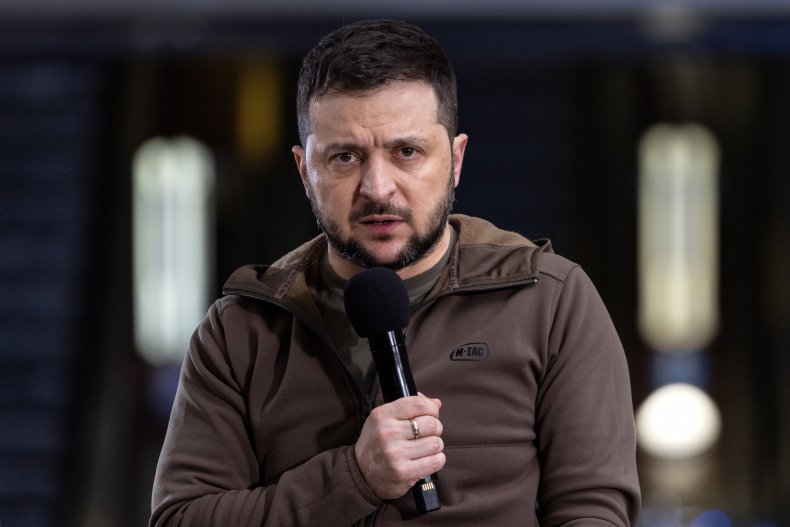 CIA Director William Burns said Saturday that Putin is "convinced" that "doubling down still will enable him to make progress" amid his country's invasion of Ukraine. "He's in a frame of mind in which he doesn't believe he can afford to lose," Burns said.
On Saturday, a Ukrainian official said that Russia had bombed a school that was sheltering nearly 100 people in the village of Bilohorivka.
"Almost the entire village was hiding. Everyone who did not evacuate. After the social club was hit, the basement of the school was the only place of salvation, but the Russians took this chance from people," Serhiy Haidai, head of Ukraine's Luhansk Regional Military Administration, said according to pravda.com. At least two people were found dead, and 30 were rescued as of Saturday evening.
Newsweek has reached out to the Russian Foreign Ministry for comment.