Putin 'Convinced' Doubling Down on Ukraine Invasion Will Work: Burns
CIA Director William Burns said Saturday that Russian President Vladimir Putin is "convinced" that "doubling down still will enable him to make progress" during Russia's invasion of Ukraine.
"He's in a frame of mind in which he doesn't believe he can afford to lose," Burns said in remarks during a Financial Times event in Washington, DC, according to Reuters.
According to CBS News, the CIA director also said that the intelligence community hasn't seen any "practical evidence at this point of Russian planning for deployment or even potential use of tactical nuclear weapons," but added that "we can't take lightly those possibilities."
In recent days, Russia has ramped up its offensive in Mariupol as part of efforts to take the port city ahead of Victory Day on May 9, the British Ministry of Defense said Friday. Western intelligence reports have suggested that Putin could use Victory Day, its annual commemoration of the end of World War II, to formally declare war on Ukraine. British Defense Secretary Ben Wallace said last week that Russia may declare war on the "world's Nazis" during the commemoration.
However, Russia's Victory Day parade on Moscow's Red Square has been prepared to be scaled back in recent days.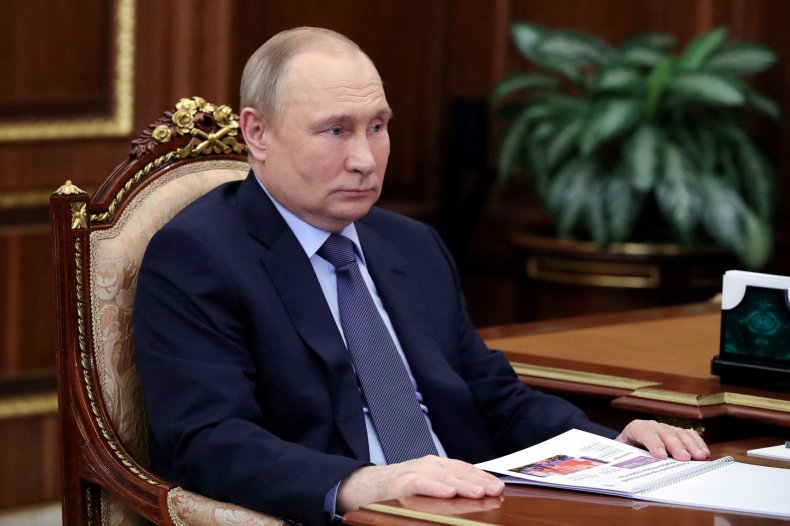 U.K. defense officials also said last month that Russia "likely desires to demonstrate significant" military gains ahead of the holiday.
As fighting has continued in Mariupol, Russia has claimed that the city has been completely occupied, though fighting has continued at the Azovstal steel plant. On Saturday, Ukraine's Deputy Prime Minister Iryna Vereshchuk said Saturday in a Telegram post that all women and children had been evacuated from the plant.
Newsweek has reached out to the Russian Foreign Ministry for comment.
According to one estimate, Russia's military offensive is costing the country around $900 million per day. Sean Spoonts, editor-in-chief of SOFREP, a media outlet focused on military news, told Newsweek that the cost of weapons, munitions, paying soldiers, and repairing damaged equipment are factored into the projection. That estimate doesn't even take into account the economic costs Russia has faced in the wake of sanctions from Western nations.
Speaking at the Financial Times event, Burns noted that China is also watching Russia's invasion of Ukraine, as well as the challenges and costs Russia has faced as it considers its own actions in Taiwan.
"These are things that they're weighing very carefully," Burns said, according to Reuters. "I don't for a minute think that this has eroded Beijing's determination over time to gain control over Taiwan...But I think it's something that's affecting their calculation about how and when they go about doing that."