New threats of a nuclear strike were made on Russian state TV, as the head of state-controlled Russia Today (RT) Margarita Simonyan said on air that the war in Ukraine will either end with Russia's victory or a catastrophe for all humanity.
"They all believe we'll definitely lose, and the West will definitely win," Simonyan said. "They say this, not understanding that it's impossible. It's just not possible, it will not happen. Either this ends badly for all humanity or we win. There's no third option."
It's not the first time Simonyan made a nuclear threat on air. In late April, the RT editor-in-chief said that British support of Ukrainian strikes on Russian soil is leaving Moscow short of options besides the "complete destruction" of Ukraine and "a nuclear strike."
On that occasion, there was no evidence that the Kremlin supported the threat made by the journalist on state TV. But the most recent comment by Simonyan comes as the head of Russia's space agency has announced that Moscow will soon have 50 new nuclear missiles.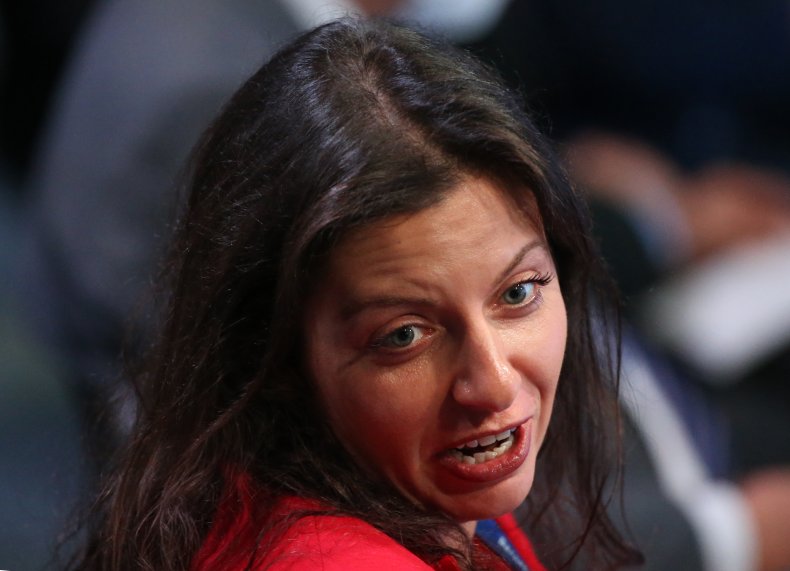 Dmitry Rogozin, head of Roscosmos, warned that dozens of new Sarmat-2 missiles will be deployed by autumn to defend Russia against threats made by its enemies.
"All that is left is to advise the aggressors to speak to Russia more gently," Rogozin said, speaking on the Russian television channel Zvezda.
After her latest nuclear threat made on Sunday, Simonyan said that the rift that has opened between Russia and Western nations over the Russian invasion of Ukraine is beyond repair.
"When people ask how long this will go on our estrangement from, our confrontation with the West, there's only one answer that I can see: Folks, this is forever. Just get used to this new life."
Addressing complaints she said she's heard about the consequences of the West cutting ties with Russia, including the exclusion of Russian students from the opportunity of studying in Western countries, Simonyan said people should be happy about it.
"This brave new world [the West] is barreling like a runaway train with such speed straight to hell that ten years from now you'll say 'Thank you so much that my child never studied in the West and that no longer has that option because at least he's still my child and he's still a decent person.'"
Simonyan herself had the chance of studying in a Western country, spending 1996 in Bristol, New Hampshire, as part of the U.S. State Department-funded Future Leaders Exchange student exchange program, as pointed out by managing editor at the English-language edition of Meduza Kevin Rothrock.
In a previous clip from May 20 shared on social media, Simonyan can be seen on RT saying that the only reason Russia isn't using nuclear weapons on Ukraine is that it's not practical.
"If we wanted to, couldn't we have dealt with Ukraine in a matter of hours, not days? But we're conducting a special military operation, that's why it's not war," Simonyan said. "We pity all of them over there," she added, saying that Russian supporters in Ukraine were mixed with anti-Russian people who are keeping them "hostages." "We can't separate them, some here, some there and strike some with Sarmat [missiles]."