Russian TV Says Ukraine No Longer Exists, Compares War to 'Deworming a Cat'
A Russian state television presenter has compared Russia's invasion with a procedure carried out on a cat after a guest had said that Ukraine "as it was cannot continue to exist."
On the channel Russia-1 on Monday, Vladimir Solovyov was responding to comments made by the editor-in-chief of Kremlin mouthpiece RT, Margarita Simonyan, as the war in Ukraine is about to enter its sixth month.
"We should be building our future with culture, with heating and without Ukraine," Simonyan said.
When the anchor of An Evening with Vladimir Solovyov asked, "why without Ukraine?" Simonyan replied, "because Ukraine as it was, cannot continue to exist."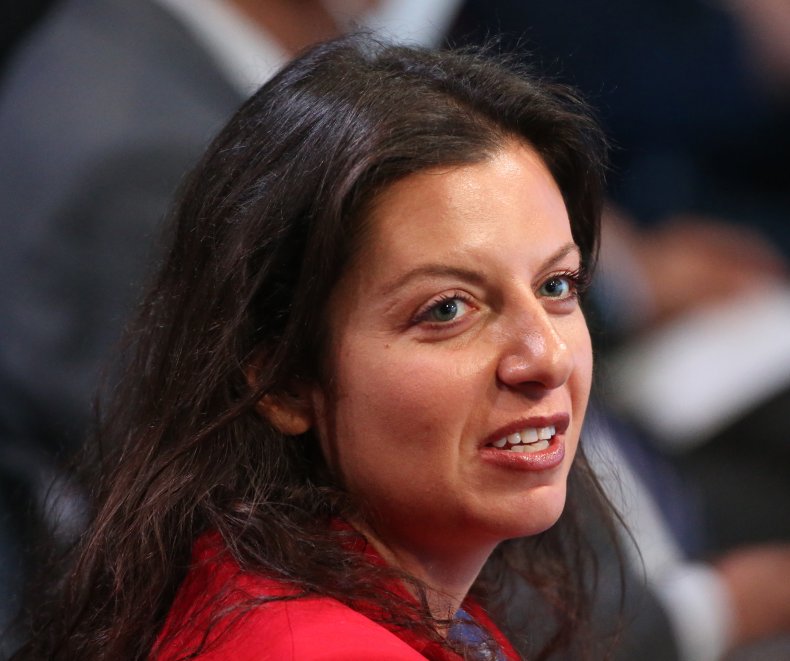 "There'll not be the Ukraine we have known for many years," she added. "It won't be a Ukraine."
Solovyev then went on to compare Russia's actions in Ukraine to getting rid of worms from a sick cat.
"When a doctor is deworming a cat—for the doctor, it's a special operation, for the worms, it's a war, and for the cat, it's a cleansing," he said, prompting Simonyan to respond, "exactly," to laughter.
The clip of the language seemingly dehumanizing the plight of the Ukrainians was tweeted by journalist and Russia watcher Julia Davis, who wrote, "more genocidal rhetoric on Russian state TV."
"Host and pundits repeatedly assert that Ukraine no longer exists," she added.
In a follow-up tweet, Davis shared a video of an episode of another Russia-1 program, 60 Minutes, in which the host Olga Skabeyeva described Ukraine as a "non-existent" country.
Skabayeva made the comment following a monologue by Apti Alaudinov, who commands a detachment of Chechen forces fighting for Russia, from the country's predominantly Muslim republic.
During the segment, Alaudinov described Ukraine's defense minister Oleksii Reznikov, as "the last bug we still have to put in their place." He then took aim at NATO and issues like LGBTQ rights which he sees as being promoted by the West.
This led him to conclude that the conflict is a "holy war" against the "devil's army," although the Kremlin would not characterize it as such, especially given that Vladimir Putin has the backing of the head of the Russian Orthodox Church, Patriarch Kirill.
Julia Davis tweeted: "Ukrainians who refuse to see themselves as Russians fight back against the invasion are described as Nazis and compared to insects (bugs, worms)."
Skabeyeva has previously framed the Ukraine war as a confrontation between Moscow and NATO and even suggested that "World War III" had started.
Guests on programs on Russia-1 have repeatedly referred to Russia's nuclear capabilities and made threats that western countries which back Ukraine could be targeted.
Newsweek reached out to the Ukrainian foreign ministry for comment.