New Russian Weapons 'Significantly Increase' Military's Potential, Putin Warns Rivals
Russian President Vladimir Putin hailed recent military developments in Tuesday's remarks, and warned that rivals should "think" before they threaten his country.
"A serious breakthrough has been made in developing advanced and unparalleled weapons," Putin told the Russian Defense Ministry's expanded board, Tass news agency reported. He went on to say that he hopes those who "got accustomed to militaristic rhetoric" would now be made to "think."
Highlighting the development of a range of new advanced missiles, Putin said they "significantly increase the potential of the army and the fleet." The Russian leader said the weapons would ensure his nation's security for decades to come, and would work to improve the world's balance of power as well as global stability.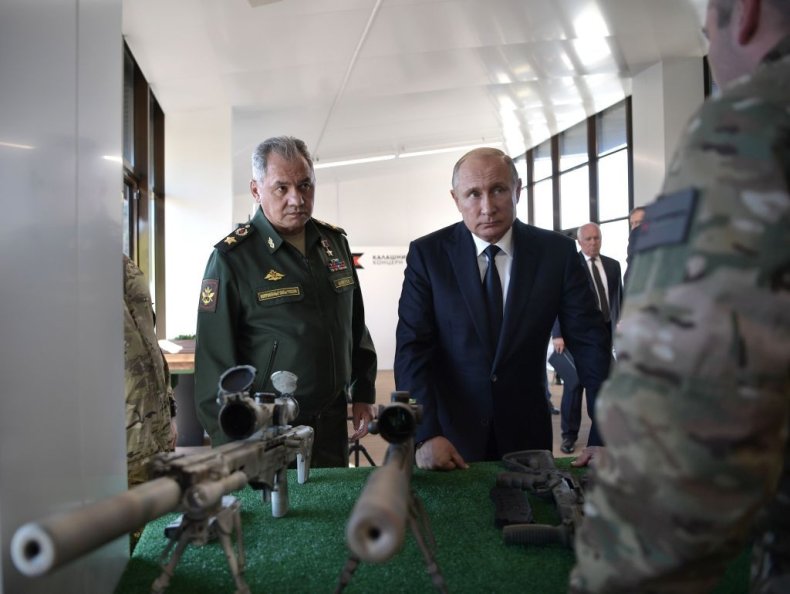 Putin pointed to the successful tests of the advanced Sarmat intercontinental ballistic missile, as well as the start of regular production of the Avangard hypersonic missile systems and the deployment of Peresvet combat lasers. The Russian leader also said that his nation's troops could rapidly be deployed to distances of some 7,000 kilometers (4,350 miles) to add reinforcements when necessary. He also noted the "good results" of war games maneuvers with China and Mongolia, saying the three nations worked well together under a unified plan.
Washington and NATO have raised concerns about Russia's advanced missile capabilities and the country's apparently expansionist ambitions. President Donald Trump has recently threatened to withdraw the U.S. from the Cold War-era Intermediate-Range Nuclear Forces (INF) Treaty, which was signed in 1987 between former President Ronald Reagan and ex-Soviet leader Mikhail Gorbachev. The White House has recently accused Moscow of violating the terms of the agreement.
In Russia, Putin and his government have raised concerns that the U.S. could deploy further missiles within Europe. The Kremlin has warned that its response would be "very fast and effective" if such a decision were made. Moscow has also said that Washington's withdrawal from the decades-old nuclear treaty would be a "very dangerous step."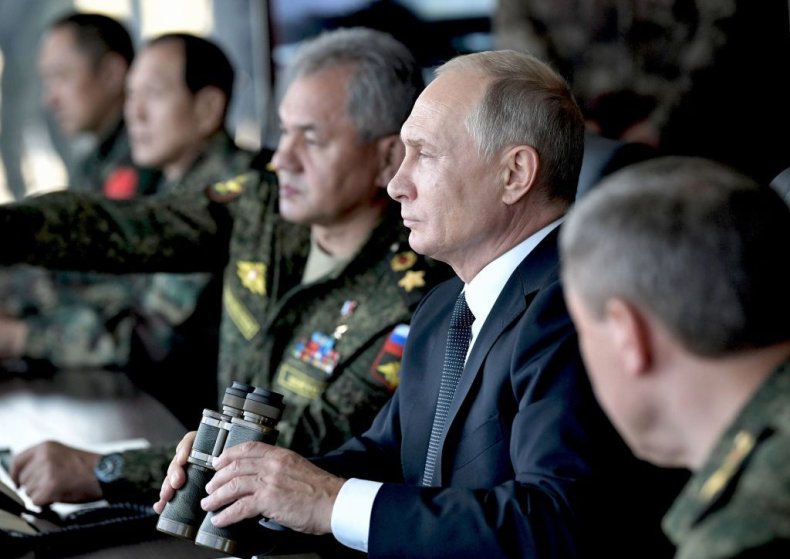 Earlier this month, Defense Minister Sergei Shoigu said that Russia planned to bolster its military and launch around 4,000 war games in preparation for Trump's abandonment of the INF treaty.
"The supreme commander-in-chief was informed about the process of building and developing the armed forces, their capacity to ensure the state's military security and counter a technologically advanced enemy," Shoigu said.
Putin also said on Tuesday that his government is ready to create a ground-based weapons system to defend against threats from the U.S. if the treaty is abandoned.
"Largely speaking, Russia has everything," he said, according to Tass. "And if there occurs what they are trying to frighten us with, we will have to respond accordingly."