Russians Bomb Kyiv, Kharkiv in Overnight Airstrikes: Ukraine Officials
Local officials in two of Ukraine's most populated areas say Russian forces launched aerial attacks on two cities overnight, triggering explosions in Kyiv and Kharkiv.
Kyiv Oblast Governor Oleksiy Kuleb and Kharkiv Mayor Igor Terekhov reported the strikes in posts to Telegram this week. Ukrainian forces pushed the Russian military out of each region earlier in the war. The reported attacks come as Ukraine has touted recent success in further reclaiming occupied land.
Kuleb said in his post that preliminary reports point to Russia launching "kamikaze drones," unmanned aerial vehicles loaded with munitions, at Bila Tserkva early Wednesday morning local time. The attack caused several explosions in the region of about 200,000 people an hour south of the capital city Kyiv, he said.
Emergency services were dispatched to the locations of the strikes, and authorities are gathering information on damages and victims, Kuleb said.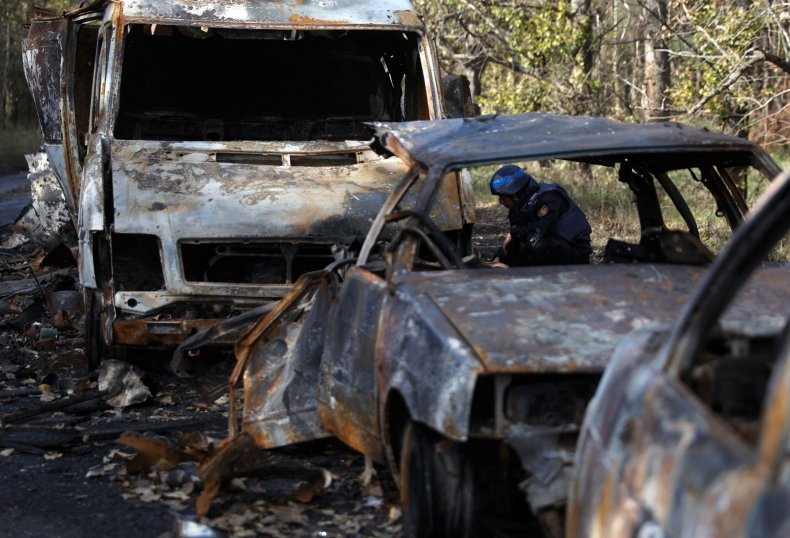 "Do not ignore the alarm signal - go to shelter immediately," Kuleb said in the post. "Take care of yourself and your loved ones. The air alert continues!"
Terekhov said in his Telegram post that Russian forces shelled the Kholodnogorsky and Novobavarsky districts of Kharkiv, Ukraine's second-most populated city, located in the country's northeast.
The shelling struck industrial and infrastructural facilities in the city, said Terekhov. Authorities are still determining the extent of damages and victims there as well, he said.
Earlier in the war, Ukrainian forces repelled advances by the Russian military on Kyiv and surrounding areas. But the city of Kharkiv, with a population of about 1.4 million, was captured by Russian forces in March after heavy shelling.
Ukrainian forces successfully retook large swaths of northeastern Ukraine, including most of the Kharkiv administrative district, after launching a counterattack last month.
Although Ukraine has reasserted control over the city of Kharkiv, about an hour from the border with Russia, it has still experienced shelling. Oleh Syniehubov, Kharkiv's regional governor, said in a Telegram post last month that Russian bombs killed two people and injured five.
Russian Defense Ministry Spokesman Lieutenant-General Igor Konashenkov told the state-run TASS news agency Tuesday that the military struck five Ukrainian army command posts in various parts of the country, including near the city of Kharkiv.
He told the news outlet that the strikes targeted "clusters of manpower" of the Ukrainian army's 14th and 92nd mechanized brigades, eliminating as many as 100 troops and 16 pieces of military hardware.
Newsweek has reached out to the Russian Ministry of Defense for comment.