Russians Being Offered Free Food to Attend Putin Rally
Russians are being offered free food to attend a major Vladimir Putin rally in Moscow on Wednesday, according to reports.
The mass rally at the Luzhniki Stadium in Moscow was announced by the Kremlin earlier this month, and it's being held a day after the Russian president's much delayed state-of-the-nation address in the capital.
Putin is expected to make an appearance at the rally, which is set to feature performances from pop stars and rock groups.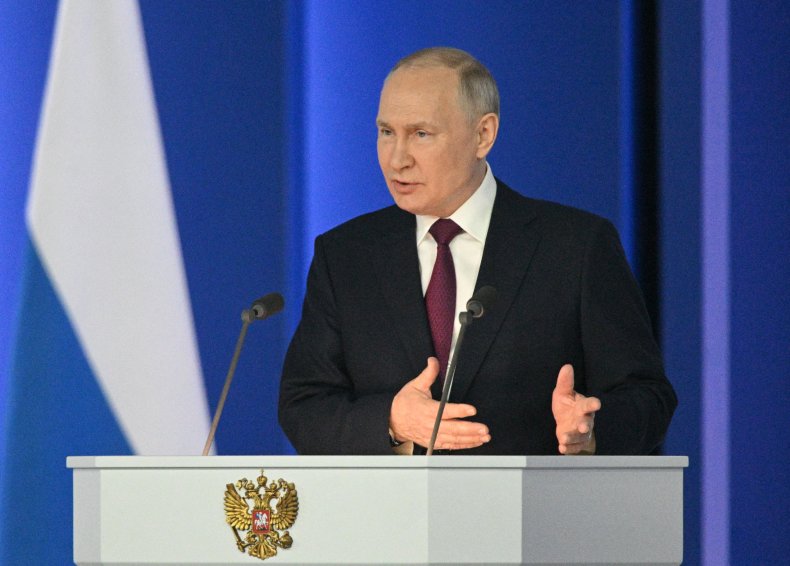 The Telegram channel of the independent Russian publication Sirena shared images of a Google Forms sheet created by a Russian volunteer organization called Mega Volunteer. The online forms encourage Russians to sign up to attend the event, promising them free food.
"Friends! We are pleased to announce the set as spectators for a patriotic concert, which will be held in Luzhniki on February 22 in honor of the Defender of the Fatherland Day!" the form reads.
"Artists will perform as in past years, such as: Oleg Gazmanov, Shaman, Lyube, Nikolai Baskov and others. The concert is free for everyone!"
The organization boasts that those who sign up with them will get seats in front of the stage and "free meals."
"Spectators for a rally-concert are gathered in traditional ways...depending on their interests, people are offered free meals, a payment of 500 rubles ($7 dollars), or exemption from studies," Sirena reported.
A group chat for the event created by the organization on VKontakte shows lines forming to enter the stadium, and selfies of attendees holding up Russian flags.
The news outlet previously reported that Russian citizens have been targeted with advertisements offering them money to attend the event.
The extra-recruiting ad, which has appeared on Russian Telegram channels as well as other social networks, is offering a payment of 500 rubles plus merchandise.
An organizer of the event spoke to a Sirena correspondent and gave greater details regarding whether the artists named would be performing.
They said they were not entirely sure and added: "I'm just helping to recruit people. What they told me, I copied and threw it into the group, and then I can't tell you for sure."
And independent news outlet DOXA reported that in Moscow and the surrounding regions, students are being offered exemptions from classes if they attend the rally-concert. It also reported that as of 11 a.m. local time on Wednesday, more than 100 students from the Yaroslavl region—some 270 kilometers (168 miles) away from Moscow city—were called up to attend the event.
It's not the first time Putin has allegedly attempted to entice Russians to attend events to boost his public standing.
In 2012, tens of thousands of people filled Luzhniki Stadium for a campaign rally, days before a vote was held that saw Putin elected as Russian president for the second time.
An NBC News report at the time cited some attendees. A 21-year-old said he came with friends, and that they were all promised a payment of 2,000 rubles each.
Newsweek has contacted Russia's ministry of foreign affairs for comment.
Do you have a tip on a world news story that Newsweek should be covering? Do you have a question about the Russia-Ukraine war? Let us know via worldnews@newsweek.com.