Russians Reportedly Planting Bombs in Ukraine That Look Like Toys
An independent news outlet is reporting that Russian "occupiers" have begun spreading bombs disguised as children's toys around the southeastern Ukrainian city of Mariupol.
The report has surfaced as the number of Ukrainian civilian casualties rises and Russia faces international scrutiny for possible war crimes.
"The occupiers are scattering explosive devices that look like children's toys around the city," the outlet, Hromadske International, wrote in a recent tweet. Citing the Mariupol City Council, the tweet added, "Residents are urged not to touch such objects."
Russian troops have increasingly targeted Mariupol over the last week. The city remains under Ukrainian control as of Monday evening, but is considered of strategic importance to Russia because it provides an entry point to the Black Sea, a major Eastern European waterway.
Hromadske International is a non-government-affiliated digital broadcaster that has operated out of Ukraine since June 2013. Despite publishing the tweet, the outlet's English website has not published any articles offering additional information about the bombs.
Newsweek contacted Hromadske International for comment.
The devices would be in keeping with claims that Russians are targeting civilians rather than the Ukrainian military, despite Moscow's denials.
Daria Herasymchuk, Ukraine's presidential adviser on children's rights, announced that 28 Ukrainian children had been killed and 64 wounded as of last weekend. An additional 1.5 million children remained in areas affected by the conflict, she said.
"Among them, there are orphans and children with disabilities who need immediate help," she added, according to the Interfax-Ukraine news agency.
Ukraine's conflict zones have expanded since, meaning that the number of children affected has likely increased, UNICEF (United Nations Children's Fund) said.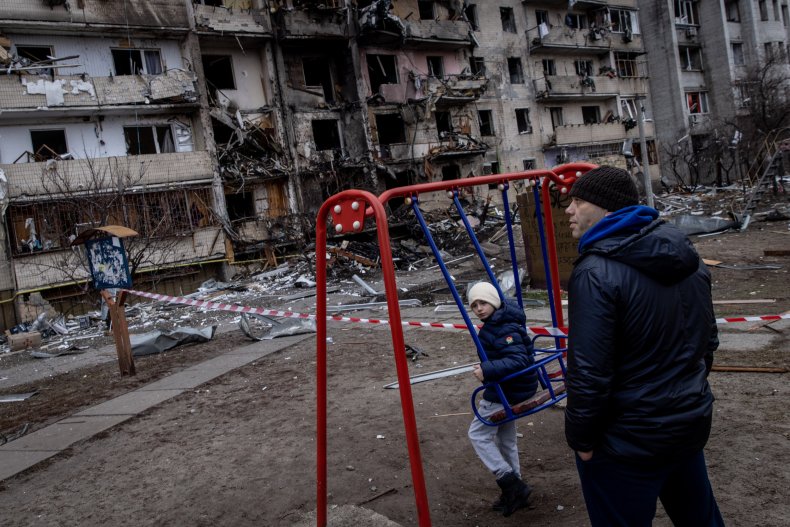 Since the start of the Putin's invasion, Russian forces have attacked a kindergarten and orphanage in northeastern Ukraine, and a hospital in the southeast, according to Human Rights Watch. The attacks reportedly killed civilians, including some children, with weapons that included cluster bombs.
Those weapons have been denounced by more than 100 countries. If used against civilians, the action could be considered a breach of the Geneva Convention, the protocols that set the standards for humanitarian treatment in war.
"It is stomach-turning to see an indiscriminate attack on a nursery and kindergarten where civilians are seeking safe haven. Plain and simple, this should be investigated as a war crime," Amnesty International Secretary General Agnès Callamard told The Guardian. "There is no possible justification for dropping cluster munitions in populated areas, let alone near a school. This...shows flagrant disregard for civilian life."
On Monday, the U.N. human rights offices confirmed 406 Ukrainian civilian deaths and 801 injuries since the invasion began. However, U.S. intelligence estimates nearly 2,000 Ukrainian civilian deaths and about 10,000 injuries.
"We are collecting evidence of possible war crimes, human rights abuses, and violations of international humanitarian law," a White House National Security Council official told Reuters on Monday.
Last week, the International Criminal Court in The Hague announced that it was beginning an investigation into possible war crimes.
President Joe Biden has said it isn't clear whether Russia has committed war crimes, but Ukrainian President Volodymyr Zelensky and U.K. Prime Minister Boris Johnson have both said they believed that the use of munitions against innocent civilians qualifies as a war crime.