Russia's Costly Bahkmut Gains Have Crippled Their Chances in Vuhledar: ISW
Months of bloody combat in the Ukrainian city of Bakhmut that has resulted in copious amounts of reported casualties for both Russian and Ukrainian military forces may impede Moscow's tactical strategy in Vuhledar, according to the Institute for the Study of War (ISW) on Thursday.
Ukrainian President Volodymyr Zelensky has viewed Bakhmut as an inflection point in the overarching war, saying on Monday that Ukrainian fighters would continue to fight in the Donetsk-based city.
On the Russian side, mercenaries hired by Wagner Group founder Yevgenzy Prigozhin, have reportedly "entered a temporary tactical pause," according to the ISW, which added in its latest assessment that "it remains unclear if Wagner fighters will retain their operational preponderance in future Russian offensives in the city."
Prigozhin, whose paramilitary fighters are separate from the Russian army, has recently been at odds with Russia's top generals over their handling of the war.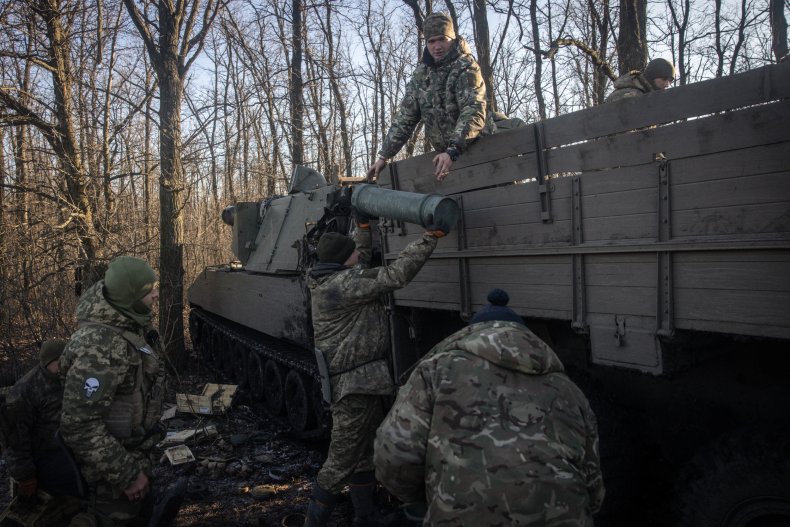 Denis Pushilin, Russia's leader in the self-proclaimed Donetsk People's Republic, told state-run news agency RIA Novosti in January that Vuhledar could be just as critical to their special military operation as Bakhmut.
The ISW, a U.S.-based think tank, said in its Thursday assessment that while Russian forces could refocus their efforts with Vuhledar as their prerogative, "persistent personnel and ammunition issues will likely continue to constrain Russian forces from advancing."
Meanwhile, footage posted to Twitter on Wednesday by user @wartranslated appears to show Russian personnel of the 136th Motorized Rifle Brigade of the 58th Combined Arms Army of the Southern Military District, located near Vuhledar, appealing for more ammunition.
Those soldiers are said to soon replace the 155th Naval Infantry Brigade—a brigade, which according to the ISW, "bore a significant proportion of the catastrophic losses" Russia suffered during a three-week offensive in Vuhledar.
Speculation by some exists on why the Russian army is rotating in the 136th Motorized Rifle Brigade. That includes a renewed offensive in Vuhledar, even though the aforementioned soldiers of that brigade have pleaded for additional ammunition due to the rampant fighting in Bakhmut.
"The 136th Motorized Rifle Brigade is unlikely to achieve tactical advances near Vuhledar that the 155th Naval Infantry Brigade, 40th Naval Infantry Brigade, and other Russian formations failed to make following months of preparation to start offensives in this direction," the ISW wrote. "The likely degradation of other units in the area, significant equipment losses, and the reported continued artillery constraints will likely prevent Russian forces from securing significant tactical gains if they decide to resume offensives in the area."
Arkady Moshes, program director for the EU Eastern Neighborhood and Russia research program at the Finnish Institute of International Affairs, told Newsweek on Friday that Russia's lack of advances near Vuhledar "is self-evident and is in contrast" with the activity taking place in and around Bakhmut.
"Quite possibly, this will exacerbate the rivalry between the regular military and the Wagner group, further negatively affect Russian tactical and operational capabilities and may have also political implications," Moshes said.
In a Tuesday article, the BBC quoted an unnamed Western official who put the total of Russians killed and wounded in Bakhmut between 20,000 and 30,000. Meanwhile, Russian Defense Minister Sergei Shoigu said Ukraine lost some 11,000 fighters in the city in February alone—a statistic disputed by the West. Newsweek could not independently verify those numbers.
Maria Popova, associate professor of political science at McGill University, told Newsweek on Friday that Russia's purported high casualty count could be due to battlefield ineptitude or a lack of regard for lives lost and saving wounded soldiers.
"The Ukrainian government has established its credibility during the war," Popova said. "Since it is open to media scrutiny and concerned about allied support, it produces credible messaging. I have no specific reasons to distrust their estimates."
She added: "Russia, on the other hand, has consistently used disinformation and outright lies. So, its take on the casualty count should be viewed through the lens of disinformation, rather than taken at face value."
Newsweek reached out to Ukrainian and Russian defense ministries by email for comment.