Russia's Lavrov Meets With China at G20, Will Not Sit Down With U.S.
Russian Foreign Minister Sergei Lavrov met with his Chinese counterpart Wang Yi on Thursday ahead of a meeting of G20 foreign ministers in Bali, Indonesia.
The two officials were photographed holding talks at Indonesia's resort island ahead of the face-to-face talks that are expected to be dominated by tensions sparked by Russian President Vladimir Putin's invasion of neighboring Ukraine.
Russia's foreign ministry confirmed earlier on Thursday that Lavrov, the Kremlin's top diplomat, would hold meetings with his Turkish and Chinese counterparts on the sidelines of the G20 foreign ministers meeting.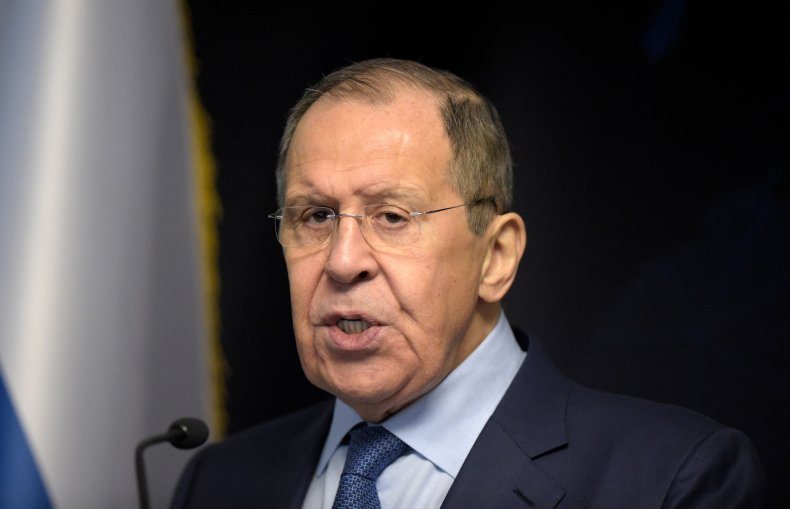 The G20 includes developing economies, and its members are Argentina, Australia, Brazil, Britain, Canada, China, France, Germany, India, Indonesia, Italy, Japan, Mexico, Russia, Saudi Arabia, South Africa, South Korea, Turkey, the U.S. and the EU. Spain is invited as a permanent guest.
U.S. Secretary of State Antony Blinken isn't expected to sit down with Lavrov for bilateral talks.
"I'm not in a position to walk through the choreography, but I certainly would not expect any meeting between Secretary Blinken and Foreign Minister Lavrov," U.S. State Department spokesman Ned Price told reporters on Tuesday.
Sergey Ryabkov, Russia's deputy foreign minister, also said on Thursday that no meeting is planned between Lavrov and Blinken, Russia's state-run news agency TASS reported.
"Nothing is being planned," Ryabkov said. "Given the circumstances, existing contacts via embassies and sporadic telephone calls are quite enough for us to work in detail on current issues [with the U.S.]."
German Foreign Minister Annalena Baerbock said before arriving in Bali for the G20 meeting that Russia mustn't be allowed to use the talks as a platform, due to the ongoing war in Ukraine, AFP reported.
"It is in the interest of us all to ensure that international law is respected and adhered to. That is the common denominator," Baerbock said.
Russian Foreign Ministry Spokeswoman Maria Zakharova said Thursday that Lavrov would discuss pressing issues with representatives from other G20 countries, including discussions on strengthening the foundations of alliances between multiple countries in a polycentric world, ensuring food and energy security, according to TASS.
"Special attention is expected to be paid to restoring economic growth, addressing the consequences of the coronavirus pandemic and implementing the Sustainable Development Goals in light of energy transition and digital transformation," Zakharova said.
The U.S. has argued since Putin's invasion of Ukraine that Russia should no longer be a member of the G20.
Pentagon Press Secretary John Kirby said during an appearance on CNN on April 29 that he believes it's "inappropriate" for the international community to "keep treating Russia as if things are normal, because [they're] not," referring to Putin's decision on February 24 to invade Ukraine.
"Putin has isolated himself and he should still continue to suffer the consequences of his actions in Ukraine," he said.
President Joe Biden on March 24 said he supported removing Russia from the G20 over Putin's invasion, when pressed on the issue during a meeting with world leaders in Brussels.
"My answer is yes, but depends on the G20," Biden said.
Russia was expelled from the Group of Eight industrial countries after Putin annexed Crimea from Ukraine in 2014.
Newsweek reached out to the Biden administration and Russia's foreign ministry for comment.
Update: 7/7/22 7:20 a.m. ET: This article has been updated with additional background information.