Russia's War Crimes Reach 'Three-Digit Range' Germany Warns
Germany has collected evidence of Russia's war crimes reaching the "three-digit range," German Prosecutor General Peter Frank warned.
Frank spoke to Welt am Sonntag media outlet on Saturday saying, "Currently, for example, we are focusing on the mass killings in Bucha or attacks against Ukrainian civilian infrastructure."
Frank added that Germany is "not yet investigating specific persons, but rather collecting information and evidence," and also questioning Ukrainian refugees who "may have knowledge of war crimes in Ukraine."
As of January 28, Ukraine's Prosecutor General's Office reported Russia has committed 66,743 "crimes of aggression and war crimes." The report also says that 459 children have been killed, and 917 have been injured since the beginning of Russia's invasion of Ukraine.
Rajan Menon, Director of the Grand Strategy Program at Defense Priorities, told Newsweek on Saturday, "there's no doubt that the Russian army has committed war crimes: I've been to some of the most notorious sites, such as Bucha, just outside Kyiv."
"The Russian claim that these crimes were staged by the Ukrainians is absurd on its face and has been demonstrated to be false, for example in the superbly researched documentary expose done by the AP and PBS," Menon continued.
Menon argued, "Ukraine certainly has a strong moral claim to justice, but as a practical matter it's hard for me to envision Russian soldiers, let alone commanders and Putin and other senior officials, in the dock at an international tribunal."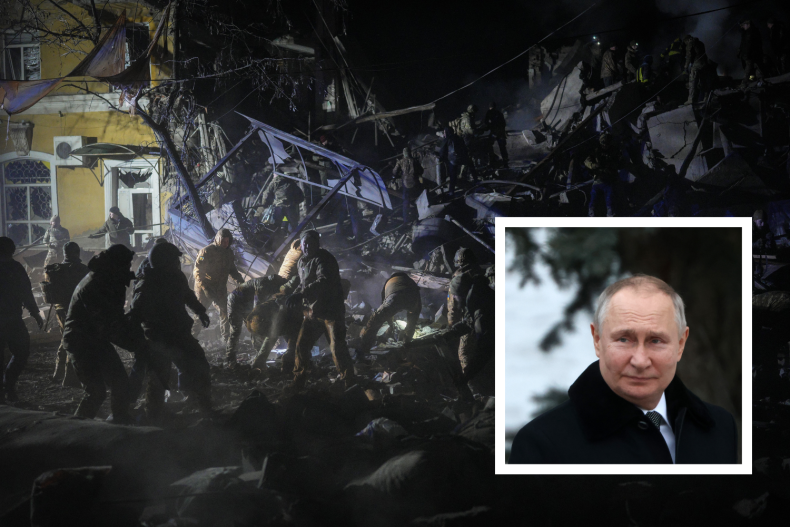 "When war crimes have been committed during wars among states (as opposed to civil wars) such trials have made possible because the perpetrator was defeated and occupied: e.g., Germany and Japan after World War II. Whatever the outcome of the war in Ukraine, there's no chance that Russia will find itself in that position," Menon concluded.
Meanwhile, Ukrainian President Volodymyr Zelensky has called for military aid from western backers as Russia claims to continuously make gains around Bakhmut.
Speaking on January 29, Zelensky stressed the need of Western countries to quickly "open up new weapons options for Ukraine." The Ukrainian leader said Moscow was hoping to "exhaust" Kyiv's resistance forces, telling his viewers that the situation was "very tough" around Bakhmut.
President Biden told reporters on Monday that the United States will not be sending F-16 fighter jets to Zelensky. While returning from Baltimore, Maryland the President was asked if the United States would supply Ukraine with the fighter jets. Biden responded, "no."