Right-Wing Extremists Compare RBG to Hitler, Celebrate Death of 'Mass Murdering Hag'
The death of Ruth Bader Ginsburg is being celebrated by some right-wing extremists and internet preachers who claim her passing was an act of God designed to allow Donald Trump to install an anti-abortion justice on the Supreme Court.
Ginsburg died Friday from pancreatic cancer, leaving a vacancy on the nine-justice panel that Trump has vowed to fill quickly despite opposition calls to delay the process until after the November election.
Some right-wing Christian speakers have described her death as an opportunity to shift the balance on America's highest court—potentially putting the landmark Roe v. Wade ruling in jeopardy—while attacking her liberal legacy on reproductive rights.
Frank Amedia, who served on the president's 2016 campaign as a liaison for Christian policy and founded the pro-Trump POTUS Shield network, was among those suggesting Ginsburg's death had been celestially ordained.
"Last night during the POTUS Shield network prayer intercession, I made a desperate appeal to the Lord to rescue us, our nation, the church, and to hear the cry of the blood of the 60 million murdered children; and to answer quickly and NOW for HIS own name's sake. In less than one hour, the announcement of Ginsberg's [sic] passing came out," Amedia was quoted by his Touch Heaven Ministries Facebook page as saying during a September 20 sermon.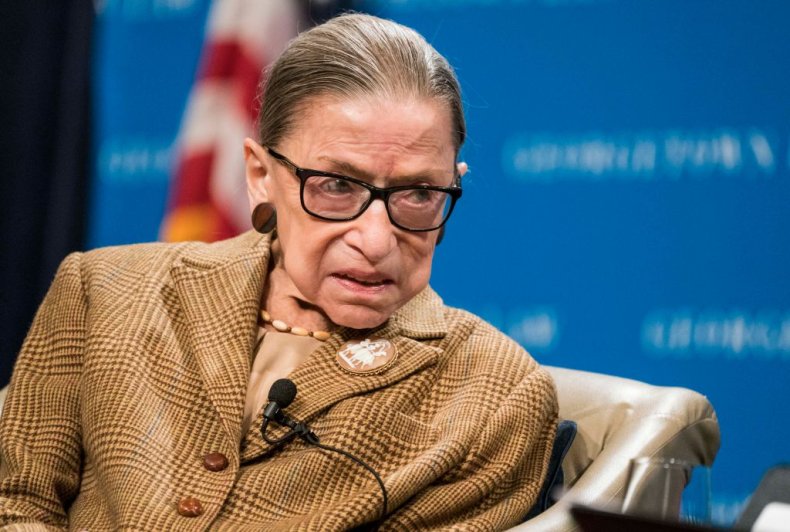 Elsewhere on the internet, right-wing pundits and conspiracy theorists used YouTube and blog posts to attack Ginsburg's legacy.
Dave Daubenmire, a right-wing activist and online preacher whose YouTube channel has received over 2 million views, said: "Hitler condoned the killing of at least six million. Ginsburg, 60 million. Do you mourn Hitler's death? Who's more wicked?
"If it wasn't a tragedy that Hitler died, why is it a tragedy that she died? She was wicked and destructive."
Daubenmire, a former Ohio football coach, now runs a ministry as well as producing a daily video show and podcasts which are tuned into by thousands of people.
In an emailed response to Newsweek, Daubenmire said the comparison between Ginsburg and Hitler was "hypothetical."
He said: "Folks were talking about all of the honorable things that Ginsburg has done...I said she was evil because she sanctioned the killing of unborn babies. I made a comparison to Hitler...would people say that Hitler was a good guy because of all of the other fine things he did....or does his evil outweigh anything else he might have done. It was NOT an endorsement of Hitler."
Intercessors for America, a pro-Trump prayer group, published a blog post describing Ginsburg as "the cat with nine lives"—referencing the ill health she had suffered in recent years—and urging its readers to "pray for a God-fearing, brave, and just judge who will uphold and defend the Constitution, as well as God's wisdom and values."
"Is this a new beginning for the Supreme Court and perhaps a turning point for our nation?" they asked.
Sheila Zilinsky, a self-described "firebrand evangelist" and conspiracy theorist who has thousands of followers across her social media accounts, described Ginsburg as a "mass murdering hag" who "killed more babies & ruined more lives than Hitler, Mao & Stalin combined."
Zilinsky's YouTube channel has more than 12 million views, with some of her most popular videos reaching hundreds of thousands of viewers worldwide, and she has written three books on sale at major retailers on the subject of Christian living.
Republican Doug Collins, who represents Georgia's 9th district in the House of Representatives and is standing for the Senate in 2020, tweeted: "RIP to the more than 30 million innocent babies that have been murdered during the decades that Ruth Bader Ginsburg defended pro-abortion laws. With @realDonaldTrump nominating a replacement that values human life, generations of unborn children have a chance to live."
Following widespread criticism, Collins sought to justify his remarks, telling reporters he hoped Trump would appoint a Supreme Court replacement who would overturn Roe v. Wade, according to Channel 2, an ABC-affiliated news station based in Atlanta.
"The truth was about being honest about where we're going and what the president's going to do...Sometimes in life, there's just polite, and there's just the truth. That was the truth," he said.
"For me it was about focusing on what is ahead in this seat that I believe the president needs to fill, and fill quickly. There was nowhere in there where I was celebrating a death...I was making a statement."
Newsweek contacted Zilinsky, Amedia and Intercessors for America for comment.
Update 9/23/20, 9:36 a.m. ET: This article was updated to include additional information about Zilinsky and Daubenmire, and Daubenmire's emailed response to Newsweek.