Ruth Bader Ginsburg Once Criticized Kavanaugh Hearings, Wanted Bipartisan Support for Nominees
The late Supreme Court Justice Ruth Bader Ginsburg once criticized the 2018 Senate confirmation hearings of then-Supreme Court justice nominee Brett Kavanaugh, calling them a "highly partisan show."
Ginsburg, who died Friday of pancreatic cancer at the age of 87, made the comments September 12, 2018, while speaking during a discussion hosted by the George Washington University Law School. The event took place just days after Kavanaugh had his confirmation hearing, during which senators questioned the judge on his potential racial profiling tactics, among other topics.
The discussion also took place the same day The Intercept reported that Senator Dianne Feinstein had possession of a Kavanaugh-related document, but was still withholding it from the Senate Judiciary Committee.
This document was later revealed to have been a letter written by Christine Blasey Ford, a Stanford University professor who accused Kavanaugh of sexually assaulting her when they were in high school. Ford's allegations caused the Senate to hold an additional day of public hearings for Kavanaugh on September 27, 2018.
Kavanaugh would ultimately be confirmed to the Supreme Court on October 6, 2018, in an incredibly narrow 50-48 vote.
Although Ginsburg might have not yet known about Ford's accusations at the time of the discussion, Kavanaugh had already stirred up partisan back-and-forth during his confirmation hearings, causing the justice to offer up criticism of the confirmation process.
California Supreme Court Justice Goodwin Liu interviewed Ginsburg during the live discussion, asking her to compare her confirmation process to what was presently happening with Kavanaugh's.
Ginsburg offered a succinct response, which was met by applause and laughter from the audience: "The way it was, was right. The way it is, is wrong."
The justice elaborated, explaining how, when former President Bill Clinton had nominated her in June 1993, "it was truly bipartisan." Ginsburg received a 96-3 vote in the Senate, despite the fact that she had "spent about 10 years of [her] life litigating cases under the auspices of the ACLU (American Civil Liberties Union)."
"My White House handlers asked me questions about my ACLU affiliation. They were very nervous about it," Ginsburg explained. "And I said, 'Forget it, just forget it. There's nothing you can do that would lead me to bad-mouth the ACLU.' And not a single question—no senator asked me any question about that."
Ginsburg also referenced the late Supreme Court Justice Antonin Scalia, who was confirmed in September 1986 in a 98-0 Senate vote.
"The vote was unanimous. Every Democrat and every Republican voted for him. But that's the way it should be, instead of what it's become, which is a highly partisan show," she told Liu.
In 2018, if the Republicans were moving in locked step, so would the Democrats, Ginsburg said. "I wish I could wave a magic wand and have it go back to the way it was," she finished.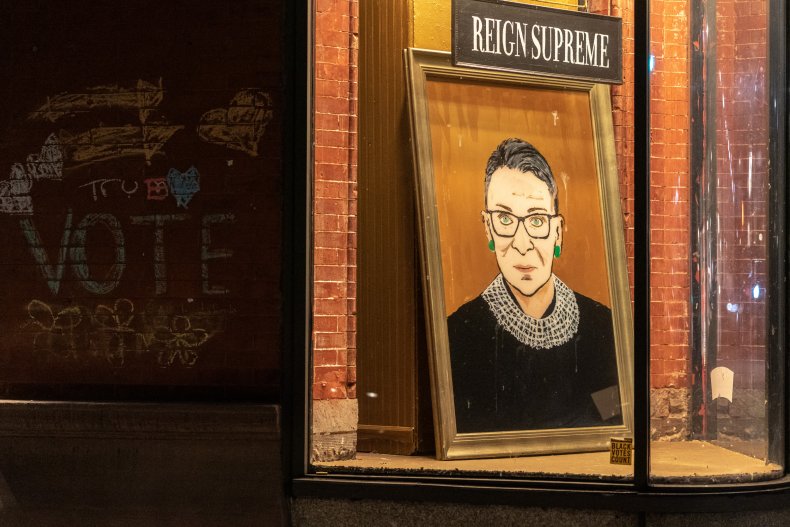 Within hours of being notified of Ginsburg's death, politicians from both sides of the aisle moved to make their opinions known on the topic of nominating Ginsburg's replacement.
Democrats largely believe a new Supreme Court nominee should wait to be put forth until after the November 3 election—this was the case in 2016, following Scalia's death eight months prior.
Democratic presidential candidate Joe Biden told reporters Friday night that the initial focus should be on Ginsburg's loss and legacy, not on her immediate replacement.
"There is no doubt, let me be clear that the voters should pick the president and the president should pick the justice for the Senate to consider," Biden said.
President Donald Trump, however, has already expressed his intention to push his nominee through to a Senate confirmation. "We have this obligation, without delay!" he wrote on Twitter Saturday morning.
"We were put in this position of power and importance to make decisions for the people who so proudly elected us, the most important of which has long been considered to be the selection of United States Supreme Court Justices," the president tweeted, tagging the GOP's official account.