GOP Candidate Says 'Radical Left' Aims to Silence Him With Jan. 6 Arrest
Ryan Kelley, a Republican candidate for Michigan governor, said during a debate Thursday evening that the "radical left" is trying to silence him following an FBI raid earlier this month in connection to his alleged participation in the January 6 Capitol riots.
The debate was the first for Kelley since he was arrested on June 9 and later arraigned in U.S. District Court. He faces charges of being present on restricted grounds at the Capitol complex and participating in disorderly conduct on January 6, 2021, but he is not accused of entering the building. However, he is also accused of helping rioters break down nearby barricades.
"You all know, like I do, that Michigan's next governor needs to be a fighter," Kelley said during his opening statement. "You want to know who's the fighter for the people? Look at the one the left is trying to silence the hardest. I think that's very evident with the FBI raiding my house, intimidating me, my wife, my children, my supporters....We will not be intimidated by the radical left."
Kelley, a real estate broker, is one of five Republican candidates vying for the opportunity to face incumbent Democratic Governor Gretchen Whitmer. The other candidates in the race include businessman Kevin Rinke, chiropractor Garrett Soldano, pastor Ralph Rebandt, and Tudor Dixon, a businesswoman who founded a "pro-America, pro-Constitution" morning news program for grade school students.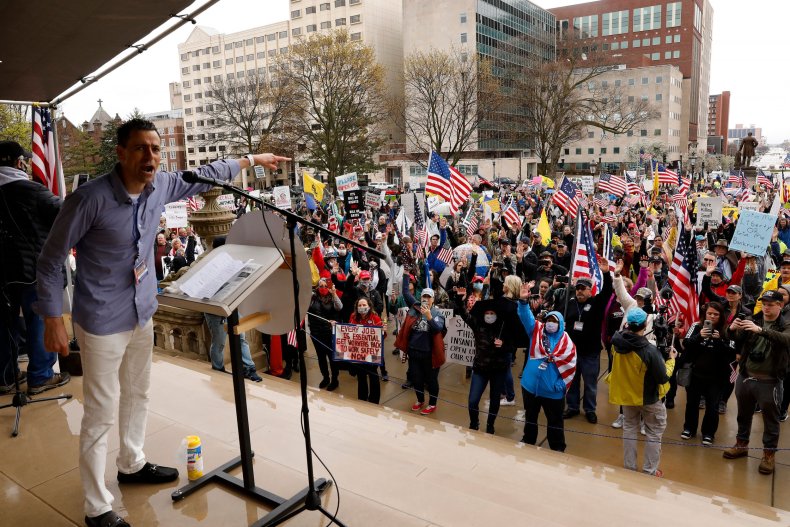 Kelley, who was released on bond with permission from federal authorities, appeared on Fox News' Tucker Carlson Tonight June 13 to proclaim that he was still in the race.
"There was no crime committed, Tucker, no," Kelley told Carlson. "[I] never entered the Capitol building."
Kelley mentioned Carlson on Thursday in association with his current polling popularity, which seemed to get a shot in the arm after he was arrested. The Race to the White House forecasting site indicates that Kelley currently has a 26.6 percent chance of clinching the GOP gubernatorial nomination, the highest among all his Republican rivals.
Another poll conducted by Michigan-based MIRS/Mitchell Research has Dixon, Kelley and Rinke in a statistical dead heat ahead of the August 2 primary, with Kelley polling at about 13 percent of support compared to 15 percent each for Dixon and Rinke.
Kelley says that if he becomes governor, on his first day, he will cancel Dominion, Election Systems & Software (ES&S) and Hart electronic voting machine contracts. He also pledged to work with the state's Legislature and the secretary of state to eliminate automatic absentee/mail-in balloting, ballot drop boxes and same-day voter registration.
Polls in Michigan from May, prior to Kelley's arrest, showed Whitmer with a resounding lead in the state, where incumbent governors are traditionally reelected.
Newsweek reached out to Kelley and his attorney for comment.