How Paul Ryan Learned to Love Donald Trump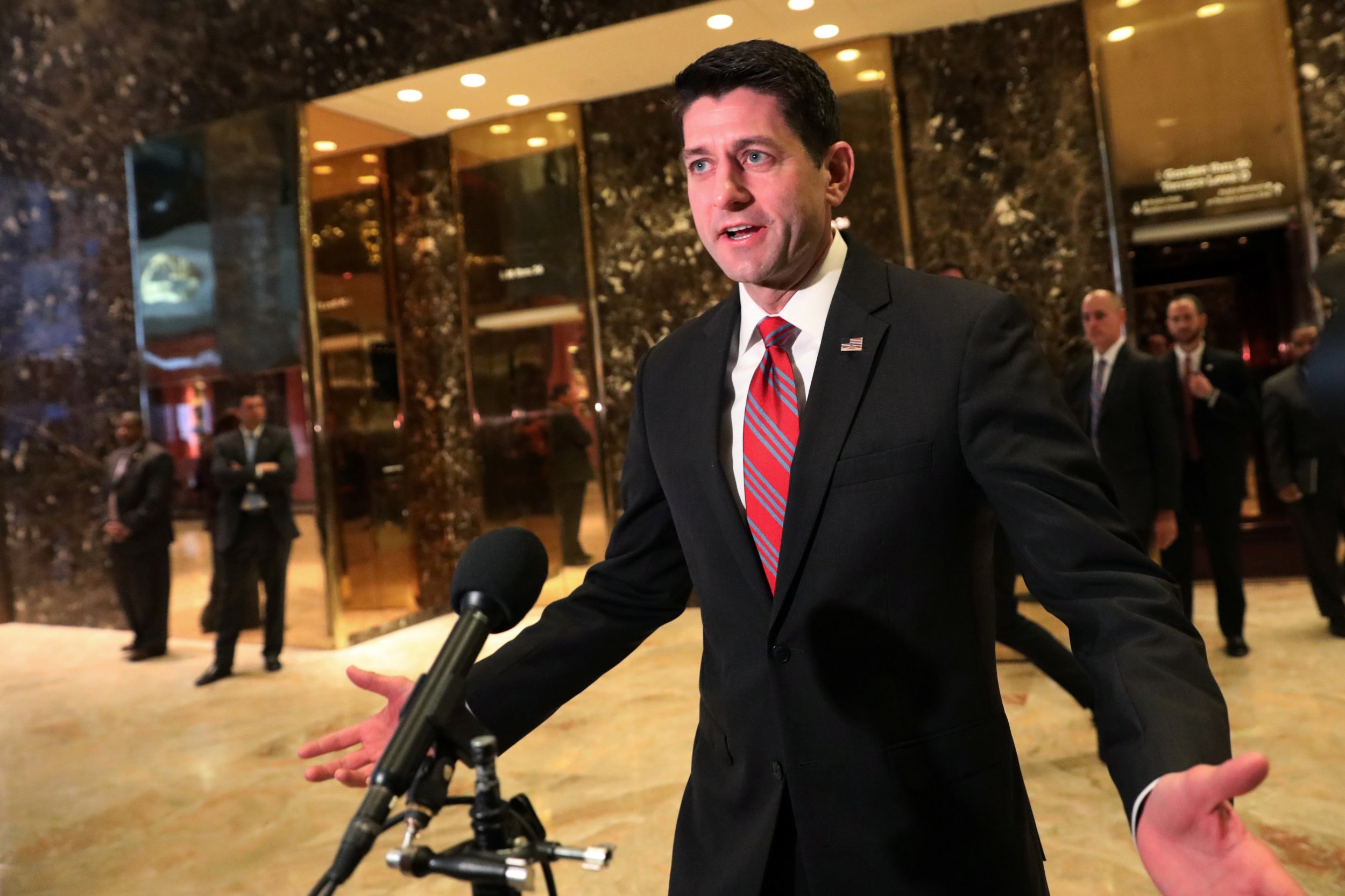 Next month, when President Donald Trump addresses a joint session of Congress with Vice President Mike Pence and House Speaker Paul Ryan seated behind him, count on Ryan to be smiling a lot.
Ryan is getting what he wants and needs from this president. Despite tension between the two during the campaign, the Trump administration is working hand in glove with Ryan in ways that might have been hard to imagine months ago when Ryan delayed endorsing Trump and the Republican nominee regularly took shots at the 46-year-old congressman—even at one point seeming to bolster the Republican challenging him for his House seat.
Related: Don't kid yourself—Donald Trump is winning
Trump's Cabinet will be larded with House allies of Ryan, including Tom Price, Trump's pick to head the Department of Health and Human Services. Like Ryan, Price has long favored a radical transformation of the nation's premier health programs—Medicare for the elderly and Medicaid for the poor and near poor.
The Trump administration is signaling that it's inclined to devolve Medicaid into a block grant program for the states rather than keeping it an open-ended entitlement from Washington. That would lead to substantial cuts in the program and certainly undo the Affordable Care Act, which was largely built around expanding Medicaid.
On Medicare, Ryan and Price have worked for years to restructure Medicare as a premium support plan that would give the elderly the opportunity to buy health insurance in the private market. Democrats see this as a big cut in benefits for seniors. Instead of the government covering their insurance bills, they may or may not get the kind of government subsidy they need to buy a comparable private plan.
During the campaign, Trump adamantly opposed any cuts to Social Security and Medicare benefits. But with his nomination of Price, the president seems to be setting the stage for the kind of entitlement reform that Ryan favors.
For a wonk like Ryan, who chaired the House Budget Committee before becoming speaker, this is manna. He now has a partner in the White House instead of an adversary, and a Senate that's likely to be cooperative too.
On any number of other issues, Ryan will likely get what he wants—cuts in individual and corporate tax rates; approval of the Keystone XL pipeline (for which Trump gave a thumbs-up on Tuesday); rolling back Barack Obama's Clean Power Plan; as well as social policies like defunding Planned Parenthood.
Ryan and Trump had and have their differences in tone and substance. On immigration, they come from very different places, with Ryan having favored the kind of comprehensive reform supported by Presidents George W. Bush and Obama, which would grant some kind of legal status to those who have been here illegally and don't have criminal records, assuming they jump through various hoops like paying back taxes and fines. Trump isn't there yet, but his Cabinet appointees, with the exception of attorney general nominee Jeff Sessions, haven't pressed hard for the kind of broad deportations that Trump seemed to favor during the campaign.
Indeed, Trump thus far has not offered up a big deportation plan and may delay any moves against the so-called Dreamers—immigrants who came here as children. For now, the administration is considering a rollback of Obama's Deferred Action for Childhood Arrivals program. Trump will certainly modify it, but how he does remains uncertain. Ryan would oppose a sudden massive move to deport the Dreamers, the vast majority of whom consider themselves Americans and are leading productive lives. So far, that's not happened.
In terms of trade, Ryan has had to accept the Trump World Order—withdrawal from the Trans-Pacific Partnership that he favored. But Hillary Clinton opposed the agreement too, and Ryan didn't have the votes for passage anyway.
What's more, Ryan has great lines into the White House. He's close to White House Chief of Staff Reince Priebus, a fellow Wisconsinite, and Pence was one of his close friends and ideological soulmates when they served in the House together. If Trump gets into fisticuffs with a Gold Star family or a Hispanic jurist, as he did during the campaign, Ryan will criticize him again. He didn't endorse Trump's unsubstantiated and widely repudiated assertion that 3 million to 5 million noncitizens voted in the election.
The president's Cabinet officials, meanwhile, haven't been pugilistic in terms of tone. They've offered the kind of mainstream conservatism that Ryan represents. With no fewer than four House members tapped for Cabinet-level jobs—Mick Mulvaney to head the Office of Management and Budget, Price at Health and Human Services, Ryan Zinke at Interior and Mike Pompeo at the CIA—Ryan is not only working well with the Trump administration. He's helping to fill it.