Ryan Reynolds Deletes Chris Noth Peloton Ad Amid Sexual Assault Allegations
Chris Noth's parody commercial for Peloton has been removed from the social media accounts of the fitness company and collaborator Ryan Reynolds following sexual assault allegations made against the actor.
On Sunday, Peloton unveiled an ad in answer to the death of John "Mr. Big" Preston—the character Noth played in Sex and the City and its reboot, And Just Like That...—after a vigorous workout session on one of the company's popular stationary bikes.
But Peloton and Reynolds removed all traces of the ad from their social media accounts on Thursday, after two women came forward with sexual assault allegations against Noth—allegations the actor denies. Peloton also removed the clip from YouTube.
"Every single sexual assault accusation must be taken seriously," a Peloton spokesperson said in a statement to Newsweek. "We were unaware of these allegations when we featured Chris Noth in our response to HBO's reboot. As we seek to learn more, we have stopped promoting this video and archived related social posts."
Reynolds, who produced the ad through his Maximum Effort production company and marketing agency, also deleted his posts promoting the clip from his Twitter and Instagram accounts.
Newsweek has contacted representatives of Reynolds, Noth, and Maximum Effort for comment.
In the debut episode of And Just Like That... last week, Noth's character, married to series lead Carrie Bradshaw (Sarah Jessica Parker), suffered a fatal heart attack after working out on a Peloton bike under the video guidance of Allegra (real-life Peloton instructor Jess King).
After Peloton's stock plummeted—and the company issued a statement stressing that the character's lifestyle caused their death—the fitness giant on Sunday released the tongue-in-cheek ad on its Twitter account, adding the caption: "And just like that...he's alive."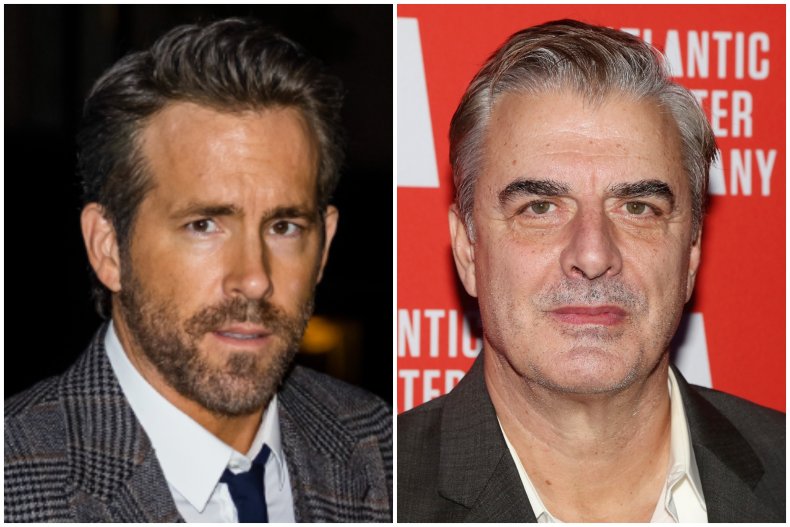 In the clip, Mr. Big was shown sitting with Allegra on a couch in front of a fire, as he said "To new beginnings," prompting his instructor to repeat the sentence.
After Allegra informed him that he looked "great," Mr. Big responded: "I feel great... Shall we take another ride? Life's too short not to."
Reynolds then said in a voiceover: "And just like that, the world was reminded that regular cycling stimulates and improves your heart, lungs and circulation, reducing your risk of cardiovascular diseases.
"Cycling strengthens your heart muscles, lowers resting pulse and reduces blood fat levels," Reynolds concluded, before adding: "He's alive."
Within hours of its release, the video has been viewed more than 3 million times on Peloton's Twitter account and 1.5 million times on its Instagram account. Reynolds' Instagram upload of the video was viewed 1.7 million times in just hours.
On Thursday, The Hollywood Reporter published an article in which one woman alleged that she had been sexually assaulted by Noth in Los Angeles in 2004, while another accused the actor of engaging in similar behavior toward her in New York City in 2015.
Responding to the allegations, Noth said in a statement: "The accusations against me made by individuals I met years, even decades, ago are categorically false.
"These stories could've been from 30 years ago or 30 days ago—no always means no—that is a line I did not cross. The encounters were consensual. It's difficult not to question the timing of these stories coming out. I don't know for certain why they are surfacing now, but I do know this: I did not assault these women."