SAG Awards: How Hollywood Reacted to Donald Trump's Immigration Ban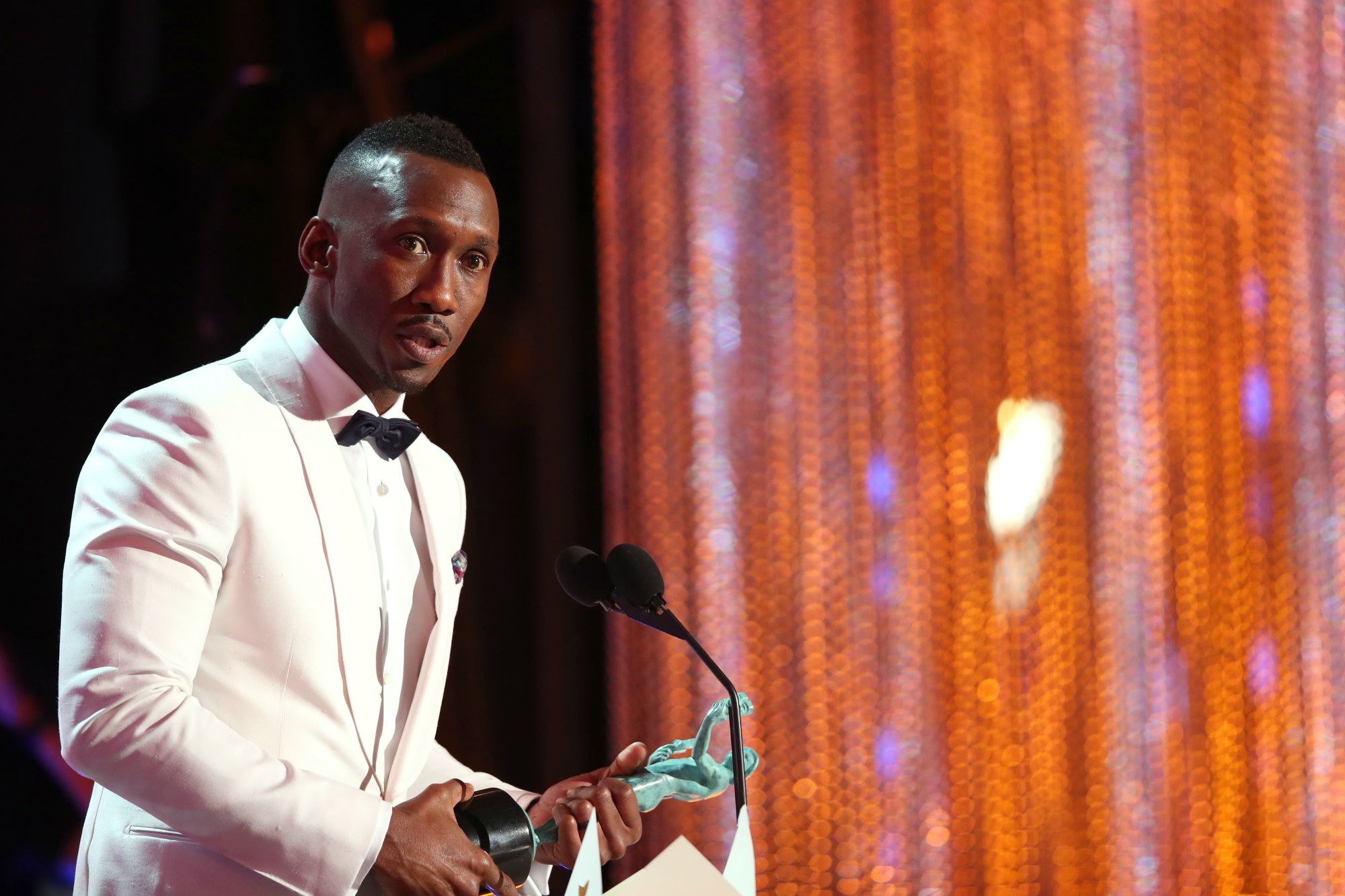 Fences, Hidden Figures and Netflix swept the Screen Actors Guild (SAG) Awards Sunday night. But the big topic of conversation was not how adorable the kids from Stranger Things are, but U.S. President Donald Trump's highly controversial immigration ban on people from seven majority- Muslim countries.
Nearly every speech Sunday night made some reference to Trump's executive order placing a 90-day moratorium on refugees from countries including Syria, Iran and Iraq from entering the U.S.
It's the latest spat between Trump and Hollywood—or, in his words, "liberal movie people"—after he attacked "overrated" Meryl Streep on Twitter earlier in January following the Golden Globes. The Oscar winner had spoken out about the division Trump's presidency has caused in America.
On Sunday night, however, there was a vocal majority, including Julia Louis-Dreyfuss, Mahershala Ali, Ashton Kutcher and the cast of Orange Is the New Black. Will Trump have time to tweet about them all? The jury is out—for now.
Here's a rundown of who said what at the SAG Awards:
Mahershala Ali
Collecting the award for best supporting actor, for Barry Jenkins's drama Moonlight, Ali said: "I'm a Muslim," speaking in solidarity with those affected by Trump's immigration ban, which critics believe directly discriminates against Muslims.
Ali said working on Moonlight, a story about a young black gay man coming to terms with his sexuality and maligned by his community, "you see what happens when you persecute people—they fold into themselves."
"When we get caught up in the minutiae, the details that make us different, there's two ways of seeing that. There's an opportunity to see the texture of that person, the characteristics that make them unique," he said. "And then there's an opportunity to go to war, to say: 'You're different from me and I don't like you.'"
Ali added: "My mother is an ordained minister. I'm a Muslim. She didn't do backflips when I converted 17 years ago. I'm able to see her, she's able to see me, the love has grown...the minutiae is not important."
Julia Louis-Dreyfus
The Veep star collected another gong for best comedy actress for her portrayal of President Selina Meyer in the satirical comedy. While the HBO series pokes fun at the inner-workings of the White House, Louis-Dreyfus gave a sobering speech about the real president's executive order signed last Friday.
"I am the daughter of an immigrant," she said. "My father fled religious persecution in Nazi-occupied France. I'm an American patriot. I love this country. Because I love this country, I'm horrified by its blemishes—and this immigrant ban is a blemish, and it's un-American."
The Stranger Things cast
The stars of Netflix's big breakout hit of 2016—including those adorable kids—took the stage to collect their awards for best ensemble cast in a drama series. David Harbour, who plays police chief Jim Hopper, led the acceptance speech with a call to arms.
"We repel bullies. We will shelter freaks, outcasts, those who have no homes. We will get past the lies," he rallied and roused the A-list crowd to cheers.
PS: Keep an eye out for an award-worthy display of facial gymnastics from Winona Ryder.
The Orange Is the New Black cast
Not to be outdone by their Netflix compatriots, Taylor Schilling and the diverse cast of OITNB —named best ensemble in a comedy series—had a message about inclusivity of their own.
"We stand up here representing a diverse group of people, representing generations of families who have sought a better life here," Schilling said. "We know it's up to us and all of you to keep telling stories that show what unites us is stronger than the forces that seek to divide us."
Taraji P. Henson
If anyone knows how to deliver a zinger, it's Empire's Cookie Lyon. The actor celebrated winning the night's top prize—best ensemble in a movie—with her Hidden Figures cast mates. The film tells the story of the black female scientists working at NASA who helped send men into space.
"This story is about what happens when we put our differences aside and come together as a human race. We win—love wins, every time," she said.
Emma Stone
Speaking backstage in the press room at the SAG Awards, Stone referred to the immigration ban as "unconstitutional" and "inhumane."
"It's amazing to see people speaking up and taking action," the star, who won best actress for La La Land, said.
William H. Macy
Best actor in a comedy series winner Macy opted for a punchline when talking about Trump. "I'd like to go against the stream this evening," he began.
"I'd like to thank President Trump for making Frank Gallagher seem so normal," he quipped, referring to his character—the drug-addled, alcoholic and absent father in Shameless.
Sarah Paulson
Paulson won yet another best actress in a miniseries accolade for her brilliant portrayal of prosecutor Marcia Clark in FX's The People v. O.J. Simpson: American Crime Story. Concluding her speech, she eloquently called for people to donate to the American Civil Liberties Union (ACLU), the organization that won a temporary injunction against one part of Trump's executive order in a federal court Saturday. The injunction concerns people stranded in airports trying to get into the U.S. having already obtained visas.
"Please donate to the ACLU to protect the rights and liberties of people across this country. It's a vital organization that relies on our support," said Paulson.
Bryan Cranston
Former Breaking Bad star picked up best actor in a mini-series/television movie for his role as 36th president Lyndon B. Johnson in All the Way.
Cranston said: "I think 36 would put his arm around 45 and earnestly wish him success. He would also whisper in his ear something he said often—as a form of encouragement, and a cautionary tale: 'Just don't piss in the soup that all of us got to eat.'"