Salma Hayek Says Harvey Weinstein Yelled at Her for Looking 'Ugly' in Movie
Salma Hayek has revealed that Harvey Weinstein yelled at her for making herself look "ugly" in the 2002 biopic Frida.
Hayek's performance as artist Frida Kahlo garnered widespread critical acclaim, as well as an Oscar nomination for best actress.
But the Mexico-born actress has now told how the disgraced producer—who was sentenced to 23 years in prison in March 2020 after being convicted of rape—was far from impressed when he saw her in costume as Kahlo.
Hayek, who produced the project alongside Lions Gate Films under her Ventanarosa banner, told The Guardian in an interview published on Wednesday that she would "shake" after enduring Weinstein's bullying.
Admitting that she normalized his behavior "to a degree" as a coping mechanism, Hayek said: "I did feel all right [when he bullied me]. OK, I would shake [afterwards] and it did depress me, but there was a cartoon aspect about the whole thing.
"When he would call me up [during the making of Frida] and scream, 'Why do you have a [monobrow] and moustache? I didn't hire you to look ugly!'
"I was like, 'But didn't you ever look at a picture of Frida Kahlo?' If a man was playing Cyrano de Bergerac, he wouldn't say, 'What's with the nose?'"
Hayek added that Weinstein was "not the only man to reassure himself by knowing he can destroy women."
In July, Weinstein was extradited to California, where he pleaded not guilty to 11 counts of sexual assault. A hearing is set for December 8.
In an explosive opinion piece for The New York Times published in December 2017, Hayek recounted her experience working with Weinstein, whose company Miramax was a producer and distributor on Frida.
She wrote: "He told me that the only thing I had going for me was my sex appeal and that there was none of that in this movie. So, he told me he was going to shut down the film because no one would want to see me in that role."
Hayek added that Weinstein told her to add a sex scene to the film, which she said she reluctantly agreed to so her passion project could be completed.
"I arrived on the set the day we were to shoot the scene that I believed would save the movie," she wrote. "And for the first and last time in my career, I had a nervous breakdown: My body began to shake uncontrollably, my breath was short and I began to cry and cry, unable to stop, as if I were throwing up tears."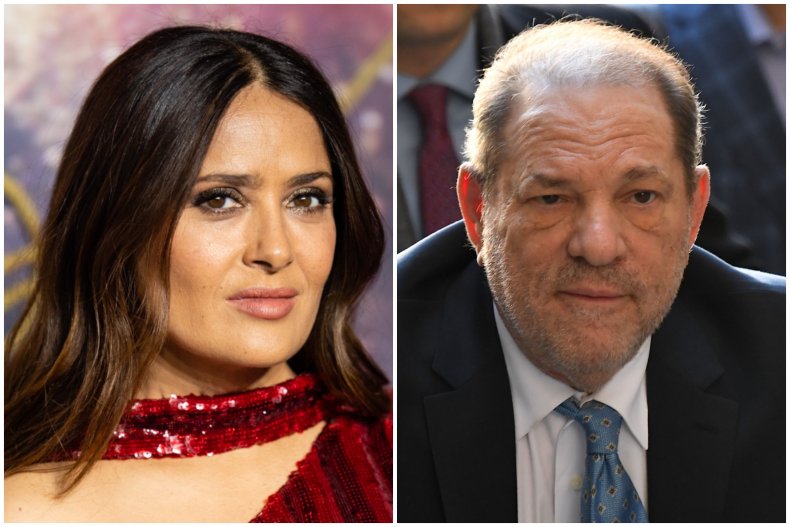 Explaining her aversion to the "senseless" scene, Hayek said: "It was not because I would be naked with another woman. It was because I would be naked with her for Harvey Weinstein. But I could not tell them then."
After Hayek's article was published, a spokesperson for Weinstein told Newsweek the producer did "not recall" making such a demand.
The statement read: "Mr. Weinstein regards Salma Hayek as a first-class actress and cast her in several of his movies, among them Once Upon a Time in Mexico, Dogma and Studio 54. He was very proud of her Best Actress Academy Award nomination for Frida and continues to support her work.
"Mr. Weinstein does not recall pressuring Salma to do a gratuitous sex scene with a female co-star and he was not there for the filming.
"However, that was part of the story, as Frida Kahlo was bisexual and the more significant sex scene in the movie was choreographed by Ms. Hayek with Geoffrey Rush."
Hayek also wrote in The New York Times that Weinstein sexually harassed her for years, but she rebuffed the advances.
"No to me taking a shower with him. No to letting him watch me take a shower. No to letting him give me a massage," she wrote. "No to letting a naked friend of his give me a massage. No to letting him give me oral sex. No to my getting naked with another woman. No no no no no ... And with every refusal came Harvey's Machiavellian rage."
Responding to these claims, Weinstein's representative told Newsweek: "All of the sexual allegations as portrayed by Salma are not accurate and others who witnessed the events have a different account of what transpired."
Hayek told the Guardian interviewer that "if you really look at my [NYT] piece, you'll see that I really focused on the bullying, and I do think women got it worse [from him]."
She added that Weinstein knew her to be "very strong," saying: "I didn't just say no. I'm a force to be recognised. He never saw me weak. It's not that I'm not afraid, but you're not going to see it. I can be almost intimidating in my calm strength, you know?"