Did Harvey Weinstein Force Salma Hayek to Film 'Frida' Lesbian Sex Scene? Movie Producer Responds to Actor's Claims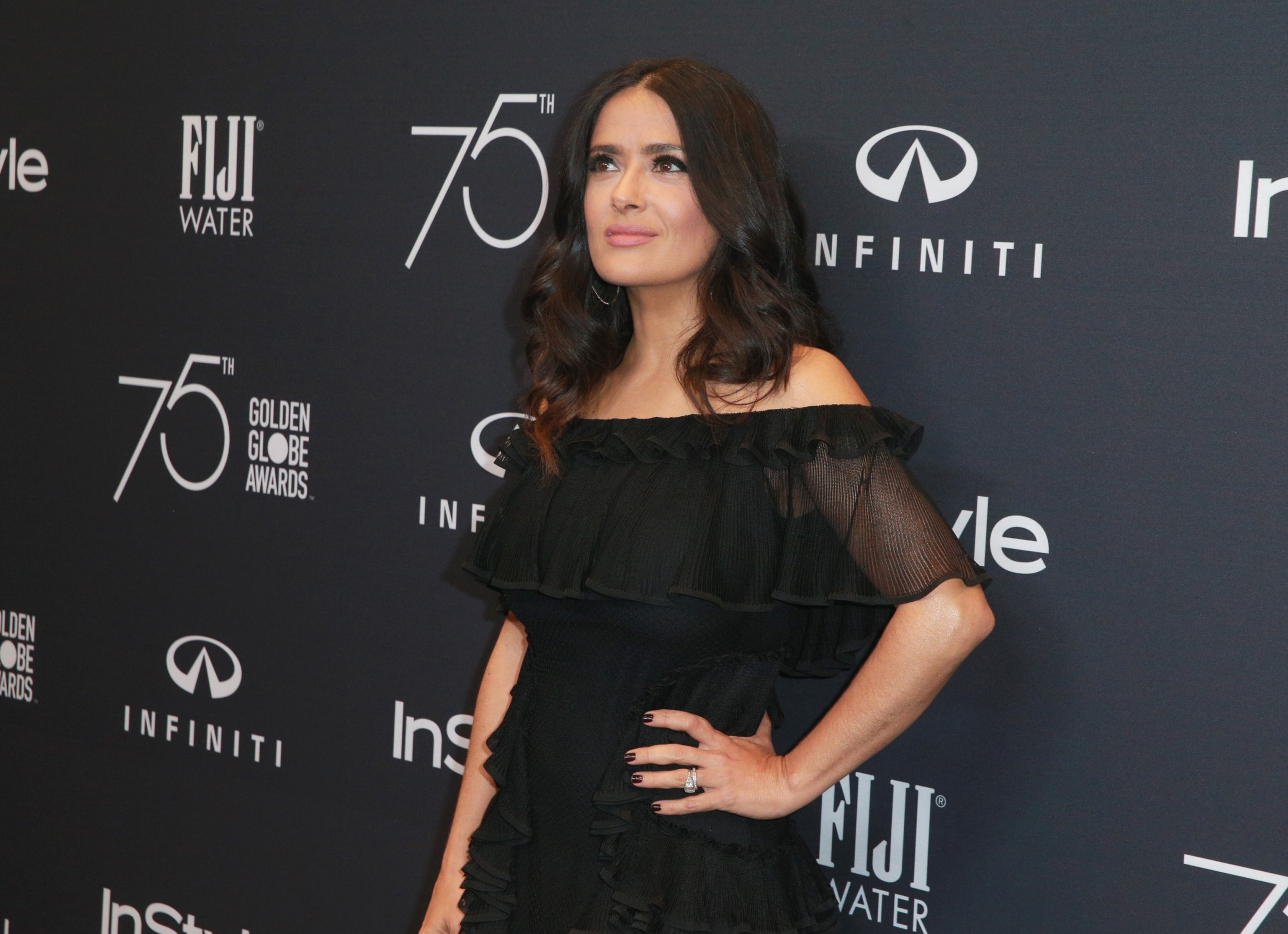 After Oscar-nominated actor Salma Hayek accused Harvey Weinstein Wednesday of threatening to kill her and forcing her to film a lesbian sex scene, the disgraced movie producer is speaking out about the troubles that plagued the production of 2002's Frida.
Weinstein, through a spokesperson, said he "does not recall" making Hayek, 51, film a "gratuitous sex scene" against her will after she spurned his alleged advances. In an explosive opinion piece published by The New York Times, Hayek said she started "crying and convulsing" and "throwing up" before shooting the scene.
"Mr. Weinstein regards Salma Hayek as a first-class actress and cast her in several of his movies, among them Once Upon a Time in Mexico, Dogma, and Studio 54. He was very proud of her Best Actress Academy Award nomination for Frida and continues to support her work," Weinstein's spokesperson said in a long statement issued to Newsweek Wednesday.
"Mr. Weinstein does not recall pressuring Salma to do a gratuitous sex scene with a female co-star and he was not there for the filming. However, that was part of the story, as Frida Kahlo was bisexual and the more significant sex scene in the movie was choreographed by Ms. Hayek with Geoffrey Rush."
"All of the sexual allegations as portrayed by Salma are not accurate and others who witnessed the events have a different account of what transpired," Weinstein's rep said.
In her op-ed, Hayek, who produced Frida, the 2002 biopic about the Mexican artist Frida Kahlo, claimed that Weinstein tormented her emotionally prior to and during the production of the movie. She said she denied numerous sexual advances and incurred Weinstein's wrath as a result.
Hayek said Weinstein threatened to cast another actor in the lead role, "berated my performance," and deemed that "I was not sexy in the movie."
In response, Weinstein's spokesperson said: "While Jennifer Lopez was interested in playing Frida and at the time was a bigger star, Mr. Weinstein overruled other investors to back Salma as the lead. Miramax put up half of the money and all of the [prints and advertising]; the budget was over 12 million.
"As in most collaborative projects, there was creative friction on Frida, but it served to drive the project to perfection. The movie opened in multiple theaters and was supported by a huge advertising campaign and an enormous Academy Awards budget."
The rep also denied Hayek's claim that Weinstein distributed the movie in only two theaters, noting that Frida's Box Office Mojo page shows the film opened in five theaters during its limited-release run in October 2002 and 794 theaters for its wide release in November that year. However, Hayek's claim appears to refer to a period preceding October 2002.