Salvador Ramos Told Schoolchildren 'You're Going to Die': Victim's Family
A family member of a victim of Tuesday's mass shooting at a Texas school said she was told by authorities and survivors of the shooting that the gunman told the children "you're going to die" before he opened fire.
Authorities have named Salvador Ramos, 18, as the gunman responsible for the deaths of 19 children and two teachers at Robb Elementary School in Uvalde. Ramos, who was killed by law enforcement officers, was said to have been armed with a rifle and a handgun and wore body armor during the incident. It was the deadliest school shooting since 2012's Sandy Hook shooting in Newtown, Connecticut, in which 26 people were killed.
One of the Uvalde victims was fourth-grader Amerie Jo Garza, 10. The child's grandmother, Berlinda Irene Arreola, told The Daily Beast she was informed about the final moments before Garza was fatally wounded.
"So the gunman went in and he told the children, 'You're going to die,'" Arreola told The Daily Beast. "And she [Garza] had her phone and she called 911. And instead of grabbing it and breaking it or taking it from her, he shot her. She was sitting right next to her best friend. Her best friend was covered in her blood."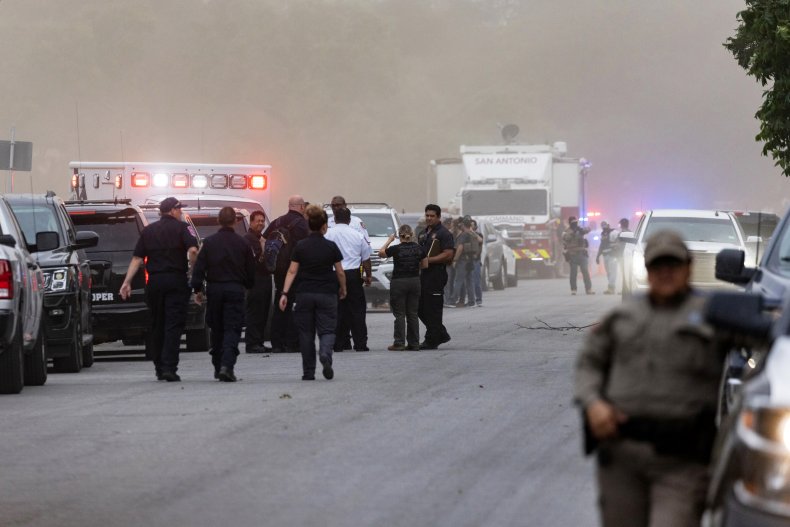 The Daily Beast said Arreola wrote in a text message that Garza was shot while trying to alert authorities about the situation.
"My Grand Daughter was shot and killed for trying to call 911, she died a Hero trying to get help for her and her fellow classmates," Arreola wrote, according to The Daily Beast.
Authorities said Ramos shot his grandmother before he attacked the school. He had been living with his grandmother, who is reportedly in critical condition, following a troubled period of living with his mother. People who said they know the family told The Washington Post that Ramos frequently fought with his mother and that she was a drug abuser.
The Post spoke with one of Ramos' classmates, Nadia Reyes, who told the paper Ramos had posted a video on social media two months ago in which he could be seen screaming at his mother.
"He posted videos on his Instagram where the cops were there, and he'd call his mom a b**** and say she wanted to kick him out," Reyes said, according to the Post. "He'd be screaming and talking to his mom really aggressively."
Newsweek reached out to the Texas Department of Public Safety for comment.