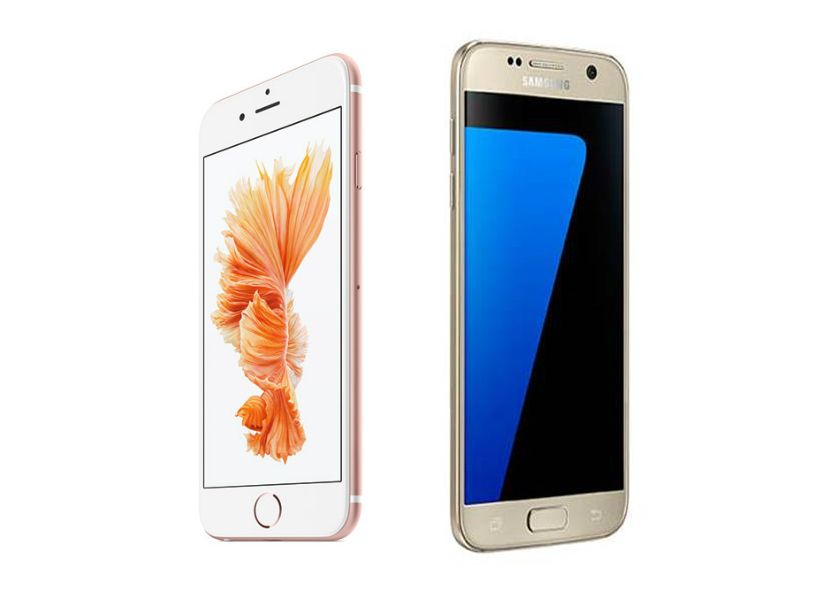 The smartphone rivalry between Apple and Samsung is almost as old as the industry itself.
With the launch of the Galaxy S7 at Mobile World Congress in Barcelona this week, Newsweek takes a look at whether Samsung's latest smartphone is enough to win out over Apple in the battle of the heavyweight handsets—and are either enough to turn around both firms' stagnating sales?
Design and Special Features
Smartphones tend to follow the same tried-and-tested design style, and Samsung and Apple's devices are no different. Rectangular blocks of metal and glass mean there's no great discernible difference between the two. The Galaxy S7's 5.1-inch screen is slightly larger than the 4.7-inch iPhone 6S screen, which also adds to a negligible weight difference of 9g.
Samsung has brought back dust and water resistance to the Galaxy S7 range, after skipping the feature for the Galaxy S6. Its IP68 rating means it can be submerged in water at a depth of 1.5m for up to 30 minutes. All the iPhone 6S can handle is some light splashing.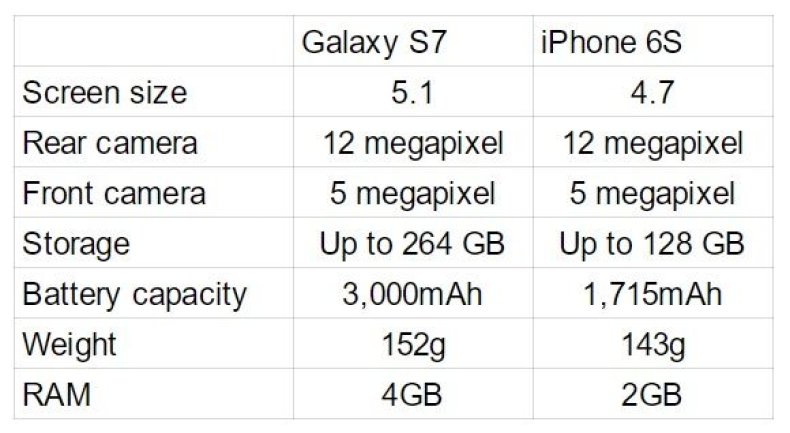 Apple's stand-out offering is 3D Touch, which gives users improved functionality by allowing them to perform different actions depending on how much pressure they apply when touching the screen. Like water resistance, 3D Touch could be seen to be more gimmicky than actually anything ground-breakingly useful.
Camera
Both the front and rear cameras of the iPhone and Galaxy feature the same number of megapixels—5MP and 12MP respectively—suggesting there's not too much to tell the two apart.
Where the Galaxy S7 really outperforms the iPhone 6S is in low light conditions. In a test carried out by mobile news site Phandroid, Samsung's "dual pixel" system combined with a camera sensor that's 30 percent larger than its rival clearly shows a vastly improved image.
Early tests also suggest the Galaxy S7 offers a much better autofocus speed than its rival.
Display and Battery
Samsung has prided itself on its superior display and the Galaxy S7 improves on what was already arguably better than Apple's offering. It has almost double the number of pixels per inch than the iPhone 6S—576ppi compared to 326ppi—although Apple would argue its Retina display makes up for this somewhat. Either way, on screens this small it's hard to tell the difference.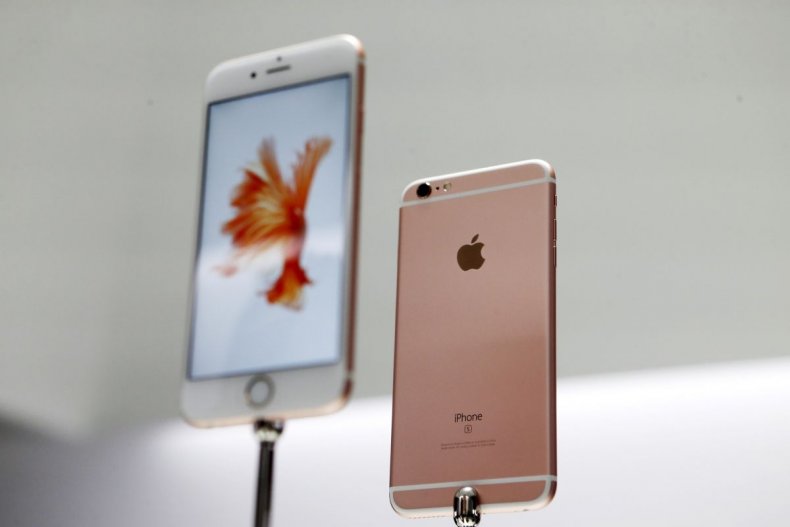 One area that both Apple and Samsung have consistently fallen short in is battery, and the iPhone 6S is no exception. Its 1,715mAh capacity is dwarfed by Samsung's 3,000mAh, though until real world tests are carried out it is hard to tell whether this difference will actually relate to almost double the battery life.
Cost and Conclusion
The Galaxy S7, which goes on sale for $800 on March 11, is marginally more expensive than the $760 5-month-old iPhone 6S, although extra-storage versions of Apple's device take it up to $849. For the extra money, Samsung's smartphone boasts more power, a sharper display, added water resistance and better storage options.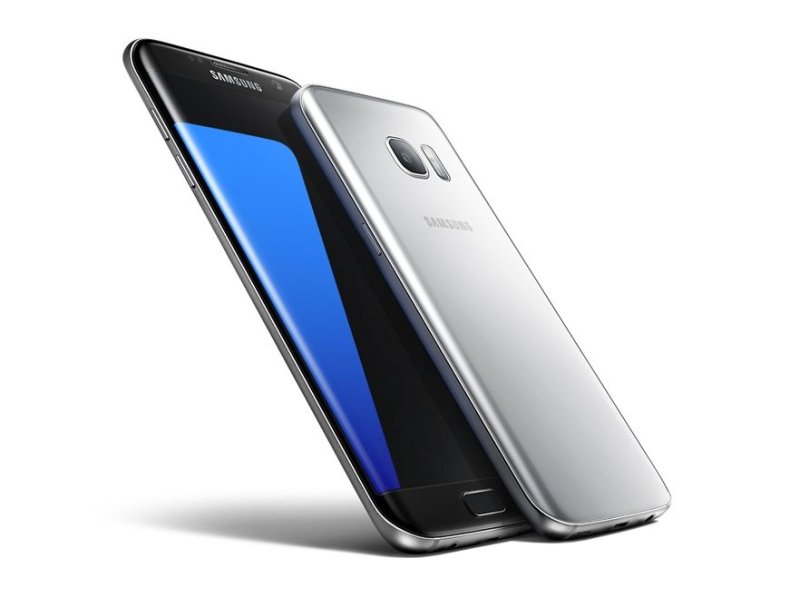 Really though, the most remarkable thing about the Galaxy S7 is how similar it is to the iPhone. What Samsung has inadvertently highlighted with its latest device is that smartphones are more and more alike, formulaic in design, specs and function. In fact, at its launch, more people appeared to be interested in the virtual reality technology on show with the Gear VR than the actual Galaxy S7.
Together, Samsung's Galaxy S7 and Apple's iPhone 6S could be seen as symbols of a stale smartphone industry in which real innovation has fallen by the wayside. It's therefore perhaps not surprising that, according to Gartner, iPhone sales fell for the first time in 2015, as did the market share for Samsung.
It's unlikely that the Galaxy S7 will tempt significant numbers of users away from their iPhones, or vice versa. It's more likely that indifferent customers will stick with their current devices or turn to the growing number of mid-range handsets that offer more-or-less the same features for a fraction of the cost.