Samuel L. Jackson Condemns Joe Rogan's 'Wrong' Use of N-Word
Samuel L. Jackson has spoken out about Joe Rogan's use of racial slurs on his show, with the veteran actor labeling the controversial podcast host "wrong."
The host of The Joe Rogan Experience has been embroiled in ongoing controversies over misinformation on his podcast and recently came under fire for his repeated use of the n-word across multiple episodes.
"He is saying nobody understood the context when he said it," Jackson said in an interview with The Times.
"But he shouldn't have said it. It's not the context, dude—it's that he was comfortable doing it. Say you're sorry because you want to keep your money, but you were having fun and you say you did it because it was entertaining."
Rogan's use of the word was highlighted when singer-songwriter India.Arie posted a video to social media that featured a lengthy compilation of the host saying the slur.
The MMA commentator issued an apology and expressed regret, while more than 70 episodes of his show were pulled from Spotify.
Rogan said in an Instagram video that his use of the slur was "the most regretful and shameful thing that I've ever had to talk about publicly."
He also claimed the clips were "taken out of context" and that he "hadn't said it in years."
Jackson was asked whether Rogan's use of the n-word lacked context, to which he replied: "It needs to be an element of what the story is about. A story is context—but just to elicit a laugh? That's wrong."
Similarly, India.Arie labeled Rogan "consciously racist" for his repeated use of the word.
"I was going to say this name I'm tired of saying, but for me when I think about Joe Rogan, I think that he is being consciously racist," she told Trevor Noah on The Daily Show.
"I mean, since the early 1900s, we've had an agreement in our society that we don't say the word or you have to suffer consequences. So saying it and going 'what are you going to do?' Or saying, 'I didn't know there was no context under which I couldn't say it,' I believe he knew there was no context, and he was saying it because it got a rise out of people.
"He knew it was inappropriate. The fact that he did it repeatedly and was conscious and knew—I think that is being racist and I don't like even saying that because I'm a sensitive old soul, and I want to believe the best in people."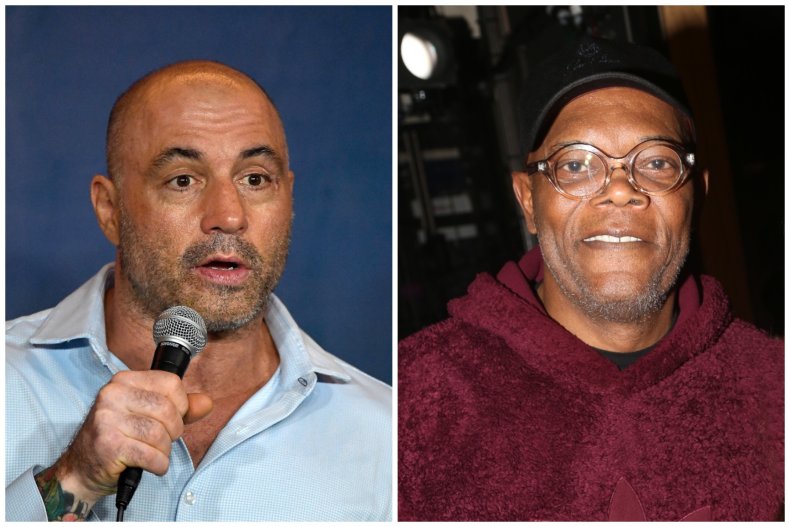 Rogan has also defended himself against criticism of his decision to give a voice to vaccine skeptics on his podcast.
In a statement posted to Instagram in January 2022, Rogan apologized and said: "I'm not trying to promote misinformation, I'm not trying to be controversial. I've never tried to do anything with this podcast other than just talk to people and have interesting conversations."
He added that he would "do my best to make sure I've researched these topics" and "try harder to get people with differing opinions" on his show.