San Francisco 49ers Cheerleader Takes a Knee During National Anthem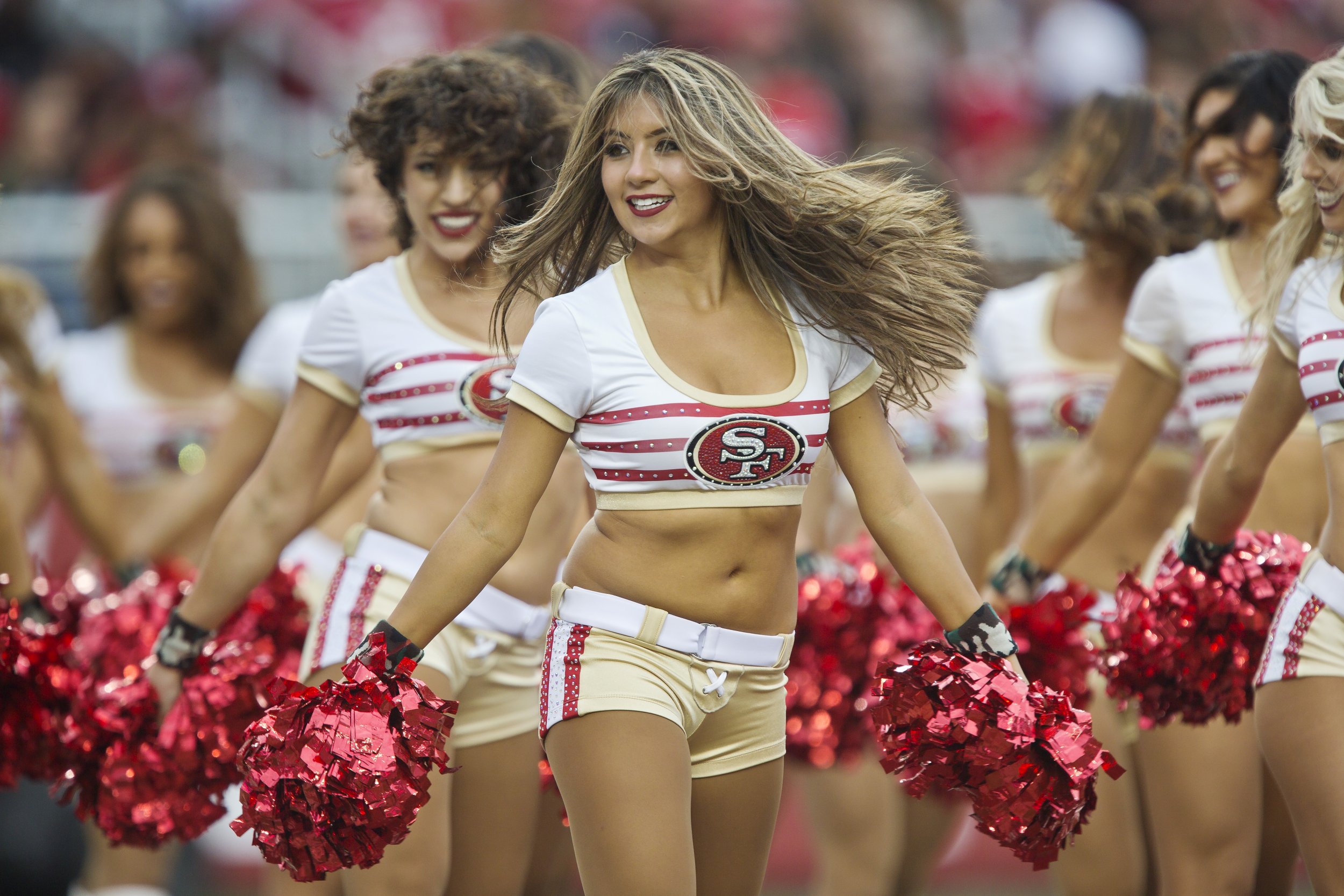 Protests during the national anthem ahead of NFL games no longer seem to be exclusive to players, as a San Francisco 49ers cheerleader took a knee on Thursday night.
As "The Star-Spangled Banner" rang out at Levi's Stadium in San Francisco, the unnamed cheerleader knelt and her gesture was captured on camera, immediately becoming an internet sensation.
Those watching the game on TV, however, missed the cheerleader taking a knee as FOX Sports, like the other networks airing NFL games, opted against televising the anthem this season to defuse controversy.
The broadcaster reportedly plans to show the anthem only on special occasions—such as Veterans Day, Thanksgiving Day and during the playoffs.
The NFL has been embroiled in political quicksand since Colin Kaepernick first opted to kneel during the anthem to protest against racial injustice in 2016. The example set by the former 49ers quarterback was followed by a number of other players, leading to franchise owners to close ranks and President Donald Trump blasting the protesters for disrespecting the flag and the country.
In the past, cheerleaders have joined the protest in college football. In September last year, a picture of Georgia Tech dancer Raianna Brown taking a knee before a game went viral.
A week later, five Kennesaw State University cheerleaders kneeled during the national anthem prior to a game against North Greenville University.
The women were subsequently barred from the field for the national anthem after the school reportedly came under pressure from Georgia state representative Earl Ehrhart and sheriff Neil Warren.
Earlier this year, Toomia Dean, one of the five who took a knee, told Atlanta NBC-affiliated WXIA that the four of the five women were excluded from the cheerleading squad for 2018.
KSU put the decision down to an increased number of applicants, indicating 95 people had tried out for the 52-member squad this year, compared to 61 in 2017.
In the NFL, the issue surrounding the protests has continued to make headlines this season.
Eric Reid, who was among the first players to support Kaepernick's protest two years ago and, took a knee in his first game back in the NFL last month. Miami Dolphins receivers Albert Wilson and Kenny Stills have also knelt in protest in every game of the current campaign.
Like Kaepernick, Reid had been without a team since becoming a free agent until signing with the Carolina Panthers in September. Both players have filed an official grievance accusing the 32 NFL team owners of colluding to keep them out of the game.