Colin Kaepernick Praises Miami Dolphins Players for Kneeling During the National Anthem
Colin Kaepernick took to social media to thank two Miami Dolphins players who chose to kneel during the national anthem in the NFL's season-opening Sunday.
Dolphins wide receivers Kenny Stills and Albert Wilson were the only two players to take a knee in the opening weekend.
The duo had taken similar action in preseason and Kaepernick, who rose to prominence in 2016 when he opted to kneel rather than stand during the national anthem as an act of silent protest against social and racial injustice, praised Wilson and Stills.
"My Brothers @kstills and @ithinkisee12 continue to show their unwavering strength by fighting for the oppressed!" he tweeted. "They have not backed down, even when attacked and intimidated. Their courage will move the world forward! 'Love is at the root of our resistance!'"
Former San Francisco 49ers safety Eric Reid, who was among the first players to join Kaepernick's protests, also praised Stills and Wilson as he tweeted the same message shared by his former teammate.
Like Kaepernick, Reid has been without a team since becoming a free agent and both have filed an official grievance accusing the 32 NFL team owners of colluding to keep them out of the game. However, while Kapernick's lawsuit will go to a trial, Reid's is yet to make similar progress.
Kaepernick and Reid weren't alone in backing the Dolphins duo, as Stills explained a "lot of people" had expressed support of their protest. "I know [Kaepernick] has our back," Stills was quoted as saying by ESPN.
"Really, there has been a huge difference between when we first started protesting and now. A lot of people are reaching out and supporting us, so I really appreciate that. To everybody out there [...] let's keep doing our best to make positive change and have these conversations and make our country a better place."
Stills and Wilson weren't the only two players to protest on Sunday, as Dolphins defensive end Robert Quinn held a clenched first aloft during the anthem. San Francisco 49ers receiver Marquise Goodwin and Chargers left tackle Russell Okung did the same before games against the Vikings and the Chiefs respectively.
In Denver, Broncos linebacker Brandon Marshall and receiver Demaryius Thomas returned to the locker room during the anthem, with Seattle Seahawks linemen Quinton Jefferson and Duane Brown following suit.
The protests came after a week in which Kaepernick was back in the spotlight, after Nike unveiled him as one of the faces of its "Just Do It" 30th anniversary campaign.
"Believe in something. Even if it means sacrificing everything," read the slogan under a black-and-white picture of the former San Francisco 49ers quarterback.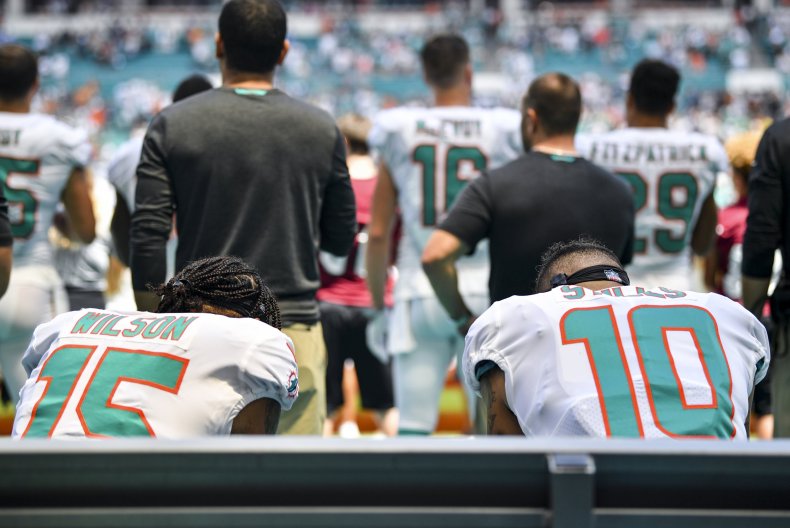 Since Nike unveiled the campaign, it has been subject of a backlash on social media, with Twitter users posting videos of them burning their Nike sneakers to protest against the choice of Kaepernick as lead testimonial.
President Donald Trump also touched on the #BoycottNike campaign, warning the sporting apparel giant would suffer a sharp decline in sales as a result of its actions. Trump also criticized the campaign for "sending a terrible message."
On Sunday, the President returned to the issue, claiming the decline in NFL ratings in the first weekend of the season was due to the broadcasters' decision not to show the national anthem.
"If the players stood proudly for our Flag and Anthem, and it is all shown on broadcast, maybe ratings could come back? Otherwise worse!" he tweeted.
NBC, which broadcast the season opener between Eagles and Falcons on Thursday night showed the national anthem, but that did not prevent the game from recording the lowest rating for an opener since 2008.
As widely anticipated, CBS and FOX did not broadcast the anthem on Sunday afternoon games.