San Francisco Mayor London Breed will not participate in this year's Pride Parade over the controversial ban on law enforcement uniforms, citing solidarity with LGBTQ police officers who can't march in uniform.
"I've made this very hard decision in order to support those members of the LGBTQ community who serve in uniform, in our Police Department and Sheriff's Department, who have been told they cannot march in uniform and in support of the members of the Fire Department who are refusing to march out of solidarity with their public safety partners," Breed said in a Monday statement.
"I love the Pride Parade, and what it means for our LGBTQ community and for our city. It's one of my favorite events of the year," she said. "However, if the Pride Board does not reverse its decision, I will join our city public safety departments that are not participating in the Pride Parade."
Breed joins a number of other city agencies and officials who will not partake in the parade due to the ban.
Earlier in the day, the San Francisco Police Officers Pride Alliance, LGBTQ sheriff deputies and the San Francisco Fire Department released a joint statement saying they would not march in this year's parade unless officers were allowed to wear their uniforms.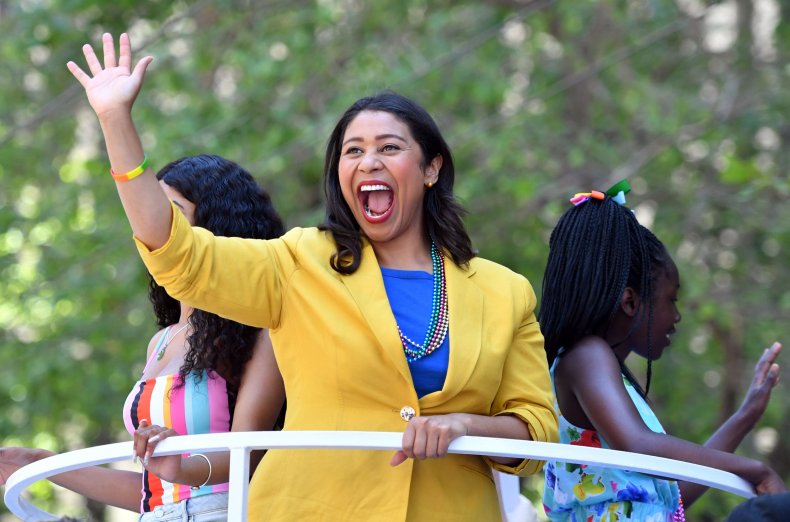 "The San Francisco Pride Committee has asked the LGBTQ+ peace officers to go back in the closet," the joint statement said.
"While we may not be able to march with our communities, we will still be here, working to keep you safe because that is what we have sworn to do," it continued. "By bringing this to the public's attention, we are hopeful that the SF Pride committee will reverse its decision and allow the LGBTQ+ and ally members of the San Francisco public safety agencies to proudly march in uniform with our community in the San Francisco Pride Parade."
Suzanne Ford, executive director of San Francisco Pride, has said event organizers want cops to be able to participate, but not in a full uniform, suggesting that they wear T-shirts or other clothing that reads San Francisco Police instead.
Supervisor Matt Dorsey and Fire Chief Jeanine Nicholson, who is the first openly gay person to head the department, said neither of them march unless the Pride board changes its policy.
"We are disappointed in Mayor Breed's decision, but look forward to working with her and law enforcement agencies in finding a solution that is satisfactory to all," Ford told the San Francisco Chronicle in response to the announcement.
Breed and Dorsey have characterized the ban on police uniforms as "a policy of exclusion."
"One of the central planks of the movement for better policing is a demand that the people who serve in uniform better represent the communities they are policing," Breed said. "We can't say, 'We want more Black officers,' or 'We want more LGBTQ officers,' and then treat those officers with disrespect when they actually step up and serve."
San Francisco Pride's board of directors first enacted a restriction on uniforms in 2020 after the George Floyd protests and although last year's event was canceled due to the city's COVID surge, the board reinstated the ban again this year.
San Francisco is not the first city to implement a ban on uniformed police officers from marching. New York City's Pride organizers also instituted a ban on uniforms last year.