Sarah Huckabee Sanders is Spreading 'Pizzagate Nonsense' With Claim About Bin Laden, Press, Says Joe Scarborough
White House press secretary Sarah Huckabee Sanders lied and spread "Pizzagate nonsense" about the media thwarting the apprehension of Osama bin Laden in the late 1990s, Morning Joe co-host Joe Scarborough said Thursday.
Scarborough's comments followed Sanders's press briefing Wednesday when she reiterated a claim first made by former President George W. Bush and the 9/11 Commission about a 1998 report from The Washington Times. That report mentioned bin Laden used a satellite phone, and Bush claimed bin Laden stopped using it in order to avoid detection from U.S. intelligence.
The claim has been widely panned and proven incorrect as bin Laden's use of the phone was documented at least two years and several times before 1998.
"But then speaking of fake news, you have Sarah Huckabee Sanders pushing a lie," Scarborough said. "The fake news about some report on Osama bin Laden and how the press actually stopped American military men and women from catching [bin Laden]. She might as well have said Neil Armstrong never walked on the moon. Just pure conspiracy, 'Pizzagate' nonsense."
Scarborough was referring to the conspiracy theory spread in 2016 about a pizzeria serving as the home base for a child abuse ring headed up by Hillary Clinton and her former campaign manager John Podesta.
Co-host Willie Geist chimed in to claim the White House is actively "promoting" conspiracy theories and referred to the presence of apparent QAnon believers at one of the president's rallies this week.
"Widely debunked theory that goes back to his rally two nights ago," Geist said. "Those QAnon we talked about this yesterday. The signs up everywhere. There's conspiracy theories all over the place. Not only are they not squashing them, but they're promoting them from the lectern of the briefing room."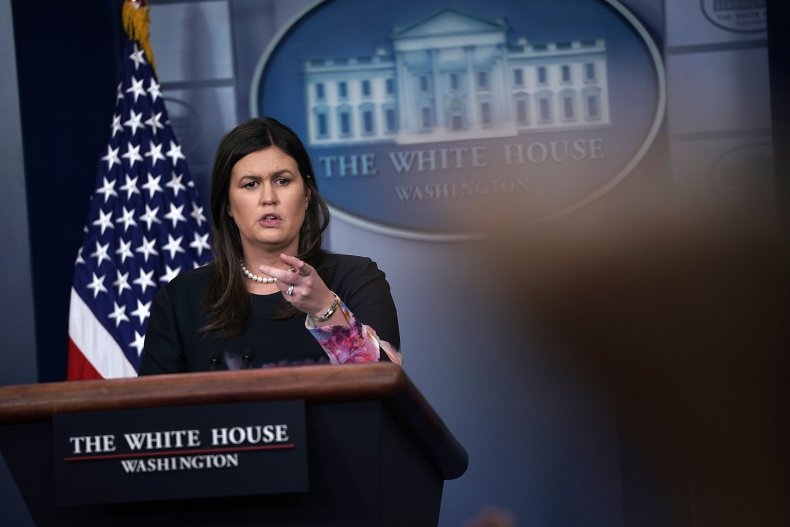 The response to Sanders's comments was swift on Wednesday. She defended her claims, and cited a New York Times report from 2005 that she said corroborated her story.
But that 2005 story itself was comprehensively disputed two days later by the Washington Post, which pointed out that the existence of Bin Laden's satellite phone had been reported as early as 1996, and that the information had come from the Taliban, the religious extremist group which was allied with him in Afghanistan.
The issue arose after Sanders was asked whether or not President Donald Trump condoned or would condemn supporters at one of his rallies who screamed and cursed at members of the media. She said the president did not support any kind of violence, but suggested that his hatred for the media was justified, citing -- as most leaders who turn on the press tend to do -- national security.
"When it comes to the media the president does think that the media holds a responsibility," Sanders said Wednesday. "We fully support a free press, but there also comes a high level of responsibility with that. The media routinely reports on classified information and government secrets that put lives in danger and risks valuable national security tools."
Sanders later received criticism Thursday following her comments at another press briefing. She was asked by CNN's Jim Acosta whether she viewed the media as the "enemy of the people."
Sanders refused to deny the claim Trump has repeatedly made, while citing attacks she claimed the media has made against her.
This story has been updated to include comments from Sarah Huckabee Sanders on Thursday.