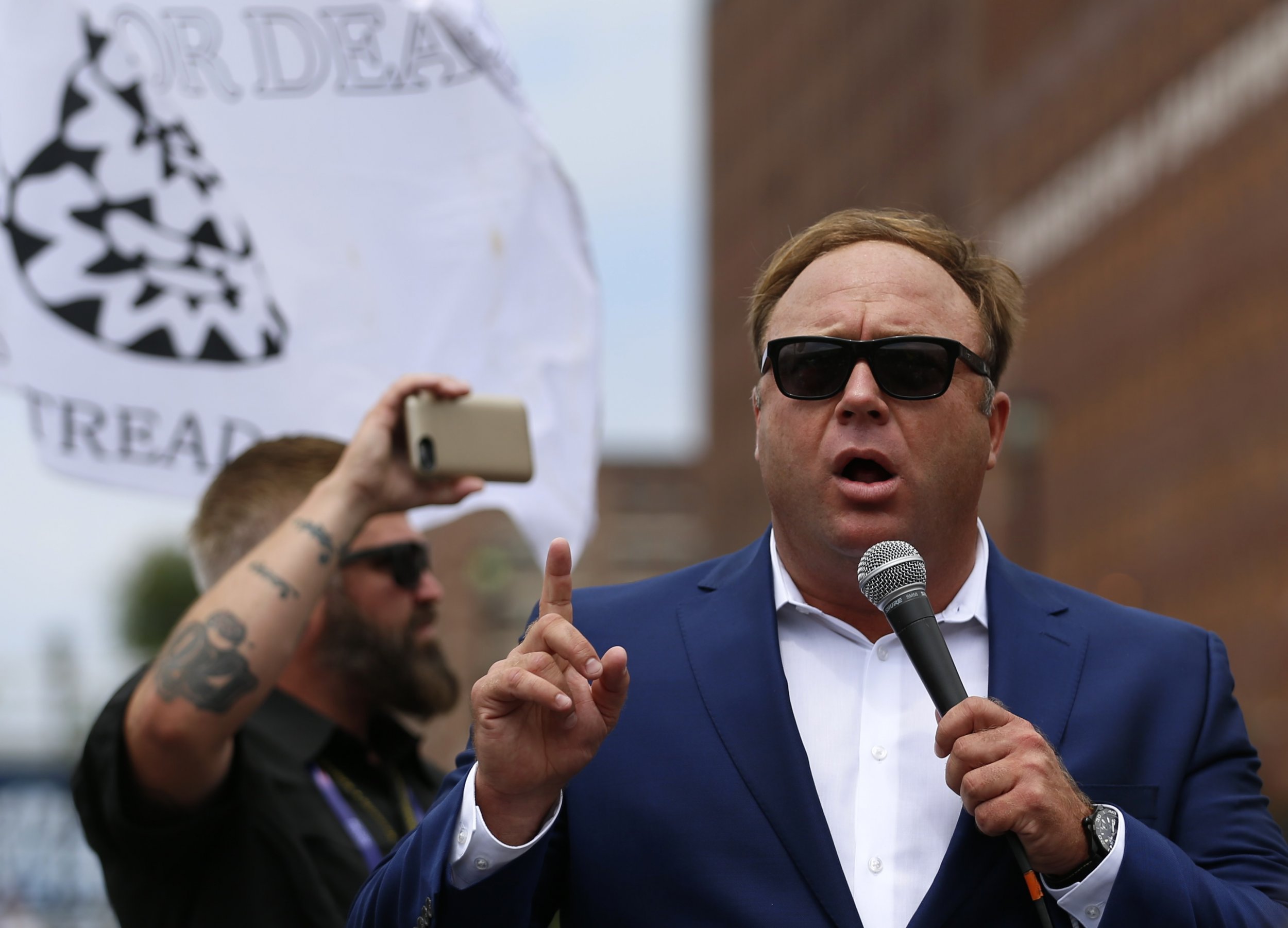 Conspiracy theorist Alex Jones, an outspoken Donald Trump supporter who repeatedly has said he believes the December 2012 Sandy Hook Elementary School massacre was a "hoax," has invited the daughter of the slain school principal—one of 26 people killed in the shooting—to be a guest on his show about two weeks before the four-year anniversary of the tragedy.
Related: Sandy Hook families appeal lawsuit against AR-15 manufacturer
On the morning of December 14, 2012, gunman Adam Lanza shot and killed Principal Dawn Hochsprung, five of her colleagues and 20 first-graders at the school in Newtown, Connecticut. Earlier this month, Hochsprung's daughter, Erica Smegielski—who was an outspoken advocate for gun safety during the primary and general election season—posted online an open letter asking President-elect Donald Trump to denounce Jones, the truther radio host who also runs the conspiracy theory website InfoWars.com. "You've promised to be a president for all of us. Well, that includes victims of gun violence and their families, like me," she said. "I hope that you will not only refuse to go on his show, but that you will denounce the conspiracy theories that he spreads at the expense of gun violence survivors."
Throughout his campaign, Trump referred to articles on the site to bolster some of his claims, including raising questions about Hillary Clinton's health and promoting the idea of rigged elections. He also has vowed to abolish gun-free zones at schools and on military bases, and to remove President Barack Obama's dozens of executive actions on gun-safety measures. In December 2015, candidate Trump appeared on Jones's Info Wars for 30 minutes. "Your reputation's amazing," the candidate said. "I will not let you down. You will be very, very impressed, I hope. And I think we'll be speaking a lot."
Jones has said the victims at Sandy Hook were actually child actors and that the massacre never happened. In what appears to be something of a reversal of thought, though, Jones on Tuesday offered condolences to Smegielski for the death of her mother and invited her on his show: "I am so sorry for the horrific loss of your mother. I would love to have you on my show [sic] you can tell the world the truth." Smegielski responded, "OK," and requested that he message her directly and privately.
It's not clear whether Smegielski will agree to Jones's offer: Just two days after she first published her open letter online, Jones argued that his previous comments about what he called the "reported tragedy" at Sandy Hook were being taken out of context and that the government is covering up facts about the shooting attack. He also criticized what he called the fake and corporate news media for lying about hundreds of polls ahead of the election. "I don't know what the truth is," Jones said on his show. "All I know is, the official story of Sandy Hook has more holes in it than Swiss cheese."
Among Jones's other allegations are that the April 1995 Oklahoma City bombing and the September 11, 2001 attacks were inside jobs. He says he thinks that the July 2012 movie theater shooting in Aurora, Colorado, was "staged," and that the April 2013 Boston Marathon bombing was a "total drill, on record," and that Tamerlan Tsarnaev, the elder of the brothers involved in the attack, was a CIA asset.
Smegielski, who endorsed Clinton ahead of the presidential election, reiterated her call to Trump in a USA Today op-ed the day after Thanksgiving. Trump apparently has not responded to her, nor has he spoken out against claims made by Jones. Three days after the presidential election, Jones boasted that the president-elect called him and promised to appear on his show again soon "to thank your audience."
Read more from Newsweek.com:
- Under Trump, what will happen on guns?
- Sandy Hook lawsuit against AR-15 manufacturer is dismissed by judge
- Gunmaker argues immunity in Sandy Hook lawsuit