Erica Smegielski, Daughter of Sandy Hook Principal, Says Election Marks 'Pivotal Moment' in Gun Safety Movement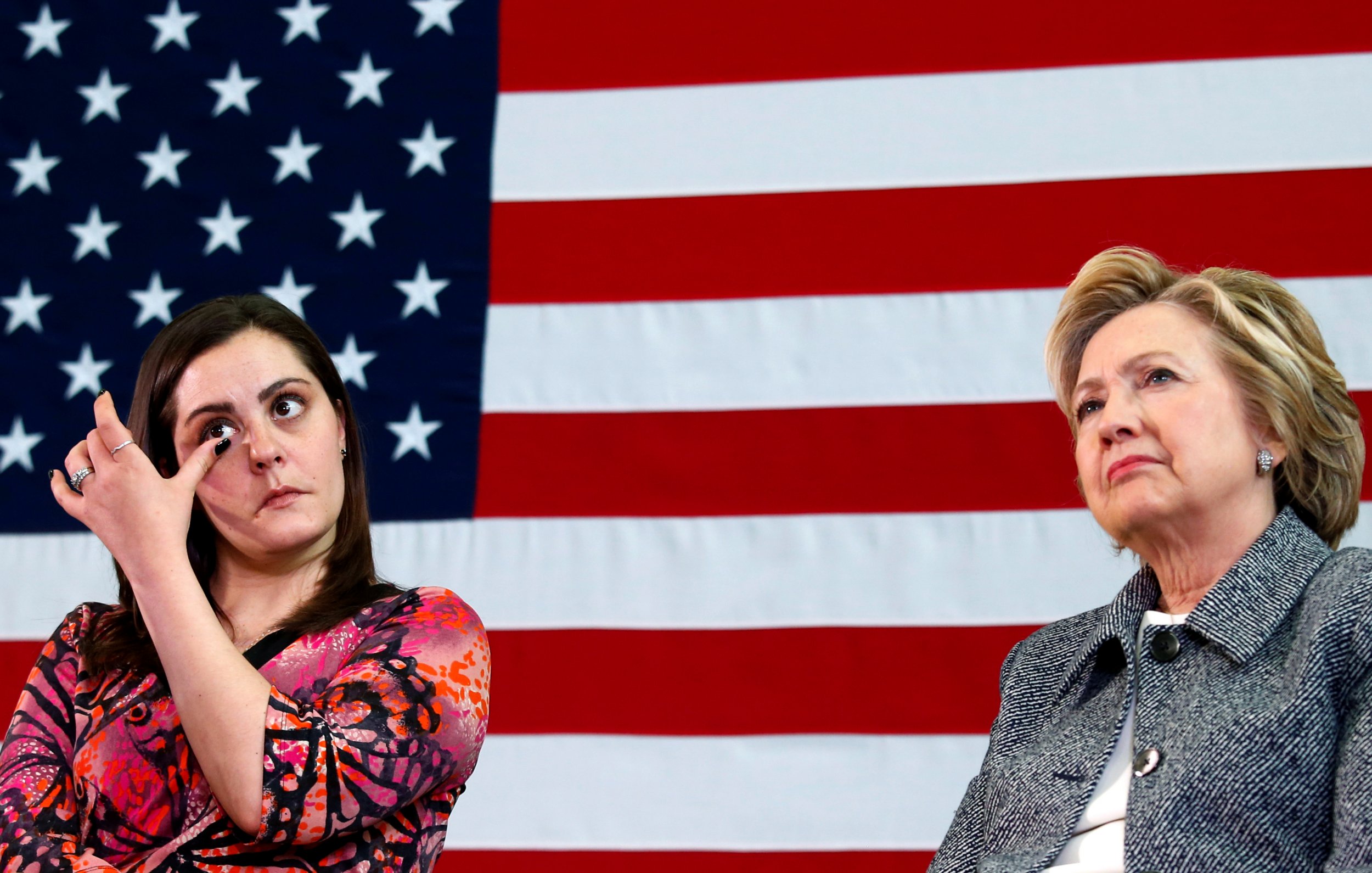 Erica Smegielski doesn't want the national conversation about gun violence to focus on her story. A white woman from the suburbs whose mother was killed in a mass shooting, she thinks she's in the minority of Americans affected by fatal shootings.
Mass shootings represent a small share of total U.S. firearm homicides: Fewer than 1 percent of gun murder victims recorded by the FBI in 2012 were killed in mass shootings or incidents with four or more victims, according to analysis by Everytown for Gun Safety, a gun violence prevention group and Smegielski's employer.
Smegielski's mother, Dawn Hochsprung, was one of the six adults killed in the massacre at Sandy Hook Elementary School in Newtown, Connecticut, on December 14, 2012. The gunman also shot and killed 20 first-graders. In an interview with Newsweek on Wednesday, hours before she would address the country onstage at the Democratic National Convention in Philadelphia, Smegielski described how the shooting changed her.
In the wake of her mother's death, Smegielski says she watched, admired and was inspired by Hillary Clinton, who this week became the Democratic Party's official 2016 candidate. She first met the former secretary of state as a panelist at an event in Long Island, New York, shortly before the Empire State's primary this year. "Meeting her, you could feel it, which I think is what really set her apart not only within the group of presidential candidates," Smegielski says, "but it set her to the top of any politician."
This year marks the first major election since the Sandy Hook massacre, and one in which gun control has been widely discussed. The November contest will take place just five months after Connecticut Senator Chris Murphy's nearly 15-hour filibuster on the floor of the Senate and the Democrats' sit-in on the floor of the House of Representatives. A gun debate was largely absent from the 2012 presidential election, which happened just four months after the mass shooting at a movie theater in Aurora, Colorado. And the 2014 midterm elections saw gun control directly on the ballot, but just in one state. In Washington that year, residents passed a measure to require criminal background checks on all firearms sales and transfers, including at gun shows and on the internet.
This year, background check initiatives have qualified on the ballot in two states—Maine and Nevada. Those citizen-driven measures, along with key Senate races around the country and Clinton as a candidate, are reasons Smegielski believes the 2016 election will be a pivotal moment in the gun safety movement.
Clinton is not only talking about curbing gun violence but also running her campaign on it. Throughout the primary season, she hit onetime rival Bernie Sanders from the left on gun control, highlighting her Senate vote against a federal shield law that provides general immunity to gun companies from legal action for firearms used in crimes (Sanders, in Congress at the time, supported the measure, which now is a law).
Smegielski won't be the only speaker highlighting gun violence prevention at the DNC on Wednesday night. She will be joined by several other outspoken gun safety activists, including Murphy, President Barack Obama, former U.S. Representative Gabrielle Giffords, former New York City Mayor Michael Bloomberg and former Clinton rival Martin O'Malley. Survivors and a mother of a victim in the June 12 shooting at gay nightclub Pulse in Orlando, Florida, will address the crowd as well.
A call for tougher gun laws was also part of the platform at the DNC on Tuesday night, as the Mothers of the Movement, a group of women who lost children to gun violence or in police custody, addressed the audience. Singer Alicia Keys later dedicated the first song of her performance to these mothers. "For it to be on such a large platform in such a large way on such a major night really speaks to the change on the culture of guns," says Smegielski.
She has deemed Clinton the "first gun-sense commander in chief." The reason: If she is elected president, the former secretary of state has vowed to take on the gun lobby with universal criminal background checks, as well as to keep firearms away from terrorists, domestic abusers and other individuals who pose a risk to public safety. Clinton also chose Virginia Senator Tim Kaine as her running mate. Kaine represents the home state of the National Rifle Association. In his first address alongside Clinton, Kaine last week touted his victory in a statewide election despite the NRA's opposition to him. And, as governor of the state, he became a powerful advocate for mental health reform in the wake of the 2007 Virginia Tech massacre. He will address the DNC on Wednesday night.
In preparation for her own speech, Smegielski tells Newsweek she wants to walk off the stage with Americans thinking about how Clinton's platform deals with the changes she says need to happen across the United States. "For so many people in this country, in particular elected officials, gun violence prevention is talked about in statistics. But it's so much more personal than that," Smegielski says. "Behind every single number of each statistic is a human life. And I think that the importance of the survivor voice is to make that connection of humanity."