Could Clinton's Doubling Down on Sanders's Gun Record Hurt the Democratic Party?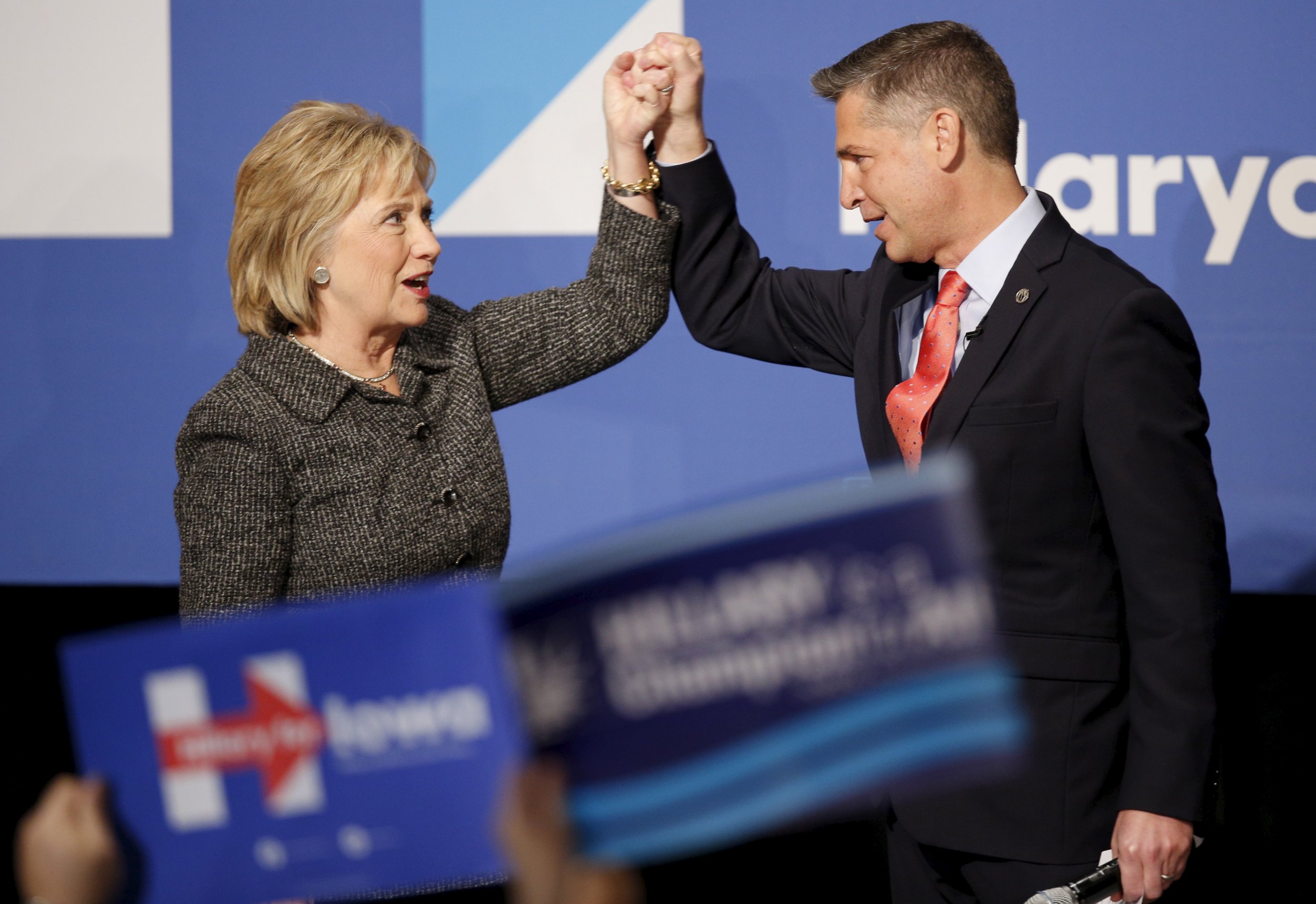 With the presidential race tightening less than a month before voters make their choices, Hillary Clinton is highlighting the gun record of her closest Democratic rival, including his past votes to support immunity for manufacturers.
Clinton, the Democratic front-runner, is arguing that Vermont Senator Bernie Sanders is out of step with progressives and President Obama's White House on gun control. Her attacks stem from Sanders's vote to grant gun manufacturers immunity from lawsuits and his five-time opposition to the Brady Bill, which requires federally licensed dealers to conduct background checks before making gun purchases.
Some polls show Sanders has taken the lead from Clinton in Iowa and New Hampshire—the crucial, first two nominating states—and Clinton's campaign released a 30-second spot supporting Obama's recently announced executive actions on guns that include expanding federal background checks.
"It's time to pick a side. Either we stand with the gun lobby or we join the president and stand up to them," Clinton says in the ad.
Gun control prevention has emerged as a central issue on the campaign trail. Obama has made ending the epidemic of gun violence in the United States an urgent requirement in his final calendar year in office. And Clinton has put curbing gun violence at the center of her campaign. In the wake of the deadly massacre at Oregon's Umpqua Community College in October, she became more vocal about gun control and strongly encouraged voters to take on the National Rifle Association (NRA). She then released a gun violence policy in which she promised to sidestep Congress and enact legislative gun reforms.
While Sanders has said he is willing to take another look at the law that provides immunity to gun companies, which he repeatedly calls a complicated piece of legislation, he has defended his record by saying he is from a rural state and long ago voted for the immunity measure to protect mom-and-pop gun shops from legal responsibility. His most recent rating from the NRA is a "D-."
After Obama's State of the Union address on Tuesday night, Sanders told CNN that he stands with the president on gun issues. On Wednesday, he told MSNBC that Clinton's comments on his record are "mean-spirited, and unfair and inaccurate."
While hitting Sanders from the left on gun control, in a series of interviews on Wednesday morning, Clinton increased her attacks on Sanders from the right. She said his plans for a single-payer health care system would lead to massive tax increases for the middle class. (Clinton has vowed no tax hikes on families earning less than $250,000 a year.) Clinton insists Sanders is trying to eradicate Obamacare instead of building on it. For their part, Sanders's supporters have said any tax hike would be more than offset by the dramatic reduction in the amount consumers pay for health care.
Allies such as SuperPACs are joining the fray. Clinton has called Sanders a "reliable vote" for the gun lobby. But Democracy for America (DFA), a grassroots political organization founded by Howard Dean, warned that her recent attacks against Sanders could endanger Democrats in the election.
Will this fighting hurt the Democratic Party? It's significant to consider "the impact these attacks could have on the cohesiveness and unity of the Democratic coalition we need to win in November 2016," Neil Sroka, DFA communications director, tells Newsweek. "When they make these kinds of attacks, it makes it harder to bring people together regardless of who wins the nomination when this contest is over." DFA members endorsed Sanders in December.
Clinton denies that her criticism is a result of a closing gap in the polls. "To suggest that it is mere coincidence that these attacks are coming on the heels of a string of polling that shows Sanders in the lead or near the lead defies any sort of logic," Sroka says.
But Clinton is viewed as a stronger candidate on gun control than Sanders. In the past, Clinton has proposed a national gun registry and called for the repeal of the immunity law. This week, she was endorsed by gun-safety activists. Shooting survivor and former U.S. Representative Gabrielle Giffords, along with her husband, astronaut and Navy Captain Mark Kelly, on Monday endorsed Clinton for standing up "to the corporate gun lobby's intimidation and bullying." The couple, who publicly acknowledge they are long-time owners of firearms, became advocates for gun control after Giffords was shot in the head in a 2011 shooting outside of a supermarket in Tucson, Arizona.
A day later, the Brady Campaign to Prevent Gun Violence, which works to expand federal background checks to all firearms sales, endorsed Clinton for president because of her gun record. In November, the Brady Campaign awarded Clinton with an inaugural award for her work in promoting gun control measures. Brady Campaign President Dan Gross said he is certain she has helped the movement reach a tipping point in the country.
"When it comes to real national leadership on this issue there is so clearly one candidate that rises above all the others—and that candidate is Hillary," Gross said Tuesday at an event in Ames, Iowa. At the same rally, Clinton told the audience it was time to "get real" about the differences between her and Sanders.
Obama tried to make gun control a centerpiece of his second term, beginning a month before his inauguration in the aftermath of the massacre at Sandy Hook Elementary School in December 2012. In an op-ed published last week, Obama said he won't "campaign for, vote for or support any candidate, even in my own party, who does not support commonsense gun reform." A study released last week found that two-thirds of Americans said they favor Obama's newly proposed actions, but less than half of the public said they think his plans will be effective.