Hillary Clinton Meets With Sandy Hook Families, Vows to Push for Gun Control Within Second Amendment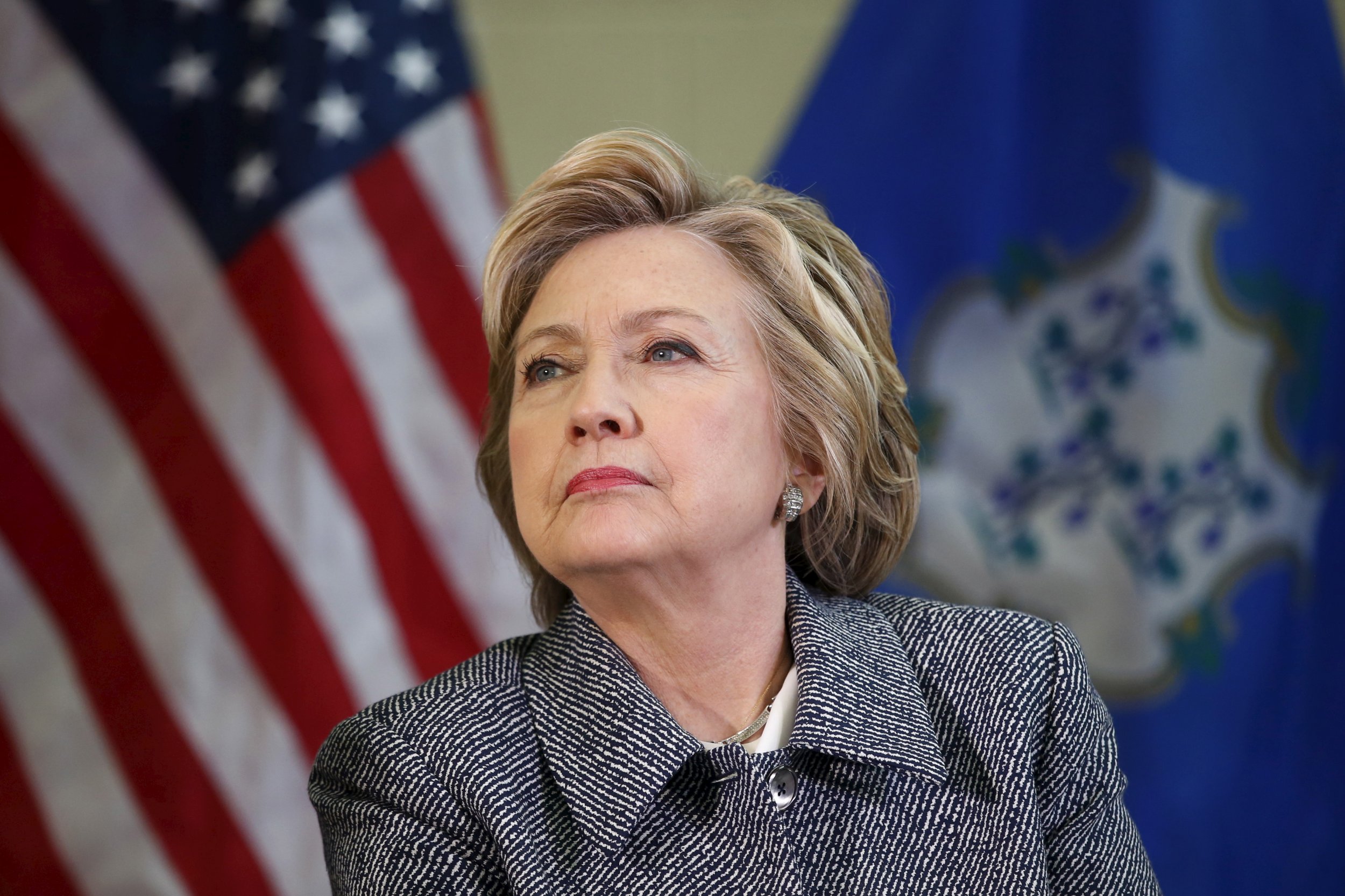 Surrounded by panelists who have been affected by gun violence, Hillary Clinton on Thursday promised Connecticut residents she would push for stricter firearms laws as president, just five days before the state's primary.
The Democratic front-runner gathered for almost two hours at the Wilson-Gray YMCA in Hartford with relatives from gun-violence incidents, including families affected by the mass shooting at Sandy Hook Elementary School in Newtown. The panel was held about 50 miles from where 20 first-graders and six educators were killed in the massacre on December 14, 2012.
"I am not here to make promises I can't keep," Clinton said. "I am here to tell you I will use every single minute of every day, if I'm so fortunate enough to be your president, looking for ways that we can save lives, that we can change the gun culture. It is just too easy for people to reach for a gun to solve their problems. It makes no sense."
"We can do this consistent with the Second Amendment. We can do this with the support of responsible gun owners, and that is exactly what we will do," she added, to applause from the crowd.
Clinton, the Democratic front-runner who most recently won New York's primary Tuesday, acknowledged that the gun lobby "is the most powerful lobby in Washington."
"They have figured out how to intimidate elected officials at all levels who basically just stop thinking about this problem because they're too scared to stand up to the [National Rifle Association (NRA)]," Clinton said.
She called for a national movement to fight gun violence and for the Sandy Hook massacre to be the object lesson for convincing a majority of Americans to remain in the movement to turn it into a voting issue.
"If anything else were killing 33,000 Americans a year, you can bet we would be fully mobilized, doing everything we possibly could to save lives," she said.
Erica Smegielski, whose mother, Sandy Hook Elementary principal Dawn Hochsprung, died in the massacre, introduced Clinton, whom she called "my partner" in the fight. She said gun violence is "personal for Connecticut," not only because of the Newtown massacre, but also because of the daily toll it takes on residents.
"Gun violence knows no bounds. I learned that the hard way," Smegielski said, adding that the number of mass shootings are dwarfed by everyday gun violence, including individual murders, suicides and accidental deaths.
In a newly released Clinton ad, titled "My Mom," Smegielski speaks about her mother.
"No one is fighting harder to reform our gun laws than Hillary. She reminds me of my mother: She isn't scared of anything and that's how I know that she is the person that can actually make a difference. That's why I believe in her," she says in the minute-long spot airing in Connecticut.
Connecticut not only is the state where the Newtown massacre occurred, but it also has some of the strictest gun laws in the country. Clinton thanked Governor Dannel Malloy, who was in attendance Thursday, for his leadership in pushing for stronger gun measures. In the months following the Newtown massacre, he signed into law a historic bill that requires universal background checks on all purchases, and added more than 100 firearms to the state's existing ban on assault weapons. Last year, the Law Center to Prevent Gun Violence ranked Connecticut second for enacting effective firearms measures.
Curbing gun violence has been one of Clinton's main issues on the campaign trail. She has called for comprehensive gun background checks and repeatedly highlights her Senate vote against a 2005 law that provides general immunity to gun companies. Her opponent, Bernie Sanders, supported the legislation when he was a member of the House.
Sanders, the Vermont senator, faces mounting criticism on his gun-voting record, especially after his comments at recent debates and to the New York Daily News that gun companies shouldn't be held responsible when a customer legally purchases a firearm then uses it in a crime. On the defensive, he has touted his D-minus rating from the NRA—which he says shows he is an enemy to the gun lobby—and rural connections to Vermont.
Clinton's stop in Hartford Thursday came a week after a judge in Connecticut refused to throw out a lawsuit brought by 10 Sandy Hook families against three gun companies responsible for manufacturing, distributing and selling the Bushmaster AR-15 rifle, the weapon used in the shooting. The trial has been set for April 3, 2018.
At the most recent debate last week, the presidential hopeful was asked whether he owes the Sandy Hook victims an apology for defending gunmakers against the lawsuit. "No," he said. "They have the right to sue, and I support them and anyone else who wants the right to sue."
Smegielski has spoken out against Sanders's comments on gun immunity. Mark and Jackie Barden, whose 7-year-old son, Daniel, died at Sandy Hook Elementary, also have called out Sanders. The two parents, who are involved in the lawsuit against the three gun companies, wrote an op-ed in The Washington Post to argue that their case isn't about ending gun manufacturing in the United States. Rather, they said it's about the dangers of entrusting the AR-15, a military-style assault weapon, to the general public. Jillian Soto, sister of Victoria Soto, a teacher killed at Sandy Hook Elementary, has called Sanders's comments offensive, insensitive and disrespectful.
Other relatives of gun-violence victims have thrown their support behind Clinton, including the mothers of the late Trayvon Martin and Jordan Davis, who were killed in separate incidents in Florida in 2012, and Gabrielle Giffords, a shooting survivor and former U.S. representative. Clinton has the backing from prominent leaders and outspoken gun-control activists in Connecticut, including U.S. Senator Chris Murphy and Congresswoman Elizabeth Esty.
Clinton on Wednesday campaigned in Philadelphia, where she participated in a discussion about gun violence with former Attorney General Eric Holder. Her daughter, Chelsea, started campaigning for her Wednesday, saying gun control is an issue that feels especially personal to her now that she is a mother.
Delaware, Maryland, Pennsylvania and Rhode Island also will hold Democratic and Republican primary elections Tuesday.